Hello friends! first of all, a cordial greeting to all those who decided to take a little of their valuable time on this great platform to read this, which is my first post and so know a little of your humble server.
---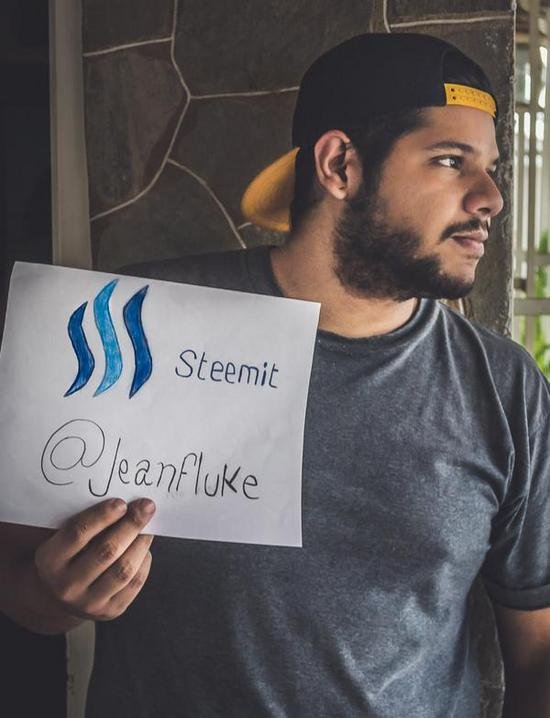 Who I am?
    My name is Jeancarlos Riera I was born on April 29, 1989 in the military hospital of the city of Maracay-Venezuela, I am 29 years old and I am a Taurus sign, single without children. Currently graduated in advanced university technician in hygiene and industrial safety, career that is an important part of my life and which gave me great pleasure to study.
What i do
At the time I left high school, I decided it was time to support myself, of course, at 17 I was still living with my parents, but at least I wanted to stop being so dependent on them, so I went looking for a job. get an entry of money with which to cover my personal expenses. As a matter of fate I came to find what would be my greatest trade, I started working as an apprentice in an Asian restaurant. This is how my adventure in the working world began, I have learned many things since then and I have lent my services multiple restaurants, with the particularity that the vast majority have also been Asian food, so you could say that I specialized in that type of food.
---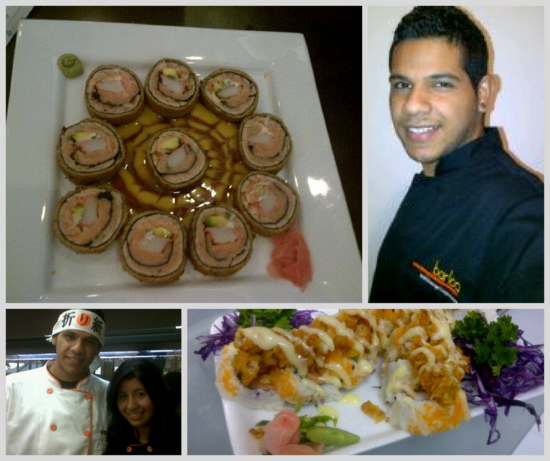 ---
     I spent a great part of my life dedicating myself to this, until finally I decided it was time to study a university career, that's how I started to study my current career. hygiene and industrial safety, I must confess that I did not feel a particular taste for it, but once I started and as I was progressing in it I liked it a lot. Nowadays I have my title and I feel satisfied, despite having few years of experience in the career.

My family
    My family nucleus is small and limited to three people; In the first place, my older sister, her name is Guadalupe and more than a sister has literally been a second mother, always supporting me from a very young age and taking care of me, since I was born when she was 18 years old and she always cooperated with my mother during my life.
    Secondly, my nieces: the oldest, she is 18 years old and her name is Jeangerlis, she is a student of psychology, a lover of life, a very talented girl blessed with a beautiful voice, although sometimes she is a bit shy to show off her talents, I know that with the passing of time and as your maturity arrives you can bring out all those things you have to share with the world. On the other hand is Francis, the youngest, a girl of 7 years with excess energy, light and the engine of the house, she is a very curious girl and everything is asking. She is my inspiration and every day I try to teach her something new to contribute in a good way in her intellectual development.
---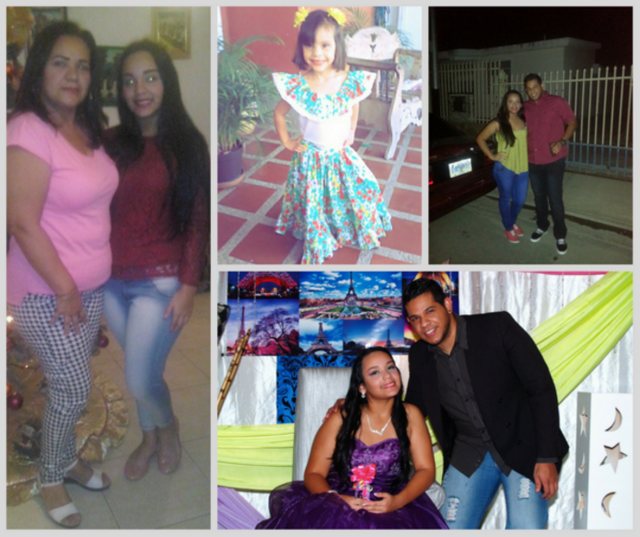 ---
    At this point, I imagine you are wondering, what about your parents? Why have not you named them? I explain: Unfortunately my parents are not already in this physical world. My mother died of cancer in 2013 and my father suffered a heart attack 3 years later.
I must tell you friends, that it is very difficult for me to talk about this, but I just can not leave them out in a presentation of my identity, since they have been responsible for my training as a human being and for being who I am today, which I thank you very much since I am a mixture of two incredible people and I could not have better parents than them.
    They were very hard times when I realized that I would never see them again, I could not hug them or talk to them again. It cost me an immensity to recover emotionally from those two big blows to the heart, but one day I understood that life is full of possibilities and that I could not stop there, it was not what they would have wanted, for that reason I raised my head and took as a shield all the good that I lived with them and as a weapon all that I had been taught to continue facing this life of the best way, there is no day when I do not think of them, just as there is no day when those memories stop me from giving the strength to keep going.
"When I lost him I cried with my soul, I did not cry physically, I really cried, the way it hurts the most, I cried without tears" .- Anonymous
---
    They are my parents: Armelinda Silva, a kind woman, a fighter and affectionate like no other, I never needed her presence, she was always there in the good times and in the bad times. She was a worker when she was young and a housewife in adulthood, that is, the most difficult job of all, the truth is an exemplary woman and I am very grateful to have been her son.
---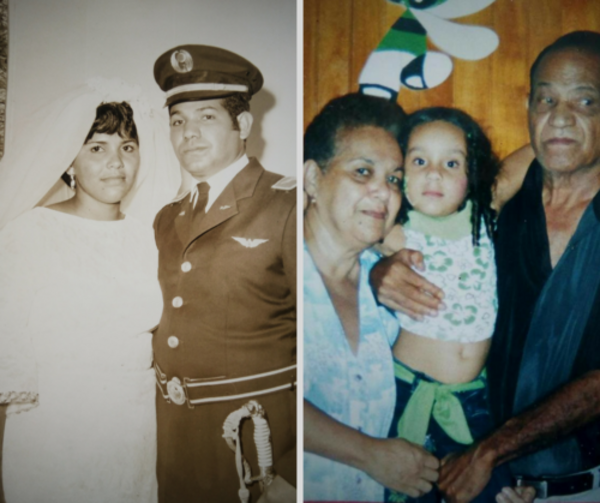 ---
    My father Argenis Riera, what can I tell you? My idol, my model, the wisest person I've ever met. He made a professional career in the Bolivarian Military Aviation, reaching the rank of Colonel, specializing in Aircraft Maintenance Technician, something I always admired and was very proud of. Because of his profession he was always stricter with me, thank God he was, he instilled in me character, values, and taught me never to give up. Well, the friends could dedicate a full post about them, so we'll leave it here for now, as it's not the main topic of this post.
"The family is too intimate to be preserved by the spirit of justice, it can be sustained by the spirit of love, which goes beyond justice." - Reinhold Niebuhr.
---
Hobbies and personal tastes
   Within me there are many hobbies and passions that coexist in my inner universe called soul, since from a very young I was fascinated by anything that was new or unknown to me.
---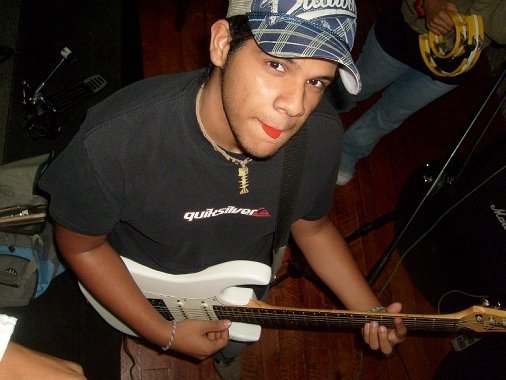 The sound of the strings of an old guitar that was in my house and that nobody knew how to play shot in me an infinite curiosity about this peculiar instrument, it is worth noting that by that time I was only 6 years old and from that moment my passion for music began. Over the years I was part of the choral schools, almost without deciding since I apparently had an innate talent for singing and the teachers did not hesitate to include me, then as I got older I became aware of what I had in front of me. and I decided to take advantage of this gift, so I started to learn to play a musical instrument, and yes! Of course I took that old powdered guitar, I cleaned and restored it to use it, from then on, as adolescence arrived, I became a lover of good music. I started listening to Beatles songs until Rolling Stones, Jim Morrison with his The Doors, Queen, Pearl Jam, Bob Marley. As well as representatives of the rock of the nineties which marked my musical inclination to this day. with their great melodies and sticky riffs they gave me a particular vision of the world that surrounded me.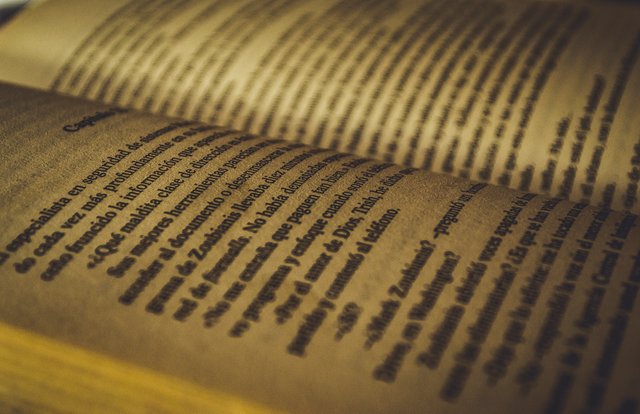 On the other hand I am a person who enjoys good stories whether they come from real life or from the world of fiction, given that I like to get lost in interesting stories as well as in the pages of a book, I think literature is the best broadcast medium of great thinkers and therefore I do not miss the opportunity to read a good book, every time it comes to me for some reason or another.
"Literature, unlike death, lives in the open, in the lack of protection, away from governments and laws, except the law of literature that only the best among the best are capable of breaking." - Roberto Bolaño
---
This does not mean that I do not enjoy other type maner to tell stories since I consider myself a movie buff par excellence, oh yeah! nothing like watching a good movie or series to forget a moment of life and its boredom, to reincarnate in a new world full of incredible characters and events.
    I am the kind of person who when watching a movie, likes to observe every detail of it; such as photography, soundtrack, interpretation of the characters, argument, editing and so many other aspects on which the quality of a great audiovisual work depends, and is that better adjective could not be given to the world of cinema as the named "seventh art" since I create the cinema and everything that entails to make a film is an art in all the expression of the word.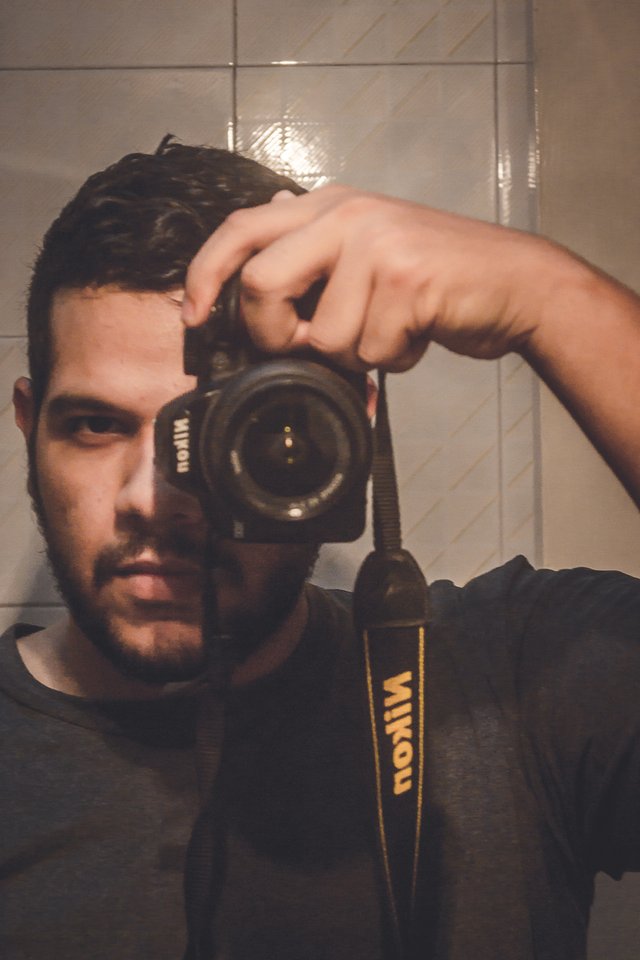 This almost psychotic love to the movies woke up in me a new hobby and is that I wondered how it would feel to dedicate myself to the realization of them, take a camera and strive to capture unique moments, to take the viewer to those stories told with a thousand and an images So take the determination to dive into the world of photography, if I know! taking pictures is not making movies, but in one way or another it is a beginning.
    Unfortunately, the economic situation in my country has not allowed me to devote myself fully to this, I do not have a professional camera but a smarthphone that for the moment is my faithful instrument which I use to capture all those images that the world gives me on a daily basis. which I will share with you throughout this adventure in this incredible platform. Oh! by the way the camera with which I took that picture is borrowed jeje ... Thanks to my great friend @mrstrange who has taught me a lot since I started in the world of photography and from time to time lends me his "iron" to practice a bit.
"If I could count on words, I would not need to carry a camera"- Lewis Hine.

    Speaking of steemit I hope that this trip will give me many lessons that are of great impact in my life, that allow me to grow as a person and as a professional, I am very excited to meet and socialize with the great community of people that are part of this platform, I must say that when my friends @omardread and @mrstrange told me about steemit, it cost me to believe it was real, since a place where they pay you for sharing things of interest seems to me a revolutionary idea against monetary centralization and for us the simple ones mortal a great opportunity to squeeze our talents, driven by the motivational plus as it is the monetary reward, and of course nobody has said it is easy but ... Doing what we like nothing is impossible.
     Good my steemians we are already finishing many thanks to you that you took the time to read this post and you accompanied me up here, I hope to include myself quickly and satisfactorily with all of you and give me the opportunity to be your new friend, share and exchange ideas, learn and even to unlearn because as a good song says there ("New Ideas" - Prophetic Culture) "Not everything that is seen is reality and not everything that is heard is the truth".
    Without saying more, I wish you all a lot of success, my sincere thanks and the promise to continue reading in the future, blessings for all and we are in a new opportunity, see you soon.

All the photos that appear in this post are original content, taken with a phone and with a camera Nikkon d3100, edited in lightroom.