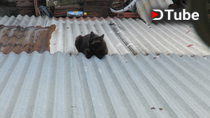 ---
Hello World!
I'm a random Steemian from East Java, Indonesia. I actually got accepted at Steemit few days ago (took around 5 days to get approved), but instead of start posting my first blog, I took my sweet time read everything on the FAQ, Welcome page, Steem bluepaper, and Steem whitepaper. I have yet to finish reading SMT whitepaper though. Overall, I'm pretty impressed... A decentralized social networking platform that is built using blockchain technology, wow, I just couldn't imagine how it would work until I saw Steem. So I thought I'd join in and I don't really expect to make anything from here.
I still don't know what I'm going to do with my Steem account, what should I wrote? Heck I don't even know what language I should use to begin with. Should I use English? Bahasa Indonesia, or even Javanese.
That's all from me, better to keep it short for now.
Thank you for your time, and here enjoy a video of my cats!
---
▶️ DTube
▶️ IPFS