我是纹身师gogo - From The Cracker Tattoo, Singapore. 来自那个新加坡的十年老店怪客文刺。
Do you know the Cracker Tattoo which was on the pagoda street in Singapore? In fact, even you know it, you will no longer find it.
From the shop owner - Yu, he dedicated ten years of careful management, expanding the size of the tattoo shop, improving the level of art. Ten years in Singapore China Town - the most crowded tourist attraction, all kinds of outstanding tattoo artists have been there, all kinds of cool people from all over the world brought cool tattoo ideas there.
And there too was my origin.
你们知道曾经在新加坡宝塔街上的怪客纹身吗?其实,这个曾经,时间并不长,也就只有一周而已。
来自中国山东的老板兢兢业业十年的用心经营,纹身店的规模在牛车水不断扩大,各个优秀的纹身师们来来去去,我也曾是其中之一,那里是我的起源地。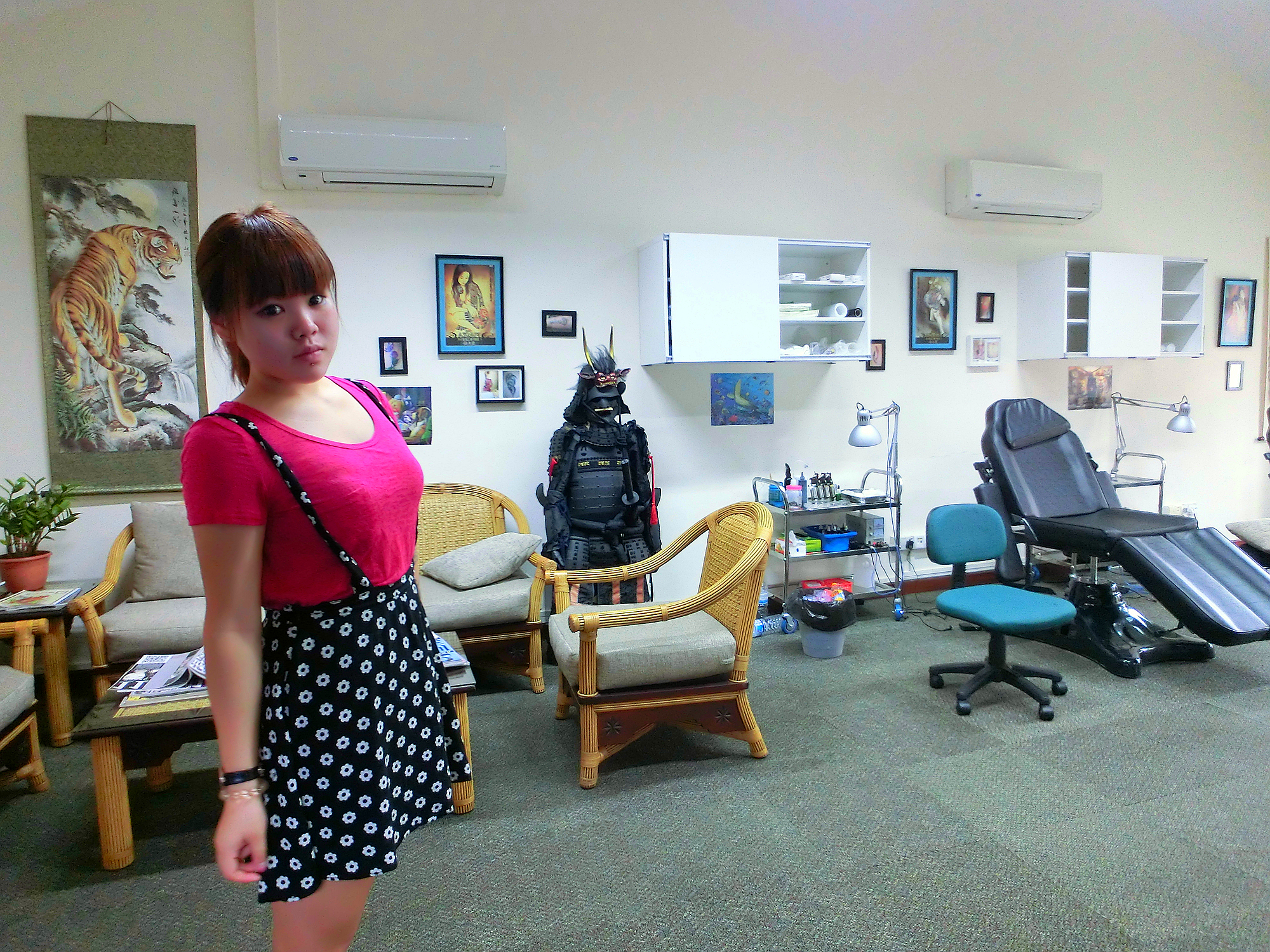 [2014年12月9日 gogo在宝塔街的怪客纹刺总店] ' 9/12/2014 in the main store of the Cracker Tattoo '
老板那时经营着两家店。因为客人实在是太多了,老板为了不拥挤,提供最好的服务环境,所以在同一个区域里,这第三家店开了起来。 超级宽敞。
Yu was running two tattoo shops in the same area at that time. Because there was too many clients. To provide better service and not let the clients wait for too long, the third store opened up. Super spacious.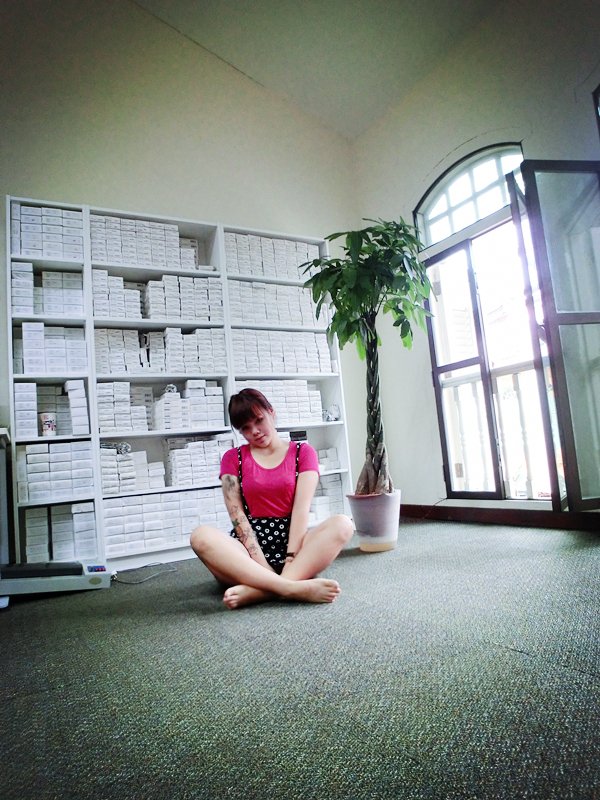 存货充足。像这样一墙那么多的一次性针嘴和纹身针,大概几个月就用完了。
Sufficient inventory. There are so many disposable needles in such a wall, but we can still use them all up in just few months.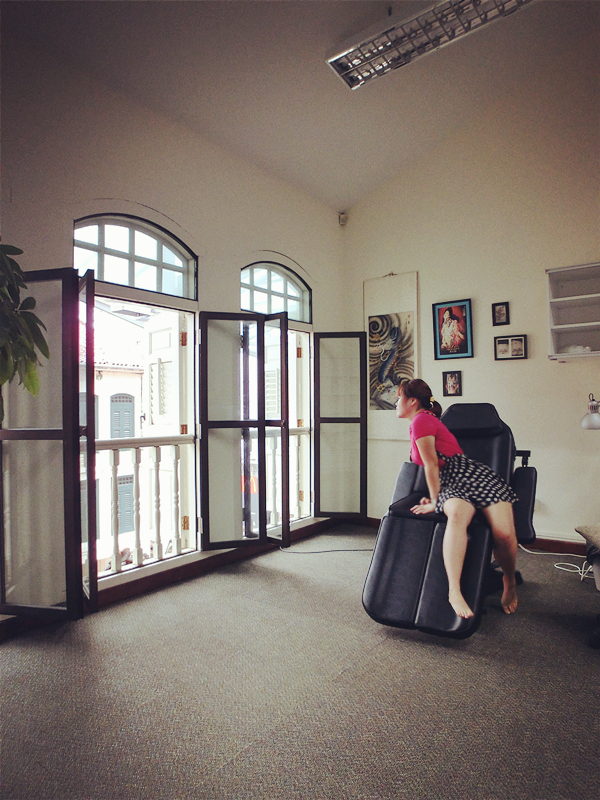 当时我真的好喜欢这扇落地窗,在这窗前我做过太多有趣的纹身了。
I really liked the French window at that time, and I have done so many interesting tattoos in front of that window.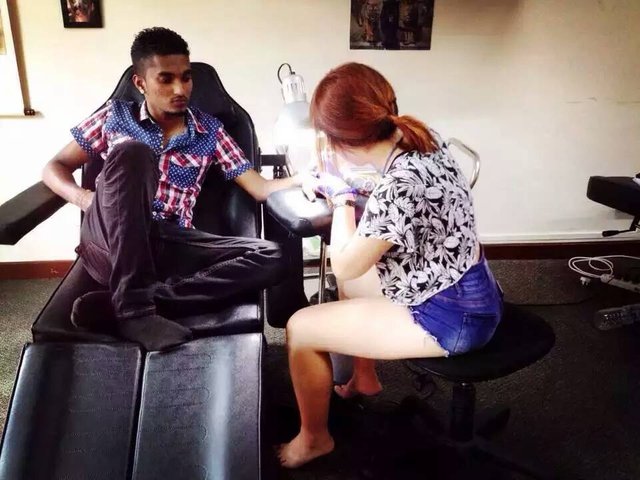 gogo.tattoo/gogo/tattoo/skull_hand

[2014年12月9日 gogo 在新加坡的第六次搬家] '9/12/14 The sixth move in Singapore'
当年在中国我悄悄地在手臂内侧纹了一个小纹身。和大部分中国老百姓一样,我全家人一向传统保守,对刺青也是基本持否定态度的。可我不一样。虽然从小就被灌输有纹身的都是坏人的思想,但是我相信这只是时代的偏见,是中国人当时对纹身的成见。
那时我便好奇:"海外的纹身文化是怎样的呢?"
Before I left China, I got a small tattoo inside of my arm.
Just like most of Chinese people, my entire family is traditionally being conservative, and was holding a negative attitude toward tattoos. But I was different. Although I have been taught that tattoos are just for gangsters, I still believe that this is just only a prejudice at that time.
So I was wondering: "How is tattoo culture overseas?"

[2014年初 gogo在马来西亚的商场里 想观察穆斯林国家里的纹身文化]
'In early 2014, Gogo wanted to see tattoo culture in Muslim countries, at the mall in Malaysia'
手臂内侧的这个就是我人生中的第一个纹身。在梦想和现实的中间层里徘徊,没有同类也没有能够理解我的人,我很孤独,只想张开手臂的时候有人可以给我一个拥抱,Give me a hug°。
在思考这个纹身的启示里,在决定要得到这个纹身的过程中,和纹身师的交谈中,还有在了解其他纹身客人的中心思想后,我发现纹身当时在中国真的是被关在封建思想牢笼里的美丽艺术,我真的很伤心当时在中国那么多人对纹身有成见,但是当时又已经有那么多中国人看见了纹身的美感和意义。
我决定借去东南亚久居的机会在国外学习纹身,把纹身的意义带回中国。这就是为什么当时我会去到怪客文刺。
因为是中国人开的。
And in that picture, that was the first tattoo on the inside part of my arm. Why?
Wandering between the dream and reality, there was no one like me or someone who could understands me.
I was lonely. I just wanted to open my arms. Someone to give me a hug. Give me a hug°.
On the revelation of the process in deciding to get a tattoo, I was listening the conversation between tattoo artist and
client to understand the main idea of why they want tattoos.
I found that the beautiful tattoo art was locked in the cage of feudal thought in China.
I was really very sad at that time. In China there were so many people hating tattoos, but still, there were so many Chinese who saw the beauty and the meaning of tattoos.
I decided to take the chance and stay in Southeast Asia for education. To learn the art of tattoo, and bring the meaning of tattoos back to China.
Then I was there, the Cracker tattoo.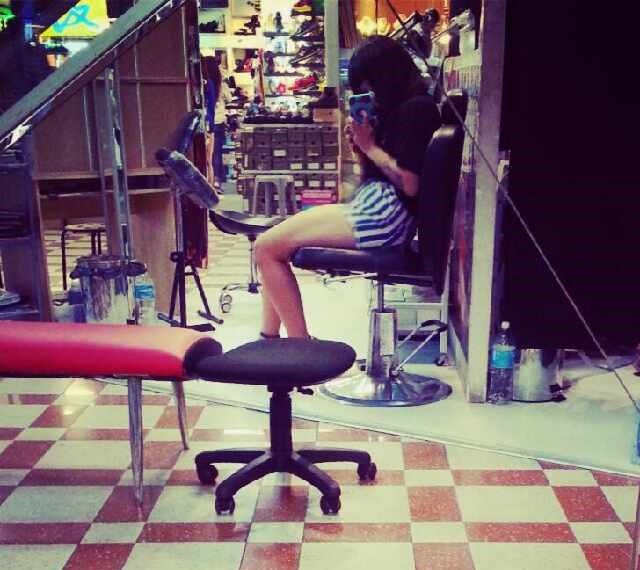 [2007年初 怪客文刺在新加坡牛车水珍珠坊内开设的第一家店]
'The beginning of 2007, the very first shop in the People's park in China town Singapore'
我们没有能力去扭转任何成见,因为成见的之所以成为成见,是因为这些偏见是可以合理的。但是如果你并没有被流言蜚语洗脑,也还没有被社会对于纹身的普遍意识所玷污,你有自己独立思考能力和判断力,那如果你想要刺青,却不知道选材,可以阅读以下总结。
这些可是我在怪客文刺,一个在游客人流非常密集的地方,世界各地的客人向我提供了各种各样的纹身需求的总结,是那些决定了要纹身的人为他们的纹身下的定义。
We don't have the ability to reverse any prejudices, because stereotypes are stereotypes, because these prejudices can be justified.
But if you haven't been brainwashed, or you have not yet been tattle and prate by the attitude of society for the universal consciousness of tattoos.
Yes, you have your own independent way of thinking and judgment.
But if you want a tattoo, and you do not know what exactly you want, you can read the following summary.
The summary is from my experiences of working in the most crowded tourist attraction in Singapore.
I was following a lot of clients' tattoo requirements from all over around the world.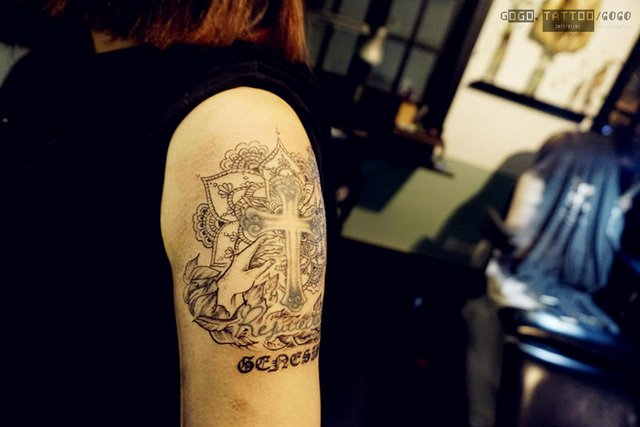 gogo.tattoo/gogo/tattoo/genesis_background_mandala
1 . 【信仰】Believe
如果扎进皮肤的文字是你所朝思暮想的,如果刺入身体的图像是你深信不疑的,你会想要这样的纹身吗?
这个女孩儿摘录了圣经第一章的名字,纹在了身上。
If the ink you put into the skin is what you think about all the time, if the image which been put on your body is what you totally believe in, would you want a tattoo?
The girl extracted the name of the first chapter of the Bible and tattooed it on her body.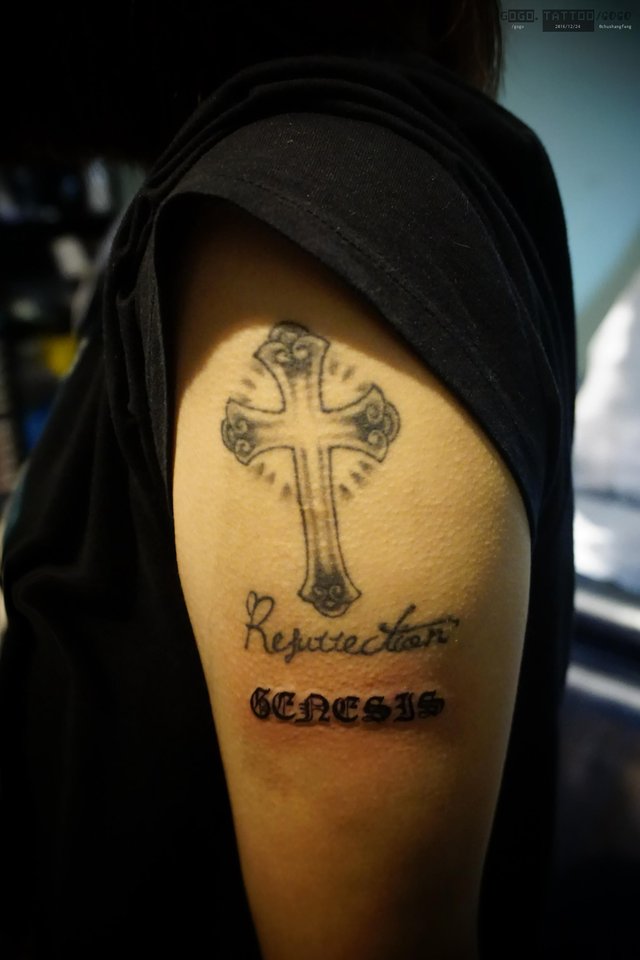 gogo.tattoo/gogo/tattoo/genesis_block
像和纹身一样与自己的信仰朝夕相处,是一种很美的感觉吧。
当然,也有世俗的,比如信仰金钱,便纹了美元符号和世俗财务在身上。
To stay with own belief is a kind of beautiful isn't it?
Of course, there are secular, there can be clients which faith in money, and tattooed the sign of dollar symbols and secular finances on the body.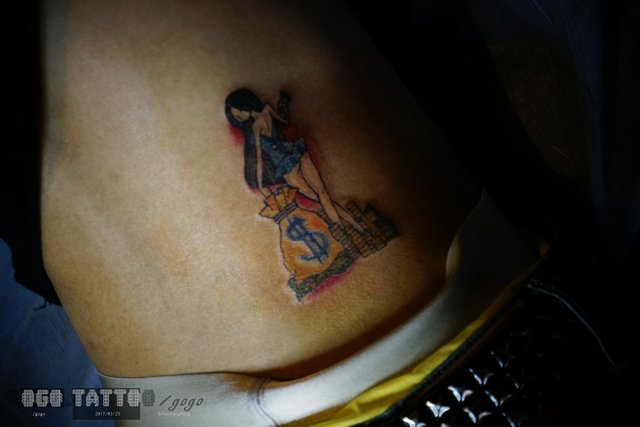 gogo.tattoo/gogo/tattoo/money_girl
其实也不赖,我觉得只要是自己的追求,就没有必要去定义好坏对错。信仰无论是对于青春年少还是社会人,抑或是前辈长者都是非常重要的,是不应该被舍弃,也不会忘记的东西。和纹身一样伴随你一生,是不必去后悔的决定。
信仰纹身可以提醒你,记得自己心里的根。
In fact, it looks not bad. I think, as long as it is their own pursuit, there is no need to define good or bad.
Faith, whether for youth society, or for elders, it is very important, it is something that should not be abandoned or forgotten. Just like a tattoo, it's a lifelong decision that you don't have to regret.
Faith tattoos can remind you of the root of your heart.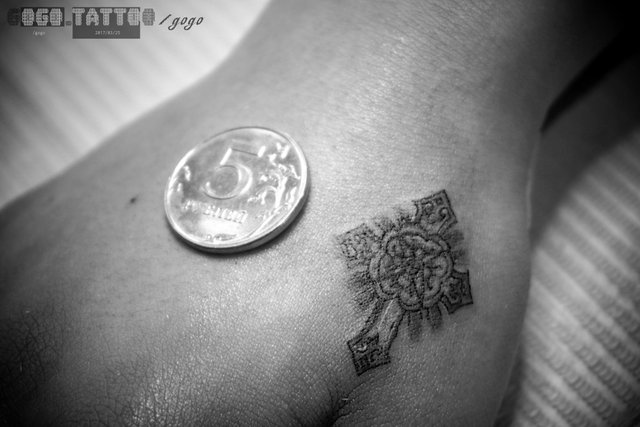 gogo.tattoo/gogo/tattoo/hand_cross
2 . 【故事】Story
有些故事值得你流着鲜血,用墨水封存在皮肤里,才会显得显得更加深刻有力。
也许故事的精髓造就了你的魂,让你愿意与其同存一生。
Some stories worth your bleeding for them, and to use ink to seal them in your body.
Perhaps the soul of the story has been built in your mind, so that you would like to share it with your life.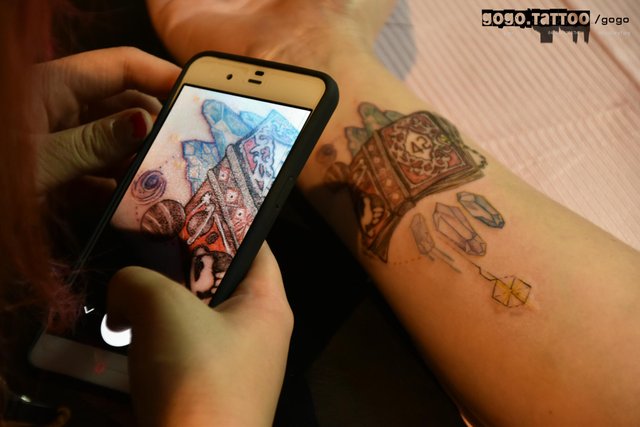 gogo.tattoo/gogo/tattoo/dont_panic
3 . 【修饰】Beauty
纹身是一门艺术,而艺术当然是美丽的。那些永不褪色的墨水,会让裸露单调的皮肤看起来更有意思,就像一件独一无二的饰品。当别人晒出一条有钱就能够购买的脚链时,你一挽裤脚,晒出自己的脚链刺青,娓娓道来关于它的故事。
Tattoo is art, and, of course, art is beautiful.
The ink which never fades will make the bare, dull skin look more interesting, like a one-of-a-kind jewelry.
When someone is showing of an anklet which everyone can buy, she can pull up her trouser and show the anklet tattoos, and share the history of the tattoo.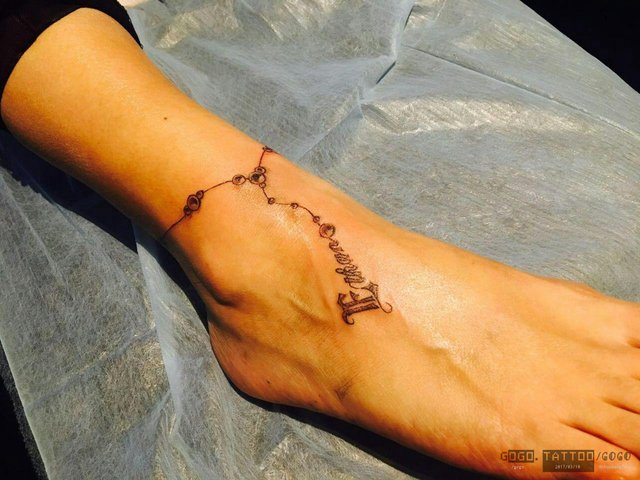 gogo.tattoo/gogo/tattoo/two_anklets
这枚脚链纹身的内容是这位女士的孩子的名字。她选择把孩子纹在脚上,是希望孩子能与她同行走一辈子。
This anklet tattoo contents the lady's child's name. She chose to put her child on her feet, hoping that the child would walk with her for a lifetime.
4 . 【拥有】Possess
我们想要拥有更多,占有更多,体验更多,世界就是我们的。可惜,这只是你一厢情愿的想法。这世界上的所有东西,其实,你仔细想一想,我们从来没有拥有过任何东西,我们只是在这世上暂时保管它。
我们无法占有任何事物,除了自己。纹身是唯一可以陪着你走过这一生,带进坟墓里的东西。
虽然我们也这世上也只是在,暂时保管我们的身体而已。但纹身也许是一个标记,一个用来说明原因的标记:这个身体,曾是我的,我思想已经被纹在了这里。
We want to have more.
To have more, to experience more, to prove that the world is ours.
Unfortunately, it is really a wishful thinking. Everything in this world, nothing is belong to us. We never can have anything. We just keep it in this world for the time being.
We can't take possession of anything except ourselves. Tattoo is the only thing that can accompany you through your life and bring it into your grave.
We are now in the world, we are only keeping our bodies for our life times. But tattoo may be a sign, a sign to explain : this body was mine, and my mind has been tattooed here.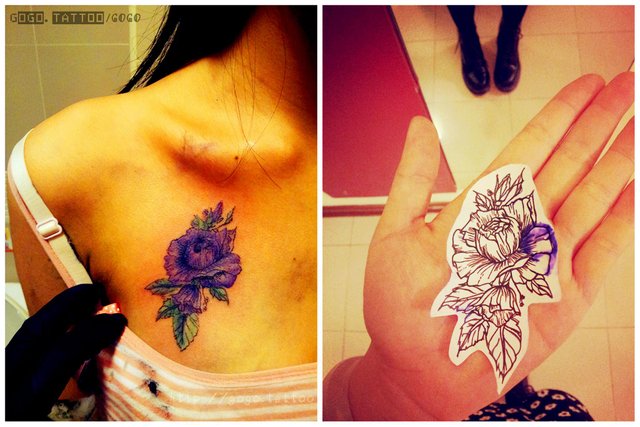 gogo.tattoo/gogo/tattoo/purple_flower
她的名字叫昙花,她觉得她是昙花,所以她纹了一朵昙花。
Her name is epiphyllum. She thinks that she is an epiphyllum. So that she got a epiphyllum tattoo.
5.【未完待续,下次继续】To be continued
纹在哪里不是很重要,重要的是纹了什么。在以后的【我是纹身师gogo】里会继续更多纹身闲谈。为纹身爱好者带来更多的意义。
是怪客纹刺启蒙了我对纹身的爱。
That's important that what you get tattooed. In the future 我是纹身师gogo I will continue to talk more about tattoos. Bring more meaning to tattoo lovers.
It was the Cracker Tattoo that inspired my love for tattoos.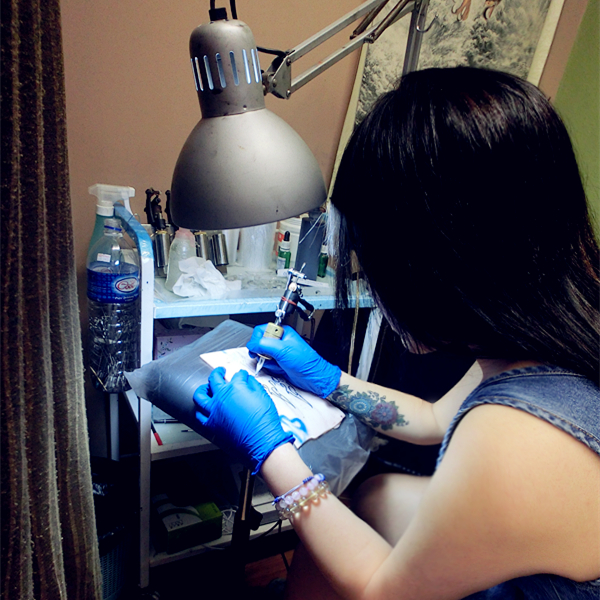 还记得当时在珍珠坊一楼,最小的这个怪客文刺分店里,我躲在帘布后面拼命练习纹身的样子。
现在怪客文刺的老板圆了回国安居乐业的梦,纹身店结业了,正如那些年在那里完成的纹身,一去便不复返了。我好想要找到他们,问他们一句:那么多年过去了,想要补色吗?
只可惜当初没有gogo.tattoo,也没有gogo.tattoo官方Steemit来永恒记载每个纹身。找到曾经的客人好似大海捞针。
我的心仍旧与怪客文刺同在。
要补色吗?
Remember the time when I was hiding in the back of the curtain, trying to practice doing tattoos, on the first floor of the People's Park Singapore, in the smallest tattoo shop of the Cracker Tattoo branches.
Now, the owner of the tattoo shop have been completed his dream, and closed the tattoo shop. Just as those tattoos that have been done there in those years, they are gone.
I want to find them, and ask them : So many years, you want a retouch?
It's a pity that there were no gogo.tattoo and no official gogo.tattoo Steemit to document every tattoo project.
Now to find these old clients is like looking for a needle in the ocean.
We have to document every tattoo!
Goodbye the Cracker Tattoo.oxox
vote vote ♥ follow follow