Hello everyone, new artist in the community!

My name is Fabrício Arend Maicá Pereira and I'm a 24 year old artist and designer student, based in Brazil. I'm currently attending a design graduation course and also took three years of computer science. My field of interest includes various kinds of art, but I'm mainly focused in digital art, illustration and concept art as you can see on some of my work below.
I consider myself relativelly new to the art world, althoug I have been drawing since I was a kid, but not frequently or tooking it seryously (had a huge hiatus in the high school and first college course), but since I decided to follow this career, I've been doing my best to keep improving, learning and praticing constantly.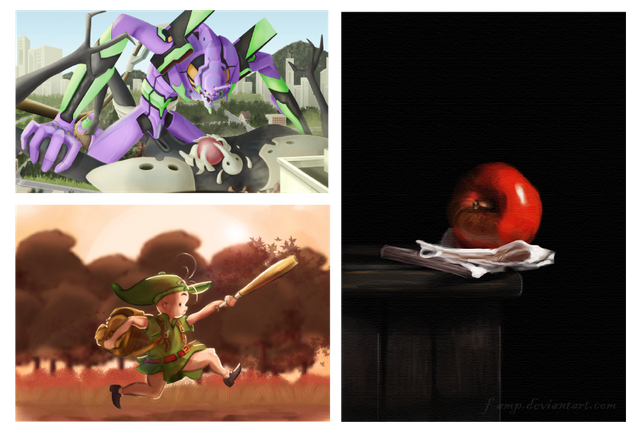 By the time I'm writing this, I'm currently working in the development of a indie game called "Electro Jam" (which I'll probably be posting about anytime soon), but I plan to do some freelancing as well. Games (specially Nintendo's) have always been one of my huge passions in life, so I'm glad for being able to work on a industry that I love and support so much.
I'll be using the steemit to post mostly about Illustration and painting, though I may took some liberty sometimes to talk about other topics art (such as animation, movies, music or even games) or non-art (games here if you don't consider it an art) related. Such I'm still learning myself, I hope to use this community to personal growth as much as to try to offer some good content to everyone who happen to support me.
So bear with me, and have some fun! ;)