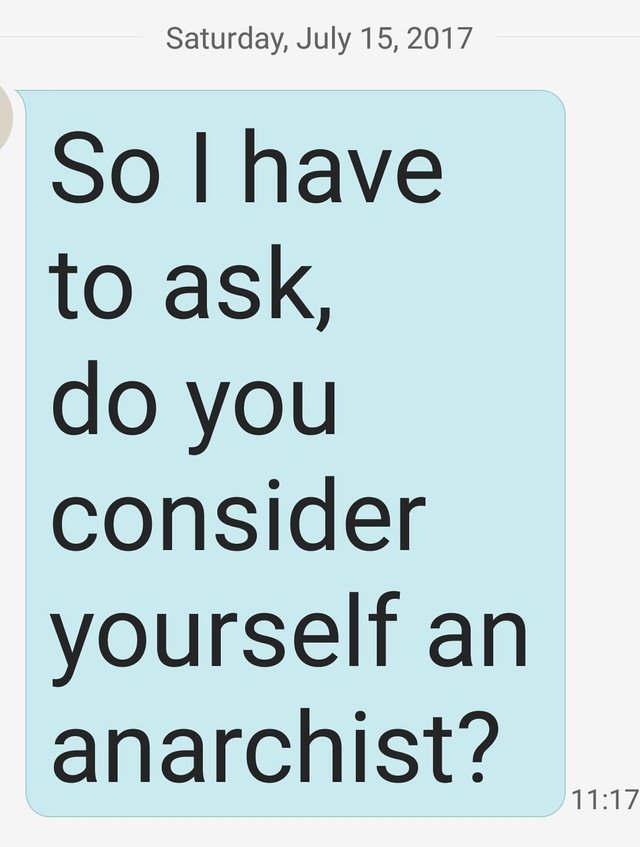 Greetings, Steemians. I am Sam. Sam I be. In introducing myself, I thought a good place to start would be explaining my username briefly. DaoDeSam loosely translates from Chinese to the Way of Sam. What we call our way of life is all we do in the course of our day: the way we interact with others, work, play, sleep, eat, dress. It is the why of what we do and how we do it. A person's way is the philosophy of life he or she lives by. So, what is mine? My way is one of love, creativity, compassion, gnosis, learning, reason, intuition, adaptation, transcendence, and outrageous freedom.
But that is just my way. It is not intended to be presented as a system for anyone else to follow or an authority on any subject. I share this in the hope that some of my thoughts and ideas may inspire people to learn more on their own and think harder about the why of their own way. My way cannot be these things because the DaoDeSam is not a fixed ideology. Instead, it is a loose collection of ideas, beliefs, and values that shift as I learn and experience more, but still revolves (hopefully) around a core of Truth.
One example: Team BLAM entertained two very close friends at High Garden a few evenings back. Seth and Diane, a couple of anarcho-capitalists that first introduced me to crypto-currencies, the block chain, and Steem, joined us for a night of libations and enthralling conversation. We touched on many topics: current world events, Bitcoin, Etherium, Steem, the looming Game of Thrones premiere, what's going on in our personal and professional lives, but we kept returning to the topic of anarchy in some form or another. Seth (his beautiful fiancée too but I haven't known Diane for as long) and I have always seen eye-to-eye on most topics, but we tend to challenge each other to think when we do disagree.
I have always been sympathetic to the principles of anarcho-capitalism, but in the past have danced along the lines between anarchy, minarchy, and libertarianism. The morning after our discussion in which all four of us were in pretty solid agreement throughout, Seth sent me a question via text: "So I have to ask, do you consider yourself an anarchist?" I replied that I agree philosophically with everything he says, but I also try to be practical with the current circumstances we are in now so the transition toward a stateless society can happen as smoothly as possible. I do not recognize the claim of any institution or individual to have authority over my life and how I choose to live it. However, I will still work within the current system, even if that means voting, even voting for Trump, if I think it will benefit the world in the short-term compared to the alternative. Which I did. I hate the system the way it's set up. You, dear readers, may not think it makes any difference who was elected, but I am not totally convinced of this. All of our choices matter.
In my reply to Seth, I also said that how anarchy and government are defined matters as well. I think if something has been present throughout all of human history, there must be something to it. We humans are social animals, so, although I oppose centralized power in any form, some kind of organization in the community, even just online, will always be present, and needed eve for things like recognizing and upholding property rights. Lacking this, all disputes will end up as conflicts between the involved parties. Thus, I believe some sort of association between individuals is not necessarily necessary, but still inherent to our species. This is my only issue with pure anarchy. However, I also believe that if people are capable of governing their own lives, then government in its traditional sense will become obsolete.
My friend replied, "Anarchy to me isn't a simple idea. It's different for everyone. So the fact is that you are adapting it to your own life and thinking things through and testing your own hypothesis." Yes, exactly. That is my way, whether applied to anarchy or anything else. I couldn't have said it better myself, which is why I quoted him. Thanks Seth.
My mistrust of authority is not limited to the role of government, but to all other areas as well. As an educator, I see my goal as inspiring all my students to want to find the answers for themselves. I don't want them to trust any authority to think for them, whether that be the textbook, the media, even me. Knowledge and understanding is something to work for and earn, not to be bestowed or conferred from an outside source. I feel the same when it comes to the metaphysical or spiritual realm. I disagree with fundamentalist worshipers just as strongly as I do with material atheists. I do not see religions or their priests as having any place to tell us whom we really are. Yet, I believe also that there is a reason why human animals have that stirring inside that leads us to see ourselves as part of something bigger. As with the organization of society, our inclination towards the spiritual can be traced back all through our history, to cave paintings, which to me says this is a natural part of being a human. However, there is no single answer to this big question that is one-size-fits-all. Mystics of the past that were able to peer through the curtains have brought back valuable insights, but no one else's way will totally suit another individual. (My life teammate Blair and I are currently working on a post describing BLAM's own anarchic spiritual discipline, so stay tuned for that if interested.)
DaoDeSam is also a play on the Dao De Qing (Tao Te Ching, 道德经), the principal text of Daoism, one of the existing spiritual systems I appreciate and draw from. I adopted and adapted this title because of what the philosophy represents: Nature is the closest thing to a divine entity we can know directly; humans are their freest, healthiest, and most dynamic when rooted and in sync with Nature; and the only constant in Nature is change. I do see the planet as a living, conscious being. The natural world, of which our lives and actions are not separate from, is a manifestation of Her mind, or, as I prefer, Her dream. DaoDeSam seeks to emulate Her way, the self-balancing, self-correcting, autopoetic power that animates and nurtures, then ultimately destroys and recycles all life on Earth.
The letters of my username can alternatively be stylized DaOdeSam, which I also like because life as I see it is a poem, a story, a song. The word "Dao" (道) can also mean road or path, so all my writing is a reflection not just of my personal beliefs and philosophy, but also where I've been, what I've done and learned, the bonds I've formed with people, the experiences I've had. These are the things that make up our own songs: our actions, words, ideas, and creations. These individual compositions are voices in the chorus that together make up just one part of Gaia's song. Whether our songs, and our ways, are discordant or in harmony with Hers is up to us alone.