🎉🎊Time to Celebrate 🎖200 Followers in 2 week! 🎉🎊 - @cryptoqu33n
Hi 🎭Steemians,
We just get another reason to celebrate! Our partnership reached a 🎖200 followers milestone in just 2 weeks!!!
This is incredible!! 👏👏👏
I would like to thanks to all my followers, who continuously provided their love 💖 and resteem my posts.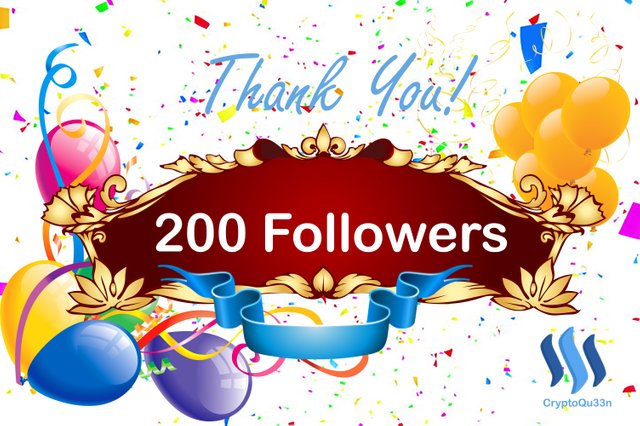 This time I don't want to say only "Thank you" because your love and appreciation mean a lot to me. In order to appreciate you all, I would like to make an important announcement related to the ongoing #AFOFA Contest (Contest Announcement page).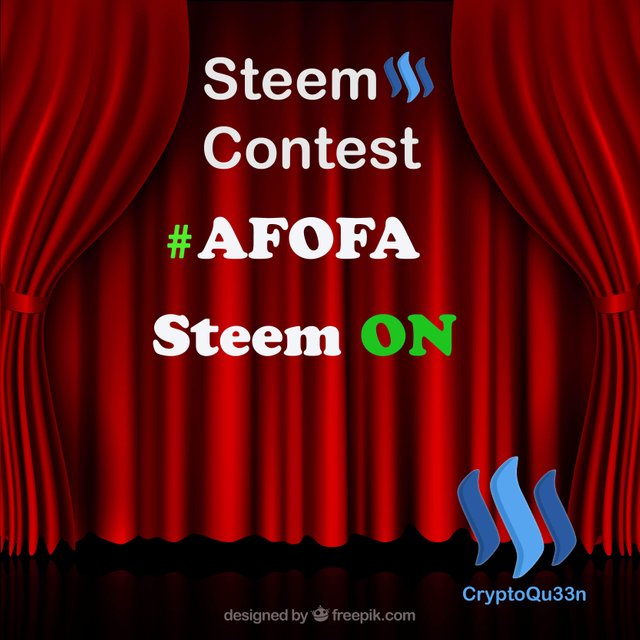 As most of you already aware that for the #AFOFA contest-01, we conceptualized the idea to do a close door contest (Allowing only invited voters to vote for participants of the contest), however, now we just changed a couple of rules to bring more fun to this #AFOFA contest.
Changes to #AFOFA Contest
Now any Steemian can vote for the #AFOFA contest-01 entries.
Now contest will be open from 3rd August - 10th August, that means, votes can upvote their favorite entry for 7 days instead of only 1 day.
Results will be announced on #AFOFA Contest-01 (Contest Announcement page) and #AFOFA Contest page on 11th August at 10 AM EST.
Registration for #AFOFA Contest-02 entries will be open from August 7th, 2017. This contest will happen on weekly basis, so we are redrafting the contest rules to make it easy to understand.
For details please refer #AFOFA Contest Rules and Conditions on Contest Announcement page.
Just like last time, I would like to tag all of my 200 followers as a way to show, how much I appreciate your love. Please, don't forget to comment, as I always enjoy your wonderful comments on my posts and try my best to respond back in time.
@abrozubair, @acge, @adriamaricua, @afproducciones, @ahmed29, @aldemaro, @alexkoshy, @alfa2141
, @alphacore, @altollia, @always1success, @amarmech595, @arenia, @artintelicoinves, @arturomdg
, @artystuff, @avilsd, @awakenlife, @awijy, @azirgraff, @babasikandar, @bago, @balditron, @barrister-batman
, @beepandmarco, @biddle, @bikash-tutor, @bilalhaider, @bimbonet, @biplab007, @bitshack, @born2win
, @brendanihmig, @breshepard, @brnernathan, @bsameep, @bni, @carlobelgado, @catieleta, @chance777
, @chapterclosed, @charlesarthuriii, @chasewalters, @chelseanews, @christina.red, @crypto.don
, @crypto.xavior, @cryptochamo, @cryptocoinclub, @cryptokiing, @cryptopizza, @cryptoriddler, @danimarie
, @danizaharie, @dayatcyber, @deon10freeman, @directcoin, @djmul, @dobro88888888, @dolfski, @donmed
, @donut, @dragos0897, @dreamsteembd, @drt, @dtworker, @eatriderepeat, @edurley, @ekpezu, @eliezer-tigre85
, @ememovic, @emon, @epeakinfo, @fadhila, @fakire1sadaka, @faluthi01, @fbistudioszim, @fcbnews, @firepower
, @fitexercise, @futureentech, @galactic123, @gamemusic, @gchahal, @georgianka, @globalcash, @gloribvm28
, @hamzagaza, @hassanabid, @hazmedic, @healthycell, @highme, @hugsband, @imagediet, @inkdncurvy
, @irishabstainer, @itzpoet, @jackmiller, @jackyx2clic, @jesoltech, @jhani, @jleiva, @joanaltres
, @jodhpurindia, @johleen, @johnsontherock, @jones420, @joseburgos, @josephhardy85, @juliusdiam
, @karchady, @khfarang, @khpoom, @lachitsarmah, @lafomaniaco, @lamb2hogg, @lautenglye, @lentini
, @liberty.news, @lordofthemidges, @lupo, @macchiata, @malaskwong, @marie-jay, @mateushism
, @maxer27, @mei07, @mekong, @melgarcia, @melowd, @mizdais, @mkorbanski, @mohaimenol, @moneyminer
, @mrspointm, @muchsin, @murda-ra, @mustanjong, @myson, @natashahall, @nawfalmotya, @nayramix
, @newsagg, @nicholad, @omegacore, @pannthiri, @papilloncharity, @penny-rose, @photographers
, @pistox, @qst, @rabby, @rahmi, @raigal, @razibtnt, @rbl84, @ricardo-r-s, @rickrosenburg
, @rmaxhi, @robjc, @rodneyaspiras, @roman1973, @ronaldmcatee, @ronel, @russellbury, @sabermohammed008
, @saffisara, @sallsteem, @samnix, @sasiyedavalli, @scottsantens, @seyico2011, @shamrat, @sheilapricilia
, @sidarthamurjani, @snakeplisken, @speedracer, @stackin, @steemboad, @steemlinks, @steempty
, @sthitaprajna, @stormpower, @surendra12345, @sweety170, @sylviamiller, @teamphilippines, @teamrodriguez
, @teofilex11, @thaher, @theia7, @tiashavira, @timothyb, @tonoloway-nation, @toxiflexion, @tradewonk
, @truedwell, @trustwaletrustee, @tryingtodoart, @tvrid, @iiq, @tapentuoreja, @vinesh, @violetmed
, @viralsteemit, @winniecoins, @xxjackintheboxx, @zarikali
All articles and photographs on this blog are my original copyright© material. It takes great efforts to provide you guys original quality content, so please upvote 👍 and comment.







If You like this post, do not forget to

upvote 👍 or follow me or resteem 🔁