Hello Steem! CoinGecko is here! 👋👋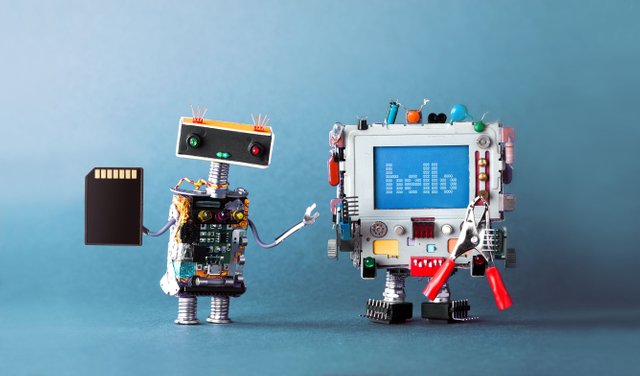 Hi Steem Community!
We are CoinGecko, the 360° cryptocurrency data aggregator that ranks digital currencies by trading volume, market capitalization, developer and community activity. We are one of the earliest and largest cryptocurrency ranking websites in the world having established ourselves since April 2014. We now track close to 3,000 coins from over 200 crypto exchanges and serve on average around 15 million monthly pageviews to users globally.
Our vision is to democratize access to cryptocurrency data and we want to improve crypto data transparency. We foresee a decentralized future where financial markets are open and we see ourselves playing a role as one of the best crypto data provider in the market.
We hope you are happily using CoinGecko to check on Steem price; in case you run your own website, hopefully you have been embedding our Steem price widget too!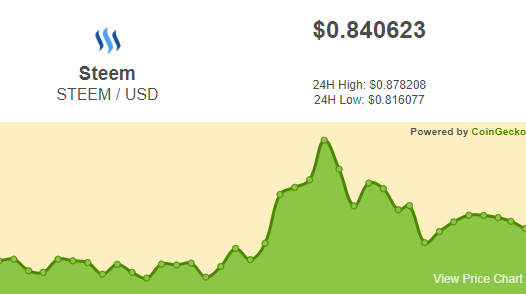 Snapshot of our steem price widget
---
If you have been using CoinGecko and have been keeping an eye on us, you would know that we have not been the most vocal cryptocurrency company. It is not because we are being deliberately secretive but we have been hard at work trying to evolve and keep up with all the rapid changes happening in the crypto space. At CoinGecko, we strive to be the best in what we do and have been focusing on developing a great platform which is informative and beneficial to our users. There is a lot of work that has gone into aggregating all these information in real time and there is a lot more information and data that we strive to collect and aggregate with CoinGecko.
Why are we on Steem?

As part of our strategy to connect more closely with our users, we are moving to establish CoinGecko on Steem to collect more feedback from our users to better improve our product offerings.
We have been observing the growth of the Steem community for many years and are impressed with the way this community has grown. This post is the first of the many steps that we plan to take in Steem and we would like to get your support to continue our journey as we learn more.
We feel that there is a lot of potential for Steem and we would like to play a role as Steem develops further.
Capitalizing on Steem's Community
The Steem blockchain is built with an interesting token economy where community members are incentivized and rewarded for content creation. We have been creating content for many years and would also now like to take the next step and publish some of our content on Steem. We would like to witness first hand how this content incentivization works and how we can collaborate with the Steem community to educate more users on blockchain technology.
Currently, as you can verify for yourselves, we have staked our account with some amount of Steem Power. We intend to fully utilize the voting power granted from this stake to reward Steem community members who leave their thoughts about us. (Psst, Steemians, hope you get the hint 😉😉)
As a Start
Right off the bat, we hope to read what you have to say about CoinGecko as a whole. Please share your comments, reviews, thoughts, suggestions, and even pain points if there's any. All feedback is valuable to us and we appreciate it. You are free to leave them as comments and posts on Steemit.com or any other Steem Dapps. Even videos, podcast, photos and even memes on any of the growing list of independent Steem Dapps are accepted. To make it easier for us to find your content, we encourage you to use the #coingecko hashtag.
While you are at it, do also check out some of the features that we have at CoinGecko and tell us what you think of it.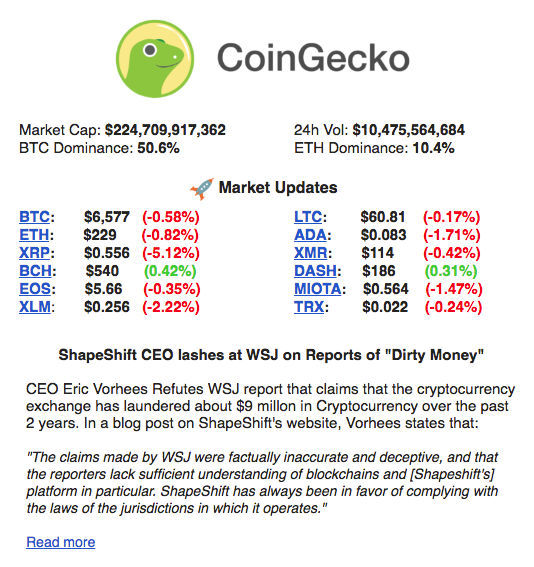 a) Newsletter
Every weekday at around 12:00 GMT, we send out a daily crypto market newsletter with price movements and top 3 news of the day. By reading our daily newsletter, we are sure your knowledge of crypto will improve over time as we work hard to curate the best content available. Do subscribe to our newsletter if you have not already done so.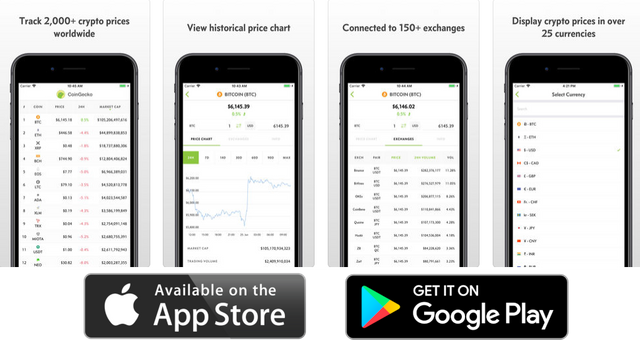 b) iOS and Android App
In July 2018, we launched our iOS and Android App. It is still on version 1 and they are both still rudimentary but we are working hard to add more features and we hope to share some exciting news in the coming weeks on some major feature updates.
c) API
We launched version 3 of our CoinGecko API in May 2018 and are proud to say that we already have several notable websites and apps using our API. We plan to keep this API free as we believe access to crypto data should not be restricted. We encourage Steem developers to make use of our API and would love to see some of the things that you build. If it's interesting enough, we will give a shoutout on our API documentation page.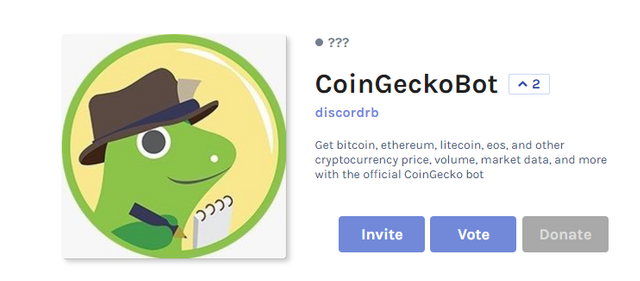 d) Telegram & Discord Bots
You may not know this but we created chat bots to solve our own itch to check crypto prices. We have a Telegram bot @CoinGeckoBot which you can PM or invite into your groups. We also recently launched our Discord.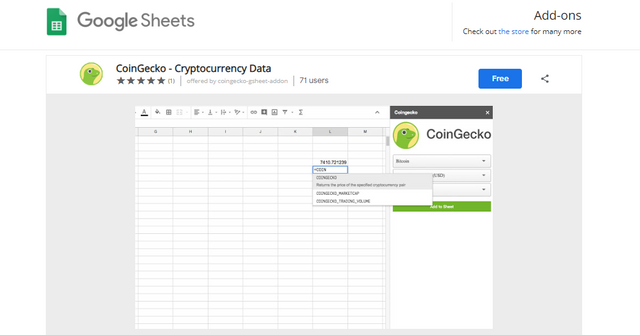 d) Google Sheets Add-On
We wanted a way to do some analysis on Google Sheets and needed a way to quickly import crypto data. We created this Google Sheets Add-On to make our lives easier and would like to share it with the community.
We have many other features which we would love to highlight but we shall stop and just include some other interesting links here for you to reference: 2018 Q2 Crypto Report (Q3 is coming out soon!), Compare Feature, ATH chart.
Do take a look at our features above and tell us what you think about them. We are actively collecting feedback on how to make them better so do share your thoughts with us.
Moving Forward
Moving on, we will use Steem as one of our two-way communication channel. Expect us to post our announcements, run surveys, conduct contests, share our content, AMA, among other things in the future. Do reach out to us by commenting below this post or feel free to reach us directly via email at [email protected], Twitter @coingecko or also in our Telegram chat group .
There is just so much that we would love to do on Steem that it would be impossible to list them all out in a single post. With enough luck and perseverance, CoinGecko is here to stay for the long haul. We have certainly proven that we are not a fly-by-night operation having established ourselves for 4.5 years now. We have a lot more coming so do keep an eye on us in this space. We believe Steemians love to say this so we shall end this post with "See you around the blockchain"!
TM Lee & Bobby Ong
3 October 2018