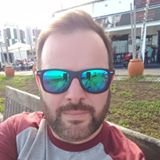 Hi, my name is Christian Hughes I'm a 42-year-old IT Account Manager for the United Kingdom. I guess that my story so far is very much like many people on Steemit but I would love to share it with you anyway.    
Love  
I'm married to a wonderful woman that I love dearly, her name is Rebecca and she is truly the best thing that ever happened to me. We live in a house, in a town called Kidsgrove, that we purchased about a year ago and we currently spend a lot of time renovating and doing it up. I must admit that I love the house but the amount of work involved to do what we want to do often makes me wonder if it will ever be finished! I'm sure it will one day.   
Life
Although I love my Job, I have always wanted to work for myself and have spent a lot of time over the past few years trying different things. Unfortunately, I've never found anything that could fully replace my full-time income. Recently, I have been thinking why I want to work for myself? It's not really about money, my job pays enough to pay the bills, it's not because I hate my job, because I don't and it's not because I find what I do boring, so what is it? It's actually about time and freedom, having more of both and being master of my own destiny. Now I have more of a focus on what I want, I'm now spending time thinking of ideas of how I can achieve my dream. Hopefully the Steemit platform and the community with give me both advise and inspiration.    
Passions   
My interests are really varied but 2 of my biggest passions are football or soccer for the benefit of my american friends and Car Racing. I have been a lifelong supporter of Wolverhampton Wanderers fondly known as Wolves. I always have high expectations of them, but over the years I have tended to be left disappointed. However, this never diminishes my enthusiasm and this year is always the year that great things happen. My other passion is car racing in fact I love cars full stop. I even worked in car sales for many years, just so I could be close to new cars every day! I have recently completed my 3rd visit to the 24 Hours of Le Man's Race held annually in June. It truly is a pinnacle of all endurance racing, not only for drivers, but also as a spectator as anyone who has ever been will testify.     
Philosophy  
I'm a big believer in the pay it forward philosophy and think that if you can do good things for others then in turn good things will happen to you. Recently I have made a commitment to myself to do more for charity and for those that are less fortunate than myself. The world can be a cruel place where terrible things happen to people who don't deserve it. The world can also be a place of wonder and beauty where people do extraordinary things for people that have been victims through no fault of their own. I would love to explore how Steemit can help me fulfill this commitment to myself and help people that need it.    
Hopes For The Future  
Although I only found out about Steemit about 3-4 days ago, Its already totally changed the way I think about the future. I'm really looking forward to contributing to the community and hope my posts can be helpful, useful, and informative. I'm also really excited about exploring how we can use this platform in new and innovative ways to solve problems and help make the world a better place than it was yesterday.