So with the kind suggestion from @gringalicious I've decided to introduce myself again.
Howdy Steemers, I'm Laura and I'm 21 years old from Newcastle, Australia. I'd never heard of STEEMIT before about five days ago when I decided to go for a little lurk and found myself intrigued and surprised at the concept. I loved that you had all this information on different things all in the one place so I decided to give it a go. I mean I thought I had some cool thoughts to share and I wanted to learn a little more about cryptocurrencies and all the endless possibilities that go along with them (STILL DO).
Heres a picture of me from about five minutes ago awkwardly trying to get both my face and my LIl STEEMIT sign into the picture! I'm such a dweeeb!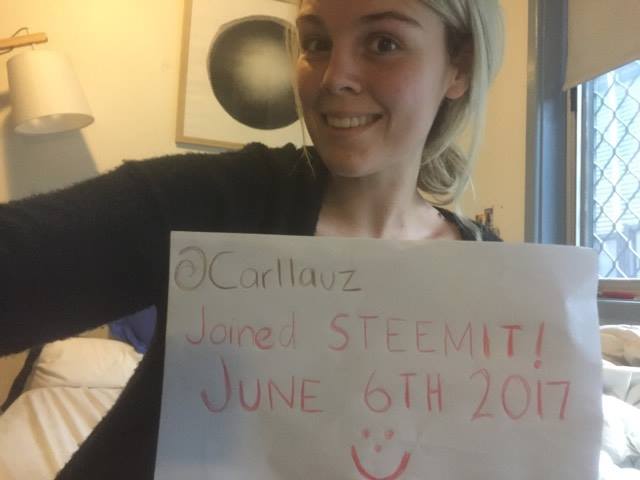 Anyways, for the future of @carllauz, for anyone who wants to follow. Will be like following someones thought process about literally anything that I find interesting enough to write about. I try and keep things light and easy and hope to make a few STEEMERS smile big smiles, but you'll find a lot of lifestyle blogging on here, I've already posted two posts; one regarding Job interviews and another my growing obsession with STEEMIT.
For those who are interested, my interests include but are not limited to; Russian Folklore, a little bit of healthy eating, healthy living, exercising when I can force myself too, keeping hydrated (IN FACT, i just brought a 2 litre water bottle that I'm pretty impressed with, I can feel the health already!) writing, reading and music.
That is all for now STEEMERS! and as I've said once before but I'm super proud of the play on words so I'm going to say it again. I'm ready to go full STEEM ahead with my page and I'd love to share my stuff with you!
So if you feel kind and you wanna help a girl get an audience I'd appreciate your upvote and follow, :))))