Hello everyone! I suppose I'm here because of @BenKweller. I was linked to his introduceyourself post off of his facebook account and was quickly hooked on the format of this site. It took me awhile to be verified, but thankfully the email came and I'm ready to start writing and upvoting!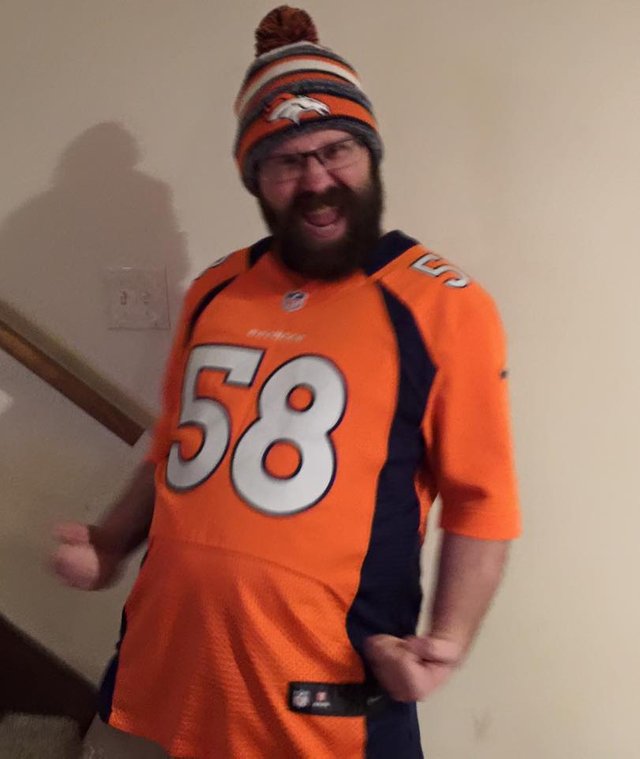 (I apologize for the poor photo quality. This was the image my wife took of me right after the Broncos won the AFC Championship and I couldn't think of anything better.)
My main passion in life would be being a father. I have a five-year-old son whom I adore and recently just found out that my wife is pregnant again! He's incredibly excited to be a big brother and I can't even begin to share the feelings I have about a second child. Of course, there's the thought that we finally just stopped wiping rear ends and have just signed ourselves up for five more years... but outside of the sleepless nights and diaper changing, we couldn't be happier!
My son's interests, which always end up becoming my own, include: Wrestling, Minecraft, Lego and Super Heroes (he tends to like Marvel over DC). He also loves our two dogs (Ein and Big Cass), his action figures, reading and math. Right now we're working on addition and subtraction, but he can also count to 100 and all the way back down.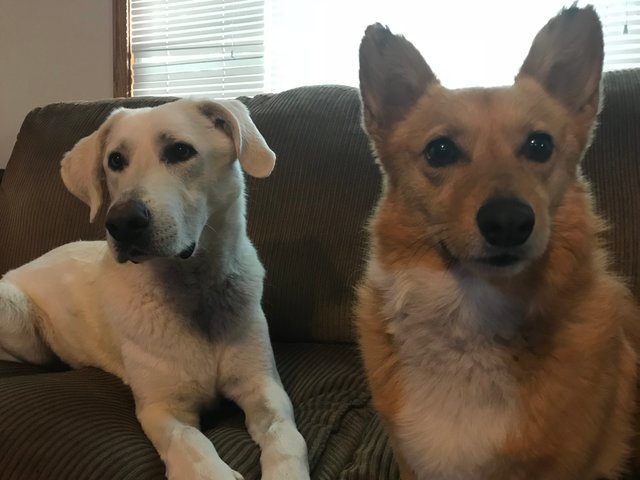 But enough of being a bragging dad. Outside of my family, my biggest interest is definitely the Denver Broncos. I follow the team year-round and obsess about every move big or small. My love for the team started as young as I can remember. I was raised in Western Kansas, nearly the exact same distance from Mile High Stadium as Arrowhead. Since the Chiefs are a Missouri team, and I've always loved going against the grain, supporting the Broncos came easily to me. Well, I wouldn't say it's always been easy. In fourth grade, my best friend ripped my brand new Elway shirt off of me the day after the Broncos beat the Chiefs. I've had plenty of blood, sweat and tears invested into them outside of that event. Super Bowl 32 will always remain my favorite game of all time, now followed closely by Super Bowl 50.
My other main passion in life would be my vinyl record collection. I have an extremely eclectic taste in music and I'm always looking for new albums. My favorite artists are: John Prine, Ben Kweller, the Eels, Elliott Smith, the Dead Milkmen, Todd Snider, Chumbawamba and Spose. I also enjoy Rancid, Bad Religion, Blink 182, Sum 41, Nirvana, Sublime, mc chris, Dr. Dre, Eminem, ICP, Michael Jackson, the Beatles, John Lennon, and many others. Really, the only music I tend to stay away from is pop country (outside of Taylor Swift -- my son's favorite) and new age Christian music.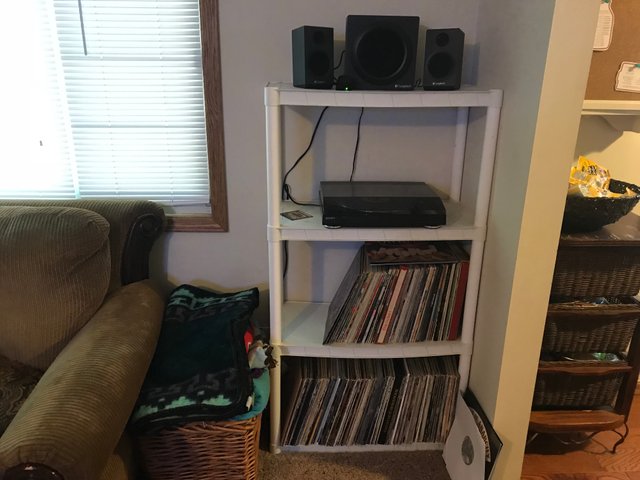 I'm fairly sure that no matter what type of music you're into, we both have some in common and you'll think I have terrible taste in others. I'm always willing to try something new and love talking about any artist you'd like.
My favorite records that I own would be John Prine's September 78, Ben Kweller's Sha Sha, all three Sons of Anarchy soundtracks, and both Guardians of the Galaxy soundtracks.
Outside of all of that, I'm also incredibly interested in politics, but I'm going to try and stay out of that as much as possible on my blog. Just for reference, I'm pretty much as liberal as it gets in a state that's as red as it can be. Needless to say, the subject tends to exhaust me these days and I can't comprehend what's going on in our country.
If you've made it this far, thank you for taking the time to read a little bit about myself! Hope you have a great day!