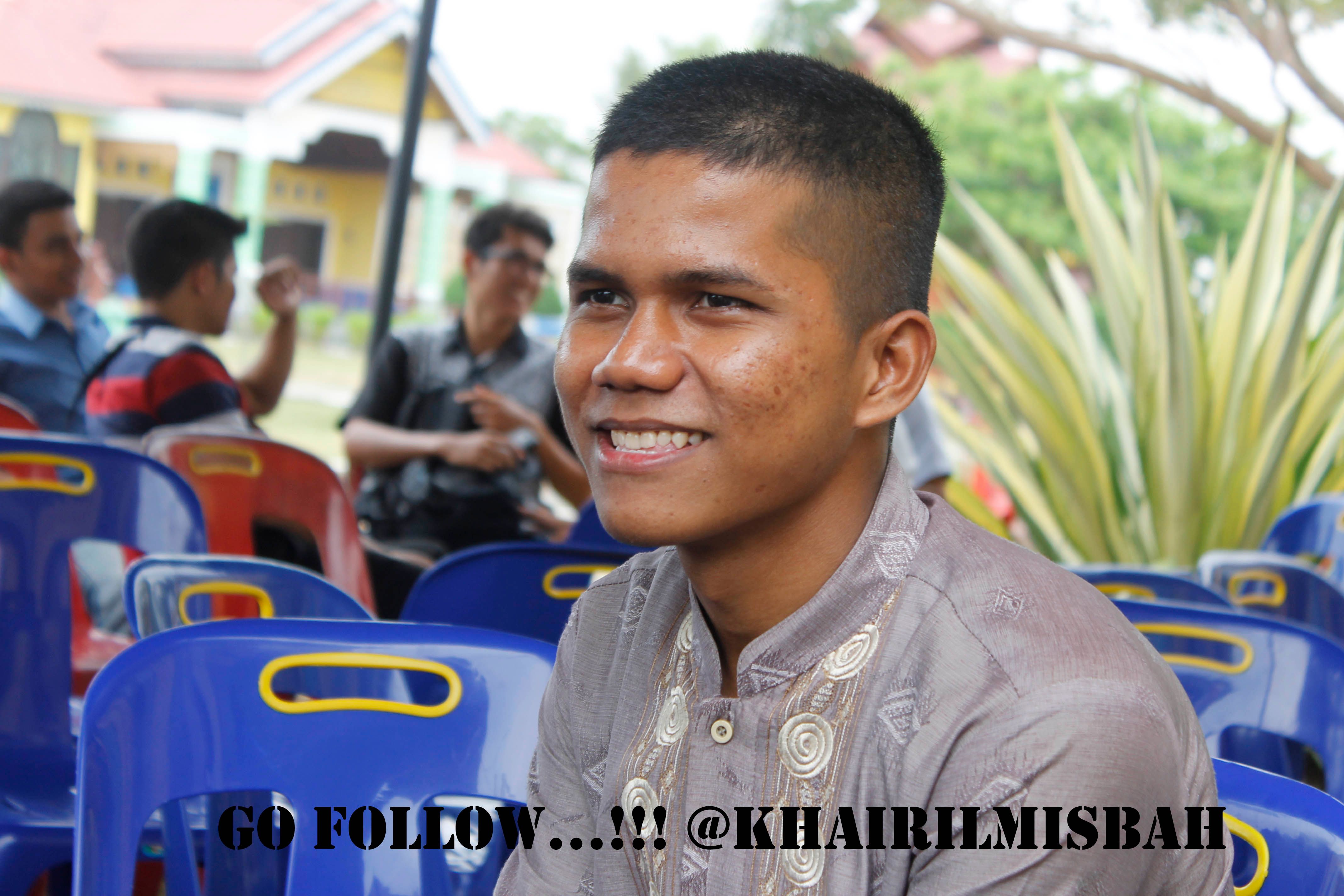 ---
---

English Language

---
Few days ago, I've wrote (though the writing is still full of errors, hehe) about the my activities with my friends. In that article I briefly alluded about my friend, Khairil Misbah, about his experience wading through the sea and also about the gripping moment while Prala (Practice field).
While we were eating mie aceh+venison, We also discuss social media that is being discussed in Aceh, steemit. The figure of him that coaster and rarely use social media, directly interested or fell in love at first sight to steemit when he heard our conversation about steemit.
With the direction of @raviyanda, @vikral, & me @azissuloh the candidates captain apply directly. Less than 24 hours, the steemit members in Aceh, Indonesia again increased with account name @khairilmisbah.
A man who has a seductive smile that absurdly glad when knowing this, hehehe. Last night, like all new arrivals in steemit, he instantly made an article introduction. The article is also seasoned with his experience during stay in a Bp2ip Malahayati dormitory Ujong Bate, Aceh Besar. And also about his story during a practice field.
Khairil misbah is a man that was born in Gampong Teungoh, Murah Mulia, Aceh Utara. Before getting into Bp2ip Malahayati, Aceh. The man who love to swim, Had studied in Ulumuddin Islamic Boarding School for 6 years. There, the beginning of our friendship story grow and bloom until now and later.
Khairi Misbah (@khairilmisbah) is our new friend in steemit. because of that, I invite you all my friends in steemit, who already more understand about steemit, to support and teach @kharilmisbah How to use the steemit of the good and true by accordance with the applicable provisions in steemit. Lets follow him @khairilmisbah.
---

Bahasa Indonesia

---
Beberapa hari yang lalu, saya pernah menulis (walau tulisannya masih penuh kesalahan,hehe) tentang kegiatan saya bersama 4 orang sahabat. Dalam artikel tersebut saya sempat menyinggung tentang seorang yang bernama Khairil Misbah, tentang pengalamannya mengarungi laut lepas dan juga perihal moment mencekam yang dialaminya sewaktu Prala (Praktek lapangan).
Sewaktu kami menyantap mie aceh+daging rusa, kami juga membahas tenatang social media yang sedang ramai-ramainya diperbincangkan yaitu steemit. Sosok Kharil Misbah yang kalem dan jarang menggunakan social media, langsung tertarik alias jatuh cinta pada pandangan pertama kepada steemit ketika mendengar perbincangan kami.
Dengan arahan @raviyanda, @vikral, dan juga saya "@azissuloh" sang calon kapten langsung mendaftar. Alhamdulillah, Kurang dari 24 jam, anggota steemit di Aceh, Indonesia kembali bertambah dengan nama akun @khairilmisbah.
Lelaki yang memiliki senyum menggoda itu girang bukan kepalang ketika mengetahui hal tersebut, hehehe. Tepatnya pada hari senin, seperti semua pendatang baru di steemit, beliau langsung membuat sebuah artikel perkenalan diri. Artikel tersebut juga dibumbui dengan pengalamannya selama berada di asrama BP2IP Malahayati Ujong Bate, Aceh Besar. Serta kisahnya sewaktu praktek lapangan.
Khairl misbah merupakan putra kelahiran Gampong Teungoh, Kecamatan Murah Mulia, Aceh Utara. Sebelum masuk ke Bp2ip Malahayati, Aceh. Sosok yang gemar berenang ini pernah mengenyam pedidikan di MtsS Ulumuddin & MAS Ulumuddin Uteungkot, Lhokseumawe. Di tempat itulah, awal pula perjalanan kisah persahabatan kami tumbuh dan mekar hingga sekarang dan nanti.
Khairil Misbah @khairilmisbah adalah sahabat kita yang baru bergabung di steemit, untuk itu saya mengajak kawan-kawan yang telah banyak makan asam garam atau sudah lebih mafhum seluk beluk steemit, supaya mensupport dan mengarahkan @kharilmisbah bagaimana menggunakan steemit yang baik dan benar sesuai dengan ketentuan yang berlaku di steemit. Ayoo..!!! go follow calon kapten masa depan Aceh @khairilmisbah.
Thank You and Lets Follow My Friend @khairilmisbah