Water2TheWorld ICO project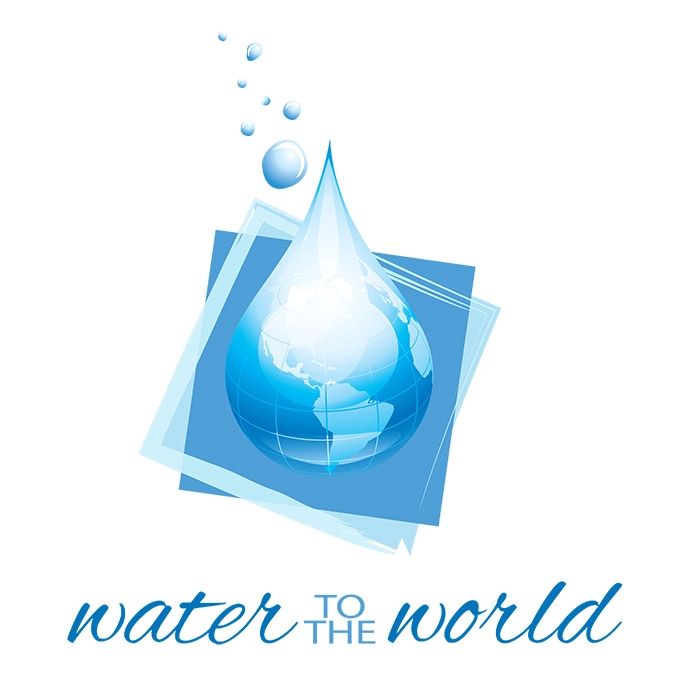 A world changing ICO with the Biggest Social Impact of any Blockchain solution this year.
Creating better lives for millions of people around the world.
Pre-Sale starts on December 28, 2018 3 stages of discounts, whitelist for Airdrop campaign for the first 3,000 subscribers
Public Sale dates January 25 - February 25, 2018
Water 2 The world is the first Blockchain solution to the worlds water crisis, the project aims to introduce a patent pending Smartmachine that produces up to 80 liters in a 24 hour period of fresh water safe for human consumption using the humidity present in the air around us every day, anywhere in the world. The solar powered units will use the IOTA Blockchain protocol to record outputs, predictive maintenance and other atmospheric data that can be trusted. The threats to our planet such as global warming, pollution, famine and water shortages, all can be monitored with Blockchain technology with results that are immutable, trusted and without human manipulation. The monetized of the data will be possible for the ecosystem participants and owners of the smartmachines for sale to scientific research organizations, governments and academic institutions around the world. The team is conducting the ICO to raise funds for the continued research, development with AI capabilities and interoperability Blockchain adoption of the units. The project plans to scale up units later in development for use by small cities, military applications and disaster relief.
Airdrop contest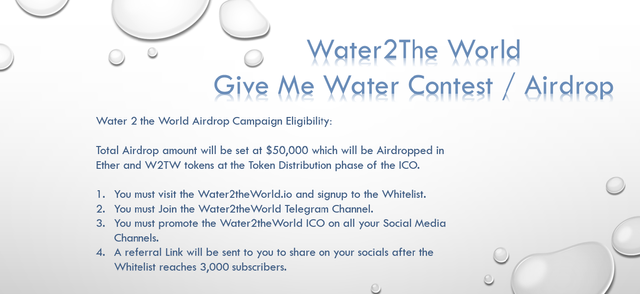 ICO supply Token amount: 400,000,000 W2TW
Total supply Token amount:1,000,000,000 W2TW
Links:
Website - https://www.Watertotheworld.io
Bitcointalk Thread: https://bitcointalk.org/index.php?topic=2656681.msg27075311#msg27075311
Telegram: https://t.me/Water2TheWorld
Facebook: https://www.facebook.com/Water-2-The-World-ICO-127380691384717/
Accept currency :Ether
Public Sale
ICO start time:2018-January - 25 12:00:00 UTC
ICO end time: 2018- February - 25 23:00:00 UTC
Please join the Whitelist on our website to get your FREE Airdrop Tokens and help us save our World