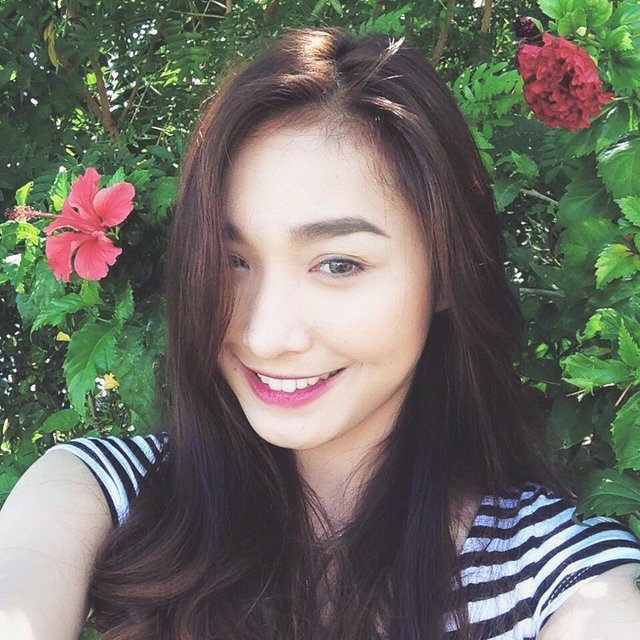 BASIC INFORMATION:
NICKNAME: "Sashna"
Birthday: May 27
Birthstone: Emerald
Zodiac Sign: Gemini
OCCUPATION: A-Plus Paint babe, Brand Ambassadress, Endorser, Print Ad Model
TALENTS: Singing, Acting and Dancing
MOTTO: "The road to success comes through hard work, determination and sacrifice."
LIKES: I like jokes and cute stuff, especially tidy surroundings… I like honest, loving, loyal and people with good sense of humor.
DISLIKES: Bad odor, bad breath, boastful and irritable people…
REGRETS: I have no regrets in life, it's just a lesson and everything has a reason.
FRUSTRATIONS: Someone talking behind my back, insecure people.
ONE WORD TO DESCRIBE YOUR LIFE SO FAR? Amazing.
FAVORITES:
COLOR:White
HOBBIES: Playing PlayStation 4, watching movies, surfing the internet
SPORT: Badminton
DRINK: Milk
PLACE: Bed (laughs)
MOVIE: Fault in our Stars
SINGER/GROUP: Sam Smith, Beyonce
ACTOR: Lee Min Ho
ACTRESS: Julia Roberts
MAGAZINE: Fashion Magazine
SUBJECT: Math, hmmmm joke! It's Science.
RESTAURANT: Shakey's
SUPERHERO: Superman
HOLIDAY: New Year
PERSON: My mom (Christine Policarpio), obviously because she's my mother. Ha ha ha hmmmm, she's the one who understands me when I'm not in the mood. My partner's in crime… I told her everything under the sun, the one who kept all of my secrets. My favorite enemy but is also my best friend.
QUOTE: "Work hard in silence, let success make the noise."
GUILTY PLEASURES: Chatting on facebook while studying.
DREAM VACATION: Japan
Naughty or Nice: Nice
Organized or Disorganized: Organized
Serious or Fun-loving: Fun-loving
Optimistic or Pessimistic: Optimistic
Studious or Carefree: Carefree
Cat or Dog: Dog
Adventurous or Bum: Adventurous
Piercings or Tattoos: None
Clubbing or Chilling: Chilling
Mountain or Beach: Beach and Mountain
PERSONAL QUESTIONS............
Life is… Weird, first you wanna grow up, then you want to be kid again. My greatest fear is… is the fear of losing my family.
If the world would end tomorrow, I would… If the world would end tomorrow, why not today? Joke! Ha ha ha hmmmm… If the world would end tomorrow, I would spend every last moment with as many of my loved ones as possible. Maybe I'll go around the town and comfort those who don't have anyone and fear dying alone.
If there's one thing that I could change in myself, It would be… The "shy" side of myself for the ability to be more confident.
I you could meet someone in the past/present/future, It would be… My one true love ha ha ha!
If I were given a chance to have super powers, It would be… To read people's mind so that I could find out the best way to help people and reach out to those who need it.
If I had three wishes… 1. No stress and problems 2. I wish I had an endless number of wishes (laughs) 3. Bigger breasts… Joke! Ha ha ha My third wish if for my Mom, it's to turn back the time where she could enjoy her teenage life because she got pregnant by the age of 16.
If you were given the chance to live again, It would be… A cat, so that I could have nine lives ha ha ha
If I won in a lottery for million pesos, the first thing I would do is… Go to the charity, joke! Ha ha ha but honestly the first thing I would do is to buy our needs, then the remaining money will be given to the charity like home for the aged, girl's town, orphanage etc.
If someone would take me out to a date, I want him to… Make me laugh, laugh laugh.
What is love? Love is you care for another person's happiness more than your own. Who is the most influential person in your life? My Mom? Ha ha ha
Who's your first crush? My first crush is spongebob, ha ha ha kidding aside, it's Superman.
What are your romantic fantasies? I have a few… One of mine is being surprised with a fancy dinner at the beach (made by him), gives me a bouquet of roses and kisses me on my cheek. Then after our romantic dinner, we would take a long walk along the shoreline during the sunset then when the sky is at it's prettiest, he would kiss me. Then the rest of the night, we could cuddle and talk until we fall asleep.
If you have to be in a long distance relationship, are you willing to fight it out? YES, it's not about the distance. Distance doesn't matter if you truly love each other.
The best advice that I could give to anyone about love is… The best advice I could give is eto lang ha, kapag di na kayo masaya sa isang relasyon bakit nyo pa itutuloy? Di kayo pabebe warriors na walang makakapigil. But then, syempre kailangan parin natin itatry ng itry ng itry para malman din talaga natin kung kayo talaga para sa isat' isa. Kailangan may effort parin kayo para mag work out ang relation nyo. That's it. Amen.
Do you believe in destiny? Destiny? I don't believe in destiny. We have a free will and we have a mind to use to guide us.
Do you believe in forever? Forever.. God is Forever. But when it comes to relationship etc. forever is just a word. Yup wala nga sgurong sa mga tao pero may lifetime. So kailangan lang natin itreasure every second, minute, hour for our loved ones.
HUMBLE BEGINNINGS....
How much do you love modelling? I love modelling. It's actually my first love but for now, I have to focus on my studies… "Iba pa din ang may diploma"
Did you ever plan to become a model? Nope, but modelling gave me a chance to overcome my shyness.
A lot of people admires your personality, why? I really don't know why. So I ask someone why they are admiring me. And the answer is.. "Well for me.. I admire you for being someone who has a beauty of a goddess but with a humbleness of a young girl.. You don't put yourself above anybody else.. You love sincerely, you always give your best, you're a very honest person, you believe in God."
---
Please Follow me , I'll do the same for you 😊
-Sashna 👈 Click this !!