As it says on the tin, I'm Colin Porter and I'm new here so please be gentle.
I was forced kicking and screaming to Steemit by my good friend Meredith @merej99. She's been on at me for about two months to check this place out.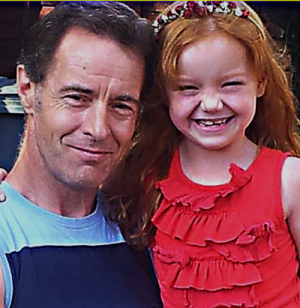 Me and my beautiful daughter
Some of my interests include:
Music. I love listening to music, mainly from the 60s. I enjoy singing and I often mess around on my keyboard trying to get a tune from it. I also love rehashing music on the computer, making my own extended versions of tunes.
I enjoy watching films, anything from thrillers to chick flicks.
I became interested in the spiritual side of life about 12 years ago, which led to a keen interest in mindset and our connection to spirit. I worked as a medium on the spiritualist church circuit for about a year and then from there I became more fixated with why it worked.I new it worked but needed to know HOW !
I went on to become certified as an NLP practitioner , which brings me to where I am now, self-employed helping people.
This is an ad lib video that was the first attempt in my food for thought series of motivational pieces.
What I want to bring to Steemit
I don't know. I'm an open book and willing to learn, but I also want to give back, I love to teach.
I want to maximise the ability I have to help people classify and clarify the things that may be holding them back from a better future.
What I hope to get from Steemit is to find a community of open-minded individuals to connect with.
Thank you for reading.
---
For verification purposes:
I can be found on Twitter or visit my website