Quanta1, Introduction post

Autumn Bliss, oil painting.
"The joy of a spirit is the measure of its power"
Ninon De Lenclos
Hi,
Why did I join the SteemIt Community.
I am very avid proponent to cooperation between us to grow better, healthier and closer Human Community. Earth tody thanks to the Internet became a smaller place in a sense that we can share information at the press of a button. Traveling is easer, we know more about each other, which is making us closer. We know that we all love our planet, our environment, our families regardless how we look or where we live. It is a huge 'global village', where we can help each other to live more fulfilled lives; This can be materialised in many ways maybe by selling our ethical products to each other, sharing information that helps us to improve our lives.
What would I like to contribute to the community, what I would like to gain from it?
I like to contribute my knowledge and life experience only as my perspective; I feel that I can offer a good deal. I am a mother of three frown up children; had to earn money that developed many skills, I travelled a lot and lived in few countries and finally studied extensively.
At the same token I am always open to learn more and I am avid reader of material that enhances my life.
What form my contribution will take:
I will write books reviews, books that changed my life for the better and I love to share this knowledge.
I will post information about art and in particular painting, techniques and I will post about the mental energy that drives my art.
Articles about photography (one of my past profession).
I will post articles about fitness and health, growing food that improves well being. I will talk about sport at any age.
I will talk about our criminal system and the advantages of the restorative justice as this is close to my hart. The justice system is not very just at the moment.
My name on Steemit , and why
Quanta1, it supposed to be just Quanta but this name was lost in the Steemit system by my difficulty with signing up, so I added 1.
Quanta per quantum physics is the smallest particle of energy.
And I see myself as a small and yet important part of us all. Each of us has this energy that is in us (some may call it spirit, soul, élan vital, or a particle of God).
I am not alone, I am part of you and part of us, part of the global village and I like to contribute to it the best I can.
Who I am?
I am a Spirit, a Human Being first, then my professions and interests are: artist, photographer, philosopher and criminologist.
As I feel myself as a spiritual being first (woman after that) age does not play big role in my life, I like to do things that are inspired by me wanting to be the better version of myself as I live my life. For example I started university when I was in my 50' and the same with windsurfing and this is a demanding sport.
Art
I am passionate about this medium of communication as it is very freeing to my spirit. In paintings I can communicate anything and in whatever form I like. I used to be professional photographer but as I still like to photographs especially nature, I found that paintings give more much more creative freedom. I usually put loud music on, mostly Metallica and let go and paint. This is such a lovely experience.
I will be posting in art section once a week, for anybody who is interested.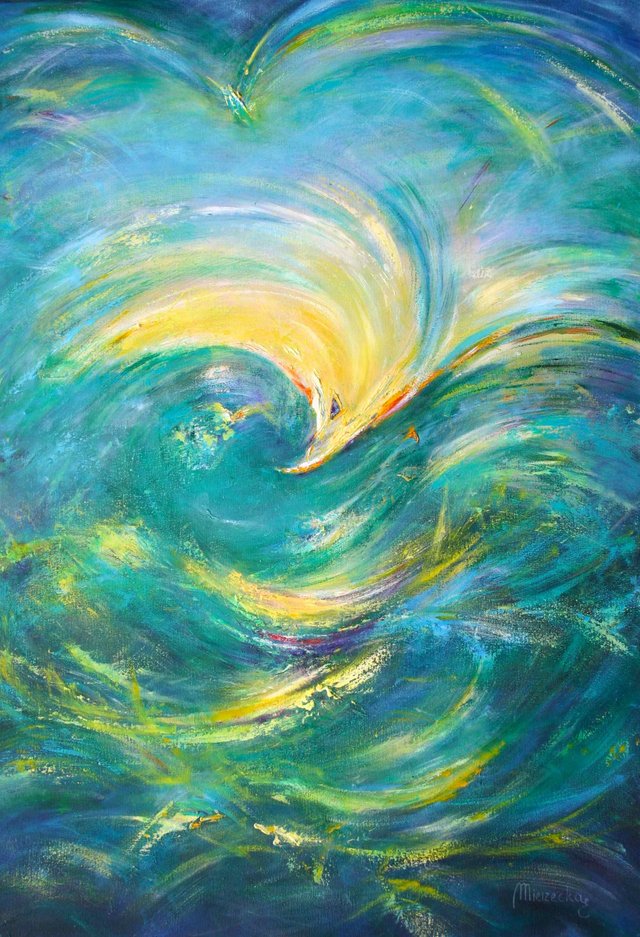 Friend or foe? Oil painting. Painted few years back, but I have a special connection to it, so I kept it.
Windsurfing
It has been a large part in our family, however my husband and I started it when I we were over fifty so for me it is purely fun (and sometimes scary) activity, but my son is really good at it, he started as a teenager and this sport became his passion. I will show some of us that windsurf and some well in older age, for the reason of encouragement to get active at any age, in any sport.
Spiritual enhancement
This is a huge part of my life, I read, listen, practice make mistakes and practice more. Being able to stay in present time and enjoying life in a system that tells you to constantly chase the next goal may be difficult. I have goals by what I am striving for it to be what I am (the best I can be) while I am striving to achieve goals. Most of all, I know that I am a spiritual being so I like to glow love as this is what I believe we are. LOVE.
"When the power of love overcomes the love of power, the world will know peace"
Sri Chinmoy Ghose
Sharing Love Quanta1.