Interview with the developer of index that predicts crypto trend
Programmer Jan Magrot decided to create his own index a few years ago, according to which the development of the cryptocurrency market can be predicted. It is now launching a web application that should, among other things, notify you of a trend change. It reminds me a bit of the Crypto Fear & Greed Index or the CryptoMood application. However, these deal more with market sentiment, social media analysis and news.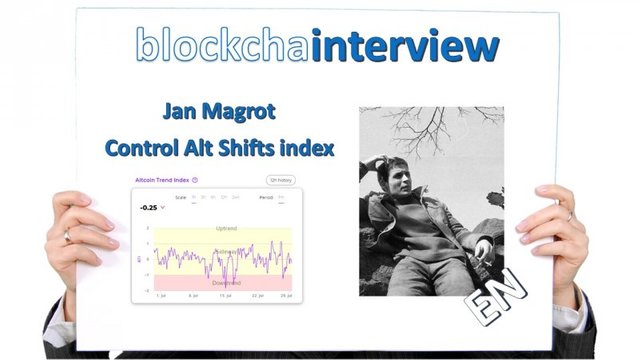 Hi Jan, why is your index called Control Alt Shifts? Wasn't the Altcoin Market Index more accurate name?
Hello. The Altcoin Market Index was more apt, but as soon as I became aware that the indexes would evolve more, I had to change the name and use the name without the word index. Well, of course the promo man told me to use a short name. But I didn't want to be another of dozens of cryptoboom, cryptomoon, mycrypto, cryptooo, etc. So, we argued until I got through and I said we were going to call our name. Whether it was a good or bad decision, I don't know. It was actually a little organic. I originally developed the index for myself, but then it became clear to me that it might work for others. And gradually the whole application came into being.
What is the index calculated from? Is it clear that you will keep your know how for yourself, but can you at least indicate? What exchanges do you download information from and whether the market sentiment is also included in CAS, similar to the Crypto Fear & Greed Index or CryptoMood?
I use data from all major exchanges to calculate indexes. I tried to involve almost all the exchanges that can, but this leads to a strong bias in the results. I only process stock market data, not sentiment information. These seem to me not very reliable and the offset is wrong. With us, when ATI exceeds 3.0, you can be sure that the alts will go up. What we cannot say is how long they will go up, and we will never succeed. In general, however, it shows the rate of exceedance itself. This is the crowd alt madness that we remember from autumn two years ago, so it follows when ATI exceeds 3.2 to 3.5.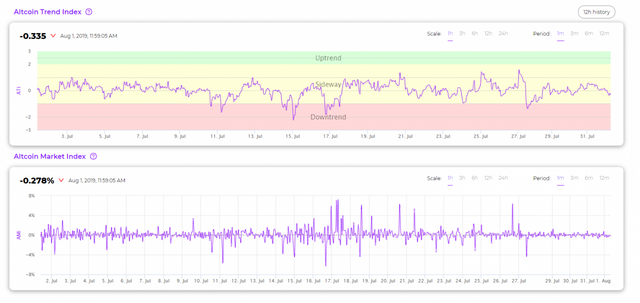 How much ahead does your index predict trend trends? Is it in hours or days? Previously, ATI reported a trend change two days ahead unless I'm wrong.
It depends on the state of the market. I experienced up to a week, which is a bit hard during the seven days to remain patient. It was just at the end of the bull alt trend in December 2017. A week before the end of the trend for a few hours ATI values appeared on the border of approx. -1.7 (on today's scale) and bitcoin fell slightly. Then ATI returned to higher levels. At that time, I expected the end of the trend within three days. But it was a pretty long run, almost two months, if I'm not mistaken, and very strong.
The market of inertia continued an uptrend for a week, but at a slower pace and by no means so vigorous. I remember it exactly. Bitcoin added another $ 1,000 to the final amount of nearly $ 20,000 each, and the alts jumped up a little, but that was insignificant. Then it came, ATI dropped below -2.0 and bitcoin made the first proper red candle after two months. Super ride it was. So, it depends on the strength of the changing trend.
Any similar index can be interesting, but its success is decisive to its application in practice. As ATI, respectively now CAS predicted a trend reversal ahead of ATH in December 2017 and March 2019, when the bitcoin was in the range of $ 3,000 - $ 4,000 and suddenly began to rise to over $ 10,000? That is why someone would like to buy it. To sell properly at the next all-time-high and later to buy more coins. There is no worse feeling for a trader than when he gets rid of his position and sees the trend going on and on.
We predicted the beginning of the ALT uptrend in autumn 2017 precisely. ATI flew above 3.5 and I knew it would be strong. I have already described the end. As for the BTC in 2019, although there could be partly derived from the relationships of its movements from ATI, but ATI is primarily designed to detect trends in the alto market. Now we have developed the FTI (fiat trend index), which, in conjunction with the BTC index, already gives a very interesting and stable results in the BTC predictions. I want to continue to develop things, but we can already generate realtime recommendations for what to do. Whether to buy BTC, when to go to alts etc. Often these recommendations are considerably more reliable than my estimate. And that's the point. The connection of computing power and the human eye and brain. This is a strong combination.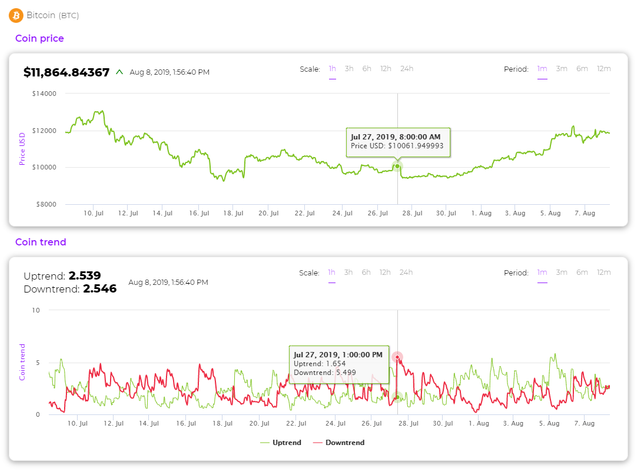 Bitcoin is revolutionary in that, as the first cryptocurrency, it began to give people the opportunity to send value to each other without the intermediary, which was most often the bank. This is his real strength that should not be forgotten. On the other hand, if we're still in the Early adopters phase, why not use that information and invest in it, right?! How much do you think will be the next ATH and what can be the next correction after that?
As I wrote, if it does not deviate globally politically, which I do not think until then and if we start from the past, if we take the past starting price of $ 1,000, ATH $ 20,000 and the bottom correction to about $ 3,500 , so the next ATH should be about $ 70,000 and somewhere around $ 10,000 correction. Unless the other factors deviate more extreme, which I think will happen and there will be some business or financial crisis + crowd supports the crowd, so in the event of this scenario, about $ 160,000. But again, at some point we get to a horizon beyond which we can no longer predict. If the crowd really got into it, we could end up somewhere else.
What about your estimate of the bitcoin price after the next two halvings, after 2024? Do you think that even thanks to the fiat currency crisis, we can look at seven-digit numbers (in dollars)? Do you even want to make such predictions?
I do not want. I do not like speculation very much, and the more we go in the predictions from the present to the future, the more we make mistakes. Because the factors are simply more and more and the tree of possibilities is infinitely branching. If there is to be a fiat currency crisis, which I think will always defend the common interest of all parties, it may not bring anything good, even the crypt scene. Maybe the development is good duel. It brings dynamism. But not a duel that destroys everything. The financial and fiat currency crises to some extent, or only in certain states, will be good for the crypto. But if theoretically, the entire financial system should collapse, the crypto will be the last thing that interests us.
Thanks for the interview and continue to predict the development of the cryptocurrency trend!
---
This interview and some other can be found on https://www.blockchainfo.cz
---
To register for Control Alt Shifts, an annual subscription costs $ 84. However, you have the option to test the CAS index in a two-week free-trial period, after which you decide whether to continue with the CAS index. You can register directly via this link https://controlaltshifts.com