Interactivity on your posts
I wanted to write about something which I may have written about before, but I believe it's of outmost importance for your Steem blog/page. Especially if you are someone with an already existing fanbase on another platform.
There have been many that I have noticed who join Steem with the hopes to post content here and be rewarded similar to the way they are rewarded on other platforms. The difference is that there you get rewarded from adrevenue, here things work quite differently. Many of these content creators seem to lack interactivity on their posts which often can lead to less votes being given to those posts.
I know, I know, a lot of investors and curators have lately given up on curating and are delegating to bidbots, etc, for maximum profits, but there are still some around and hopefully with some changes around the corner they will be incentivized to curate once again.
What I would recommend any of these creators from other platforms that are having a hard time on Steem, though, is to market your Steem account on your existing social media platforms. This is not just selfish advice to raise the amount of users on the platform for my own gain through the value of Steem rising. You will benefit a lot through it by having more interactivity with your fanbase on Steem as well than just on the other platforms. The key differences here is that you yourself can reward your most loyal and good commenting fanbase and they can grow with you to support you in the future. It is not just ethics so that your posts don't look like graveyards with some rewards next to them, but it is beneficial for everyone.
One of the few reasons I've noticed flags in the post which have been about "disagreement of rewards" have been on posts they've felt have been overrewarded when no one was commenting on them or the author was not engaging with his audience at all.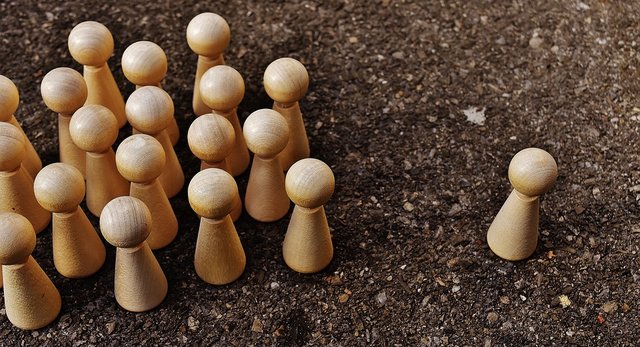 I personally have some loyal followers who have been interacting and voting on my content/contributions for a long time and with their SP and prices increasing their stake and votes have become worth a lot more than they used to be and I appreciate their continued support a lot.
I don't want to dismiss the negative points on the platform right now such as spammers writing short comments and voting themselves up or those that barely have any SP but hoping for votes on copy-pasted comments. I know those can get very tiring to endure and have to read through but I've learned that flagging them every once in a while when you recognize the usernames or just ignoring them and rewarding good comments instead will show them that they won't gain anything by doing what they are doing right now and they might try better.
There are many who don't speak english at all and may not have bigger influencers in their own language they can hope for some rewards from, but I've learned that even if they try with google translate and you can tell they actually read the content instead of just copy-pasting random spam - a reward on their comment will go a long way. I believe that languages and communities around that will improve a lot once Hivemind is released.
Anyway, what I wanted to get out is that, if you have a big following elsewhere, make sure to let them know you are posting on Steem and invite them over. If you are able to, you could even offer them free accounts through steeminvite.com or steemcreate.com which will only cost you 0.1 Steem and some delegation which you can take back later. This way they won't have to wait for long to create an account through Steemit, at least until the next hardfork where account creation will hopefully be faster.
Just like it has for me, I believe it will definitely be worth it in the long run to have your loyal followers onto Steem with you!