Who will go first into the hell?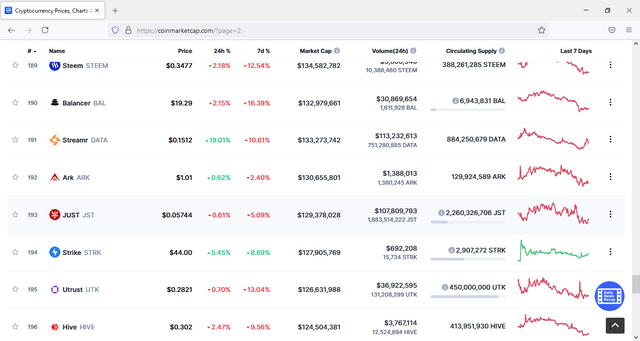 Dear friends
here we are in this moment where our belowed coins are almost ready to go into the hell in the crypto ranking system.
Everyone know, the most important and reliable ranking system is coinmarkecap.
This site is considering reliable the first 200 crypto in the ranking which are giving real support on the coin value with the fiat money investment.
Unfortunately, the actual value of Steem and Hive is almost at the limit of the hell, because when coin will go under 200 position, than the position can fall into crazy low position because from 201 ranking, the coins ranking is no more following the real value, but just promised one!
Our company cannot follow a coin who will not be in the first 200, so we will move our investment to who will keep in this main ranking, in order to keep our investors safety.
Right now we gave to both engines our coin value safety, but we will move to the coin which will be keeping its value as safety for investors.
So we give protection to our investors, in the case one of the coin will disappear over real ranking, we will rebuy the coins an convert them in the other engine.
So who we want invite to get this bonus, who is able to give to customers such safety?