Hello!
As some of you already know, there have been some slight changes.
Not only is https://www.intrepreneur.life live!
We also just burned 250,000 out of the already very low supply of only 10 million INT.
Leaving a total of only 9.75 million.
Even though it says there are still 10 Million INT in the max supply, sending tokens to the @null account is essentially "burning them" since absolutely nobody has access to the account.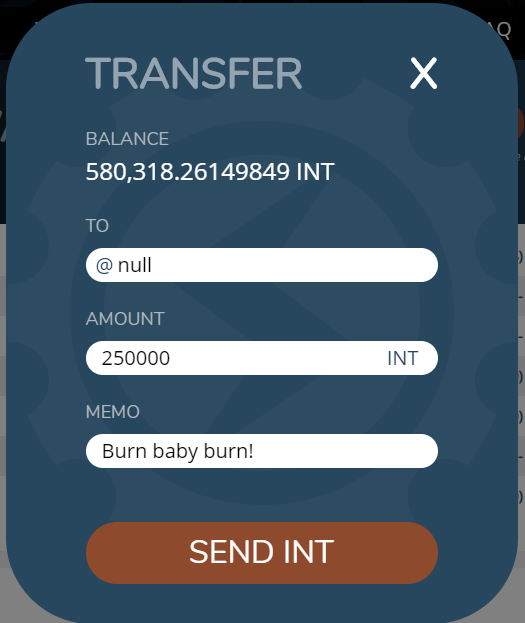 The reason we did this is because there were initially 500,000 INT staked on the @intrepreneur account that would have been used to flag unrelated content.
After much consideration, that 500k INT has now been unstaked and 250,000 was placed on the market for sale at 0.1 STEEMP to help fund the rest of Intrepreneur's foundation, tools, and interface.
Now that the INT stake is being completely removed from the @intrepreneur account, it will be possible to use that account's stake in SP in the same way the @minnowsupport bot is used. The difference being that you would send INT to @intrepreneur with a STEEM post URL memo for an upvote. coming soon
You might be wondering, how would a person get an upvote worth anything from an account that only has 83 SP? Well, they wouldn't.
We'll need to have a lot more SP than that before this can happen. Which is what the initial STEEM earned from the token sale will be used for. 75% will be powered up directly to the @intrepreneur account. While the other 25% will be set aside for other INT-related projects. Mostly involving new ways to spend your INT without having to just sell it for STEEM or use it for paid upvotes.
Why would you want to stake INT? Well other than the obvious reasons, like supporting entrepreneurs everywhere, there is an airdrop coming up very soon for INT stakeholders. Those that have their INT staked on August 13th (about 2 weeks away) will have their accounts stake information recorded and on August 14th will be airdropped some extra INT for being supportive members of the community.
The more stake you have, the bigger of a percentage of the total airdropped INT you will get.
How much is that?
There will be at least 50,000 INT airdropped, unless we decide to throw in some extra from our own personal stack.
Let us know if you have any concerns or suggestions, there's always room for improvement!
This is the end of the update section of this article. Next up is... the QUESTS!!
This is how you complete them:
Be a part of our amazing community and join the Official Intrepreneur Discord
Create a STEEM post that is an easy-to-follow tutorial detailing exactly how-to buy and stake your INT. In Any Language.
Share the link to your post in #quests on Discord.
Completed quest entries will be rewarded with 50 INT!
BONUS! Sidequest!
Share the link to your post on your Twitter feed for an extra 10 INT!
Share the link to your post on your LinkedIn Profile for an extra 20 INT!
Once you have completed the sidequest(s), put the link(s) in #sidequests on Discord.
SUPERQUEST!!!
Make a d.tube video that is at least 1 minute long, that is also an easy-to-follow tutorial detailing exactly how-to buy and stake your INT. In Any Language.
Leave your link in #superquests on Discord
Superquest reward: 200 INT!

Stay up-to-date with what's happening by following @intrepreneur and make sure to join our Discord too!
Please upvote and resteem this post to help spread the message about Intrepreneur.
Thanks for your ongoing support!