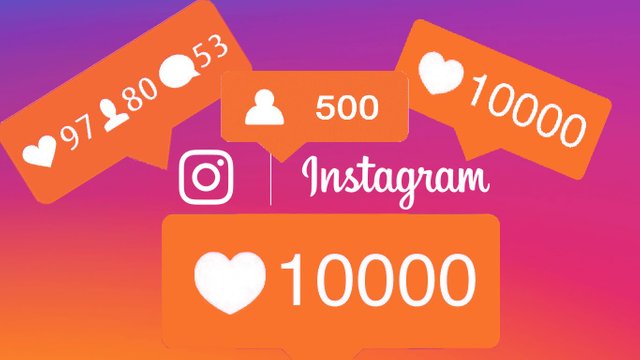 The reason behind this post is simply for beneficial purposes. This method had been my personal method for gaining legit [NOT BOT] followers the fast and easy way, without having to pay money or run the risk of getting your account banned or hacked by potential scammers. All I ask in return is you use my referrals for giving you this information. If you can't at least do that for me then just forget about reading the rest of what I have to say. Now let's get started, it's easy really. You just may not know about it yet.
It is nothing more than these 2 apps that I personly found on the Google Play Store. I have been using them both for less than a month now to gain followers. It's truly amazing! The apps are called Hiketop+ and Neutrino+. They both are somewhat the same and been working wonders for my personal Instagram. I'm not just saying that either, I'm actually serious about these apps. I'm almost shocked they even exist, with the amount of money some webs sites are charging for followers these guys are giving them away for free. There is obviously in-app purchases and stuff where they can make money but still, it blows me away. You may not have heard of them simply due to the name, even the logo kinda set me off, you wouldn't think a random app call "Hiketop+" or "Neutrino+" would be used for IG account growth. There are countless apps and websites out now to supposedly "help" gain followers or purchase likes but a lot, if not all of them cost a decent amount of money and worse of all are just bot accounts and scams.
Hiketop+ SCREENSHOT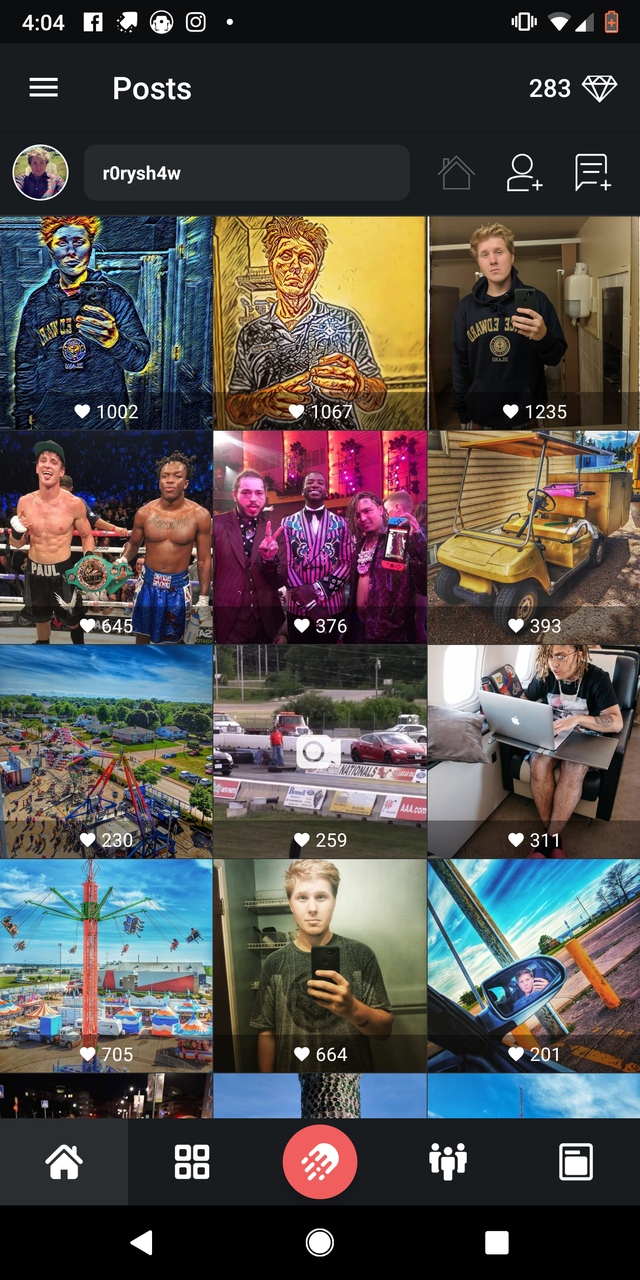 Hiketop+ is very cool because of all the different features. The main use for it is to exchange "crystals" for likes, followers or views. 299 crystals will put your name on the top of the followers' list for 10 minutes. The followers list is used to help people gain crystals by following other people, each person you follow gives you 5 crystals. You also have the option to change the audience from English (EN) to any other language. You can buy crystal via credit card or other Google Play payment methods, for a fair price or you can run the built-in crystal generator that runs in the background, which is surprisingly good on battery life and best of all gives you a decent amount of crystals. You can also X2 the number of crystals for $10 via credit card or other payment methods as well but X1 is still pretty amazing. There is an unfollower detecter that you can run that detects all the people using Hiketop+ that followed you for 5 crystals then unfollowed you. You can then punish them, in turn, giving you 50 karma, karma can be traded for more crystals. Karma can also be made by watching users videos under the tasks section. Watching videos also just recently become more profitable than following users by X2 since the latest update. Other tasks can also earn karma such as watching advertisements and installing one or more of the selected apps and completing the task given for the app. I have seen tasks that you can earn anywhere from 1 to 50,000 karma so it can be well worth it. The referral system is definitely my favorite, for every person that uses your referral, you both get 5% of the total generated crystals, for a person like myself that uses the app consistently gaining lots of crystals then that tends to add up for the both of you and the best part is for example if you had 10 people on your referral list and you get 5% for each person then if you had someone on your list that had 15 people then you get 5% of there total they made from there list and so on! The referral system is one of the best I've seen when it comes to profiting from it.
REFERRAL: FR775571
SCREENSHOTS: https://photos.app.goo.gl/qogxat3RpVZTEncb6
Neutrino+ SCREENSHOT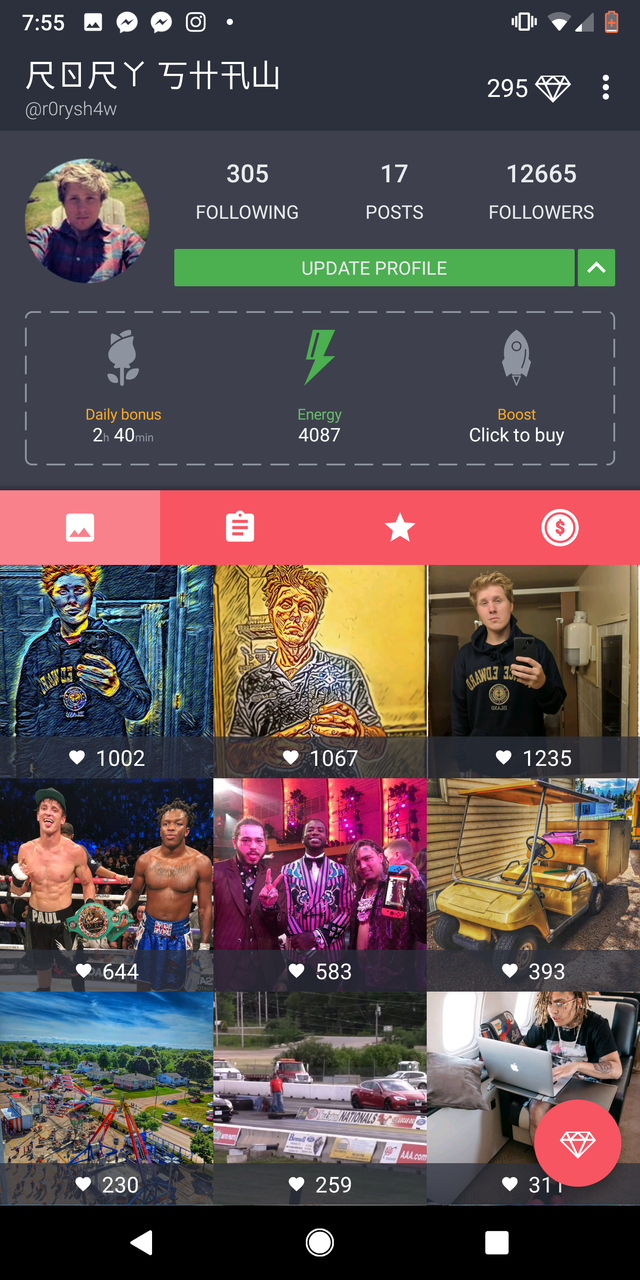 Neutrino+ is pretty much the same, I find the generator is slower but instead of 5 crystals you can make per person you follow it's 8. It costs 649 crystals for 20m on the followers' list. You don't gain karma for watching videos but you can gain energy for other things which are the same as karma. You gain energy for punishing unfollower, then can trade the energy for crystals. You can't buy views or likes for videos, only pictures, and the price is cheaper per like. You can purchase crystals via credit card or other Google payment methods, there are also four different boost products to gain crystals faster like the X2 on Hiketop+. Personally, I think the referral system for Neutrino+ is better then Hiketop+, instead of the 5% you gain for each referral on Hiketop+, there are 10 tasks. Task #1 is "Referral should earn 100 crystals", when that referral has made 100 crystals, you then earn 20 crystals and 20 energy. Task #10 is "Referral should earn 100,000 crystals" and when that referral made over 100,000, you get 2000 crystals and energy.
REFERRAL: 6515996
SCREENSHOTS: https://photos.app.goo.gl/fCmqazt9DB96u46SA
I've only spent $10 via credit card to make the generator X2 on Hiketop+ but sometimes in life, if you're able to cheat and get away with it then why not right? Well if you have more then one device then your in luck! By using another smart device or PC emulator, logging in with both devices and turning both generators on then you can get the same X2 that would originally cost $10 for free. You can actually do this with any amount of devices, the most I used was 3 just for testing purposes. You can do this with both Hiketop+ and Neutrino+. I only recently decided to spend the $10 for X2 and starting using an Android emulator on my PC full-time to run the apps, when both devices are generating I make x4 crystals on Hiketop+ alone and double the amount I would have got just using Neutrino+ alone. I will say for any person that doesn't want to spend any money and for anybody that doesn't have the second device then still this is totally worth your time, it's a complete game changer in my opinion for gaining followers and buying likes. I currently have 12.7K followers, I only had 363 not even a month ago, I believe I would have a lot more followers but I also traded a lot of crystals for likes, if you stick to it then its definitely going to benefit your Instagram. If you have a second device to spare and let sit and run 24/7 then your really laughing. Just look and see for yourself, my username is @r0rysh4w
The only downfall is Hiketop+ and Neutrino+ is only for Android but with a little effort they can both run on jailbroken apple devices! Also like I said you can use an Android emulator, I personally use BlueStacks for Windows. So please If your interested then just use the links below and they will take you to Hiketop+ and Neutrino+, both on the Google Play Store. Its simple, just download and install like any other Andriod app. Signup and the first thing that will automatically pop up is a prompt for a referral, this is the one and the only opportunity you will ever get to enter somebody else's referral code so definitely take the opportunity. Please like I asked at the beginning, use mine. Your only going to benefit more and more for every person that uses it. Then you can share your own referral code with friends or any social media site, maybe even in the comment section below.
Get Hiketop+: https://play.google.com/store/apps/details?id=com.hiketop.app
Enter referral code FR775571 after login, get crystals and exchange them to likes, followers or views. ;)
Get Neutrino+: https://play.google.com/store/apps/details?id=com.pockybop.sociali
Enter referral code 6515996 after login, get crystals and exchange it to likes & followers:)!