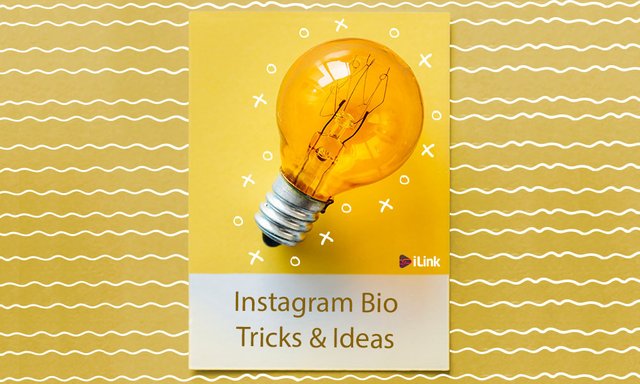 Your average (active) internet user has a lot of social media choices available to him, and is likely using more than one of them at any given time. And each one has some sort of user profile set up, each asking for the same general information: name, email, username, profile picture… Now, if you maintain multiple social media presences at once, keeping all of these up to date can be tiring.
Fortunately, most of these sites are designed in such a way that it doesn't take much to make your page look nice. Unfortunately, while these default options take away a lot of the headache, using them exclusively tends to make your site looking generic and boring.
Take Instagram, for instance: You got your Instagram bio set up, but would like to go a little bit beyond the basic information, and would like it to look a little nicer: centered text, proper formatting, even a few emoji to give it a bit of color. Unfortunately, most social media sites and apps these days are pretty sparse in their explanations of how to really get in them, to root around and make them do what you want them to do. They usually expect you to just intuit everything. Meanwhile, asking around about these things can usually earn you some eye rolls, as all the other users expect you just to "get it."
The tips below will work no matter what device you're on, iPhone, Android, Mac or PC. However, some devices have different emoticon keyboards so make sure you use a device that is compatible with the emoji you want to use.

Instagram Bio Tricks
Every once in a while it's good to update what your current understanding is of an app and see what new tricks have come about within the past several months. These will help you impress your friends and get more hearts as people like your content more and more. It's an easy way to step up your game and get more out of using this fun app.
Many of the tips below will be applicable no matter what device you're on, so if you're using an iPhone, Android, Windows Phone, etc. You will be able to use these to your advantage. Some of the things below may require a bit of different steps to change the settings, etc.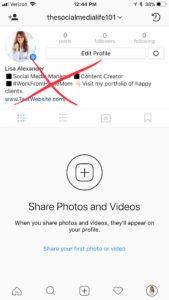 Some of the tips below rely on you having access to a computer. Often times you can do things on a computer, email them to yourself and use them on a phone and you can get a lot more functionality out of them. This is a great option if you want to do some special text or really unique things that you're limited by on a phone. While you can do a lot of the more common function from the various mobile apps, usually you need to be on the website to work with some of your more sensitive information (such as your settings and profile). Never mind the headache of trying to do fine formatting from a phone. So it's helpful if you have a computer at hand. If you don't, you'll be able to do most things right on your phone but may want to save some for when you can get your hands on an actual PC or Mac.

How to Edit Instagram Bio
You can now edit your Instagram bio both on your phone and on your computer. These tricks work no matter if you're on an iPhone, Android, PC, or Mac. This is also the same way that you can go about changing your profile photo if you also want to change that at the same time.
Change Instagram bio on iPhone and Android:
Open the Instagram app on your phone
Look for the little person icon at the bottom and tap on it.
You'll see an option to Edit your Profile, tap on it.
You will now be able to edit your new name, username, you can change or add a website along with an bio. You will also have the option to change your privacy information.
Finally, when you're done you can tap Done on iPhone or Save on Android.
Change Instagram bio on PC or Mac:
If you're on a computer and would rather change your profile on that, it's super easy, just head over to this address: https://instagram.com/accounts/edit/# which will take you directly to your Instagram profile.
Make sure you're logged into your Instagram account, if you're not already it will ask you to login using your username and password.
From there you can change your Name, Email, Username, Phone Number, Gender, Bio, Website, and more
How To Center Your Instagram Bio
You may or may not have seen other Instagram bios that are completely centered and wonder how in the world did they do that? When you go to the app and choose to edit your bio, you can't see any options to center and you're stumped on how to actually do it.
The funny thing about this trick is that it's actually pretty simple and doesn't require any special knowledge of the app, it's just a clever way to work with what you have. Follow these steps to center your bio.
First, you'll want to head over to your bio page.
From there, click to edit your bio.
This is the tricky part, if you just type in spaces it will automatically delete them when you save. You have to copy and paste spaces into the bio for it to maintain the space. Therefore, copy these spaces and paste them before your bio: ⠀⠀⠀⠀⠀⠀⠀
You may want to hit save and check your bio a few times to make sure it looks centered.
That's it, now your bio will maintain the extra spaces and stay centered. It didn't take any special formatting, zero knowledge of HTML, and you didn't even need to use anything more robust than the phone app. It's just a series of spaces. This might sound obvious, but it isn't really. A lot of websites with text entry have things configured so that duplicate spaces will be deleted, or at least won't render. So you can space and space and space and space and it will never show up. That's not the case here, and so this is something we can exploit.
TIP: Centering looks better if you use short sentences that are stacked as opposed to a long sentence or a string of sentences.
TIP 2:Want another way to center your bio? Simply open up Microsoft Word or any other text editing software and from there you can write your bio and center it. After centering your bio, just copy and paste it from the text editing software over to your bio and it will maintain all the formatting.

How to Include Instagram Bio Spaces
You may not be wild about centering your bio but you just want to add some spaces to spread out the bio a bit and make it easier to read or flow a bit better. The trick with this is you can't just add spaces when editing the bio and expect it to work normally, this is because Instagram has put in parameters to remove all unnecessary spaces to conserve space and make things simpler.
However, sometimes it's better to include those spaces to make the page more readable and appealing to the eye. To do this you will need to copy and paste spaces from somewhere else in order for Instagram to honor where you've included spaces (this is why the trick above works!). Basically, if you copy and paste the space from a different source, it acts as a character that can't be seen. As in, there is a character there but Instagram just doesn't recognize it so it shows the character as a blank. Pretty neat, right?
To do this, just copy the following blank spaces and insert them wherever you want in your bio to maintain a space. Of course, you don't need to do this with normal spaces between words as Instagram recognizes these.
Use as much or as little of the spaces below that you want, just make sure you don't copy and paste the arrows. If you don't want to use as many of the spaces that are below, just copy a portion or copy it all then delete them once they are over on your Instagram bio.


Include your Website on Instagram Posts
If you've seen businesses that use Instagram you may have noticed a lot of them use their website address on their Instagram posts and wondered how in the world they did that. Typically the app won't allow you to include links within your photo descriptions as they want to keep it more personal and less business related. However, there is a cool way around this and best of all it's super simple to do.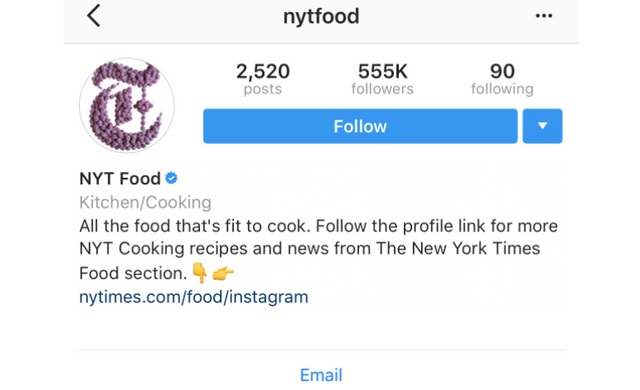 All you have to do is when you take a photo on Instagram you will be asked to include a description and a location. Just enter in the website address in the box that asks for location. This will show up as a link on Instagram and you will be able to publicize your business or personal website on your posts.

Callout Link on Instagram Post
Another really cool trick is to use your Instagram post to point out a recent article that you've written and want your followers to visit. Simply include within your post text to visit your profile bio to find more information or to check out your latest post.
You can also include your IG username to make it easier for them to visit your bio. Just put an @ symbol before your Instagram username and from there they can click it and visit your bio.

Add Symbols and Change Font on Instagram Bio
Another awesome way to spice up your bio is to include various symbols, emoji, or emoticons to your description. Some people are split on this topic. A lot of people feel it does give a bit of color to a site (if used judiciously). Others are worried that it'll hearken back too much to the old days of the internet, when every high school student had an Angelfire page needlessly festooned with blinking, spinning gifs, assaulting your ears with poorly rendered MIDIs.
There are a bunch of different ways to add symbols to your bio depending on which device you're using, what apps you have on your device, etc.
If you're using an iPhone make sure you turn on your global emoji keyboard that is built in to every iPhone. Simply head over to settings then keyboard and scroll down until you find the emoji keyboard to turn on. Do the same thing for Android or search the Google Play store to see if there are any cool emoji keyboard apps that you can include.
From there, head over to your bio and pull up your emoji keyboard and start including emojis or symbols to spice up the bio. Believe me, when you use a few different symbols or emoji it helps to spice up the bio and makes it more fun to read.
You can also change the font that you use on your bio simply by typing up your bio on a different text editing software, from Microsoft Word, to Text Editor, to your Gmail account. Anywhere that will let you change the font of the text. From there, once you get it how you like it, just copy the text and paste it into your Instagram bio. This will keep your same font as before and spice up the profile to make it look a little more cool.
source: https://il.ink/blog/social-media/instagram-bio-tricks-ideas/