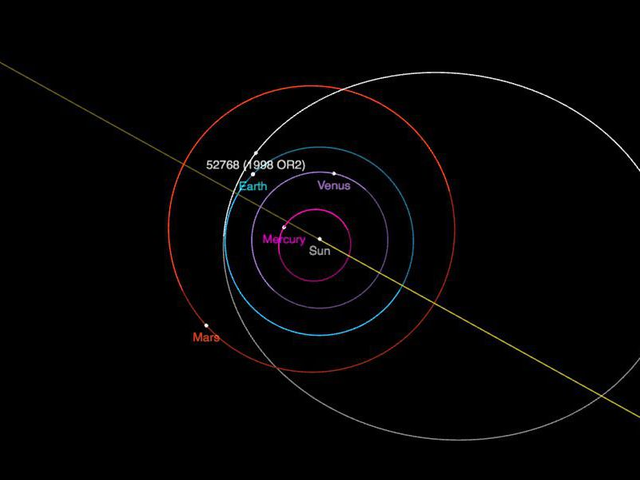 Lately, I have been dabbling a bit in astronomy. Something that has sort of caught my interest in the past few months.
I can not explain why I am so interested in space, or at least events that are coming in the near future that could mean something if you appreciate watching such events.
According to NASA, an asteroid called 52768 (1998 OR2) first discovered back in 1998,
Will pass within 3,908,791 miles of Earth, moving at 19,461 miles per hour.
The flyby is expected to occur on Wednesday, April 29, at 4:56 a.m. ET, according to NASA's Center for Near-Earth Object Studies. They track Near-Earth Objects that could collide with Earth.
The asteroid was classified as a potentially hazardous object because it passes near Earth's orbit, but it's not currently on NASA's list of potential future Earth impact events. Those are gathered and monitored by NASA's Sentry System, "a highly automated collision monitoring system that continually scans the most current asteroid catalog for possibilities of future impact with Earth over the next 100 years."
It's the largest asteroid expected to race by Earth within the next two months, but it's not the largest ever.
The Virtual Telescope Project will present an online viewing of Potentially Hazardous Asteroid (52768) 1998 OR2 on April 28, 2020. As the time approaches, check this page for more details.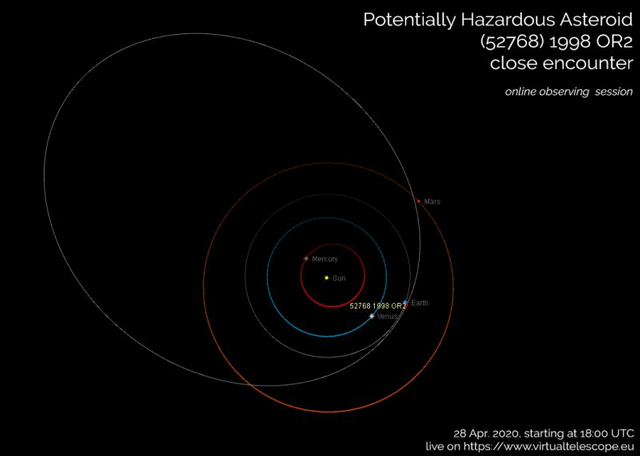 Image via Gianluca Masi/ Virtual Telescope Project.
Here is a video I found of all known asteroids in our solar system I have found to be interesting.
There are apparently a lot of things floating around according to this list I found Located Here