Cronavirus: Who is Making the Money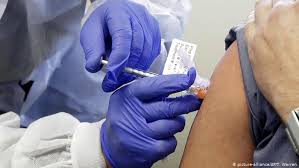 The headlines regarding the Coronavirus are inescapable at this point, as more and more cases are being reported across the US and the world. At this point, no one knows for sure how bad this situation is, as we have seen major issues with the testing, especially here in the US, where more often than not, many people are not even being tested. In this report, we focus on who is benefiting from this crisis, specifically, who is financially benefiting from this crisis. As any detective or investigative journalist worth their salt will tell you, follow the money. Links The Strongest Evidence Yet That America Is Botching Coronavirus Testing.
Johnson & Johnson announced a partnership with the U.S. government to Accelerate Coronavirus Vaccine Development.
Their subsidiary Janssen Pharmaceutical will be working together with the U.S. government to expedite the development of a coronavirus vaccine. Specifically, the company will be working with the Biomedical Advanced Research and Development Authority (BARDA), which is part of the U.S. Department of Health and Human Services.
As if testing isn't an important thing to do in this case, they just want to rush their product to you, for your protection.
If you want more information on vaccine testing here is a video for you to watch.
Although that video is a little off-topic, it does leave me to question the motives in rushing a vaccine.
Novavax
Novavax Inc has a proprietary nanoparticle technology that uses different antigens to give the patient a better immune response. This broader response could result in a superior vaccine with a level of adaptability built into the vaccine. The company quickly developed a COVID-19 vaccine candidate and has a track record of vaccine development especially for the MERS and SARS strains. After Novavax revealed the development and animal testing of its vaccine, its shares leaped 19.4%, making its investors richer by millions.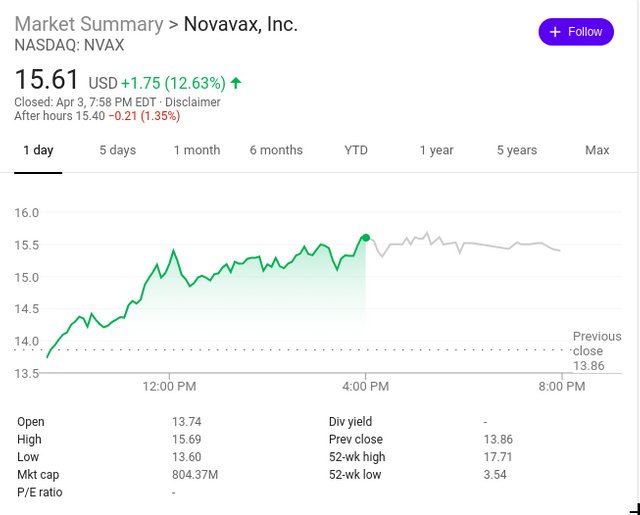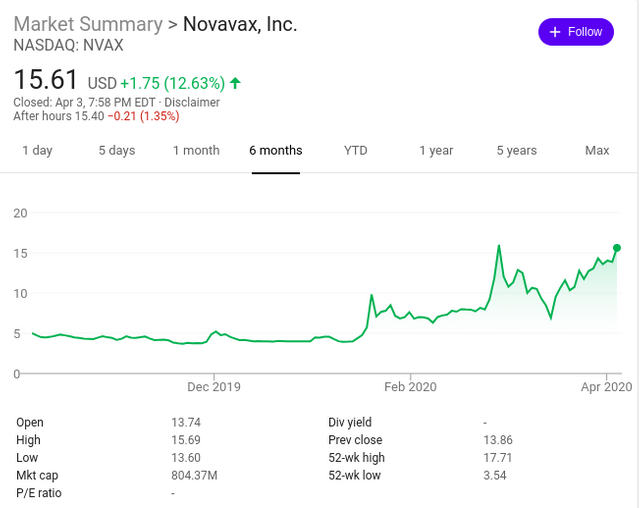 Gilead
Drug developer Gilead shares soared to 16-month high after WHO official said its experimental treatment is the best shot for fighting coronavirus. The company soared as much as 6.9% after the open before paring some gains. The jump pushed Gilead's shares to their highest level since October 2018. Gilead's stock is up roughly 13% in February, surging on investor hopes that its treatment can be the first to curb the coronavirus outbreak, but experts doubt whether Gilead's Remdesivir can treat Coronavirus.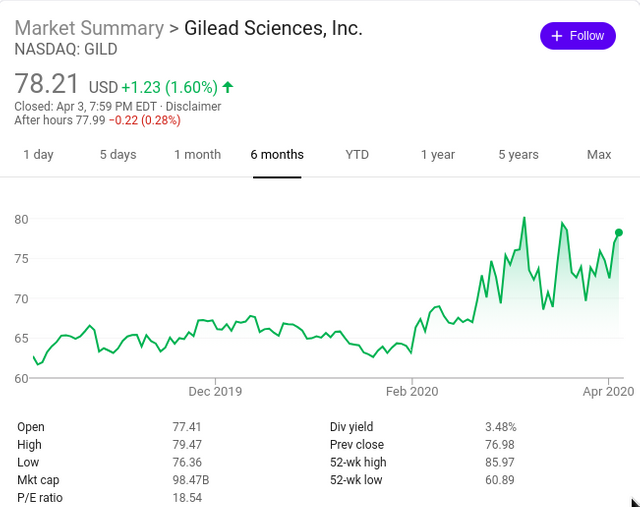 Moderna
After Moderna shipped the first coronavirus vaccine for human testing, its shares surged as much as 22%. The firm submitted vials of mRNA-1273 to the National Institute of Allergy and Infectious Diseases for a phase one study in the US, according to a press release. Moderna is the first company to push a preventative vaccine for the outbreak to trial.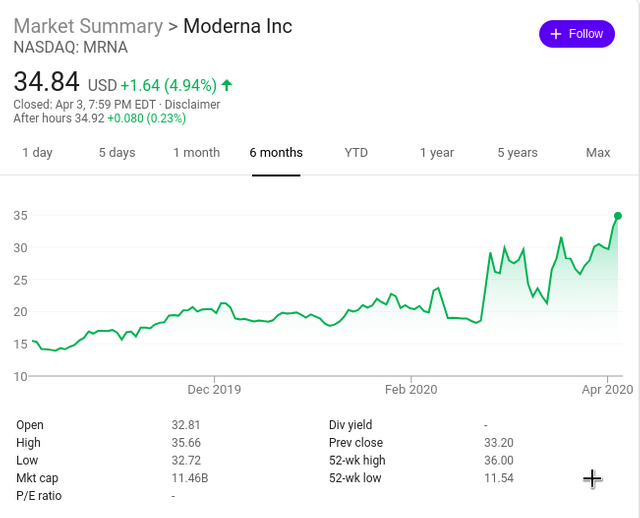 The $35 billion vaccine market is dominated by GlaxoSmithKline, Sanofi Adventis, Merck and Pfizer. These 4 players represent 85% of the vaccine market. These are the primary players but are by no means alone because there is a global rush out there.
Three biotech stocks are surging on the possibility of coronavirus drugs and minting millions of dollars for their biggest shareholders. Gilead, Moderna, and Novavax have all outperformed the falling stock market in recent days as the three drug developers rush to introduce preventative vaccines and treatments.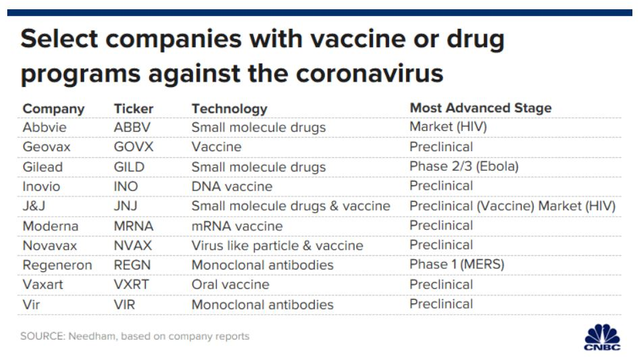 These companies have jumped into the race to combat the deadly coronavirus, working on vaccine or drug programs. Investors have been flocking to some biotech names amid market volatility in hopes that their initiatives to develop treatment and prevention for the coronavirus could come to fruition at some point.
In a time, where people are losing money every day, these companies are flourishing and the stock market takes a hit.
Red Flags everywhere.