The electric power "smart meter" is a dangerous thing. I will not speak of the radio linked signal, though some would argue that danger alone. I speak only of what the supposed smart meter does, and does Not do, to your house power.
http://emfsafetynetwork.org/smart-meters/smart-meter-fires-and-explosions/
I am an Electrical Engineer, and this is a National problem, but less you think this is just my opinion; here is a reference on court actions related to this:
https://takebackyourpower.net/1000s-of-smart-meter-fires-new-whistleblower-court-evidence-video/
First of all, lets discuss the actual device. It is a microprocessor based reporting system, capable of interrupting power to the house. The interruption is preformed by solid state switching usually SCRs (silicone controlled Rectifiers) or Triacs (bi directional SCRs). These devices are able to switch the amount of power a house uses (somewhere around 46,000 watts), but to do so safely they need a proper heat sink.
A normal heat sink for a 40,000 to 50,000 watt control is about the size of a house refrigerator, with a fan on the top that runs every time the switch is running. I repair them for several companies in this local area. The meter is smaller than a soccer ball, with no fan to force air over the tiny heat sink. There is not enough heat sink to be safe in these smart meters. They use the house wiring to carry away the excessive heat. It makes these meters a fire hazard!
Here is a rectifier using SCRs with a proper heatsink, picture from Pixabay: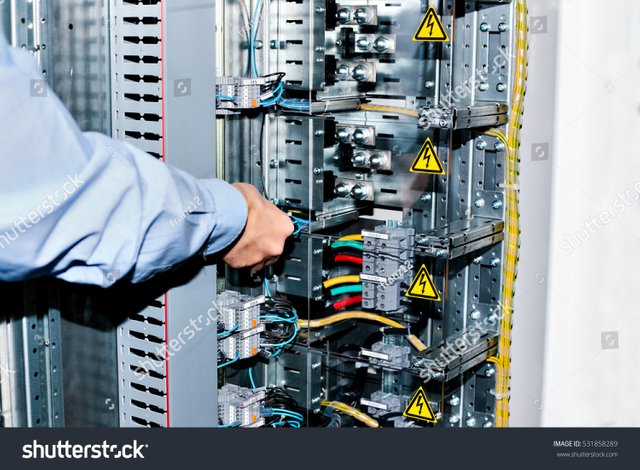 Now for the specific problem I have seen in my house. When power is interrupted, then restored, the power rushing back in is called end rush, and it is many times higher than normal running current. THIS Meter turns off power, late at night, to verify they have access to your house power. When they restore power, a second later, your AC Compressor starts against a full pressure head. Combine end rush with a locked rotor due to high pressure in the compressor, and you have an instant compressor burnout. The same thing (end rush) destroys power supplies in home electronics. I have lost over a thousand dollars in equipment repairs in the years since they put one in at my house over my written objections.
These meters are a fire danger to every house they are attached to, and should be removed immediately! In the mean time, every house that is fire damaged, and every piece of equipment damaged should be billed to the power company! The only metal they have to run heat into, is the incoming power leads into your house's main power panel. The insulation heat rise limit in exceeded often, burning the insulation, and causing an electrical short of primary power. THIS is the fire hazard they know about, and have chosen to ignore!
I have not repaired my central AC unit (that was damaged by this smart meter) because there is no reason to fix it so they can destroy it again. I will need to add a power lock out (a normal industrial control) timer first, that will keep the AC unit turned off for five minutes,after power failure, to allow the pressure head to bleed down, before restarting the compressor!
The second problem with a meter like this, is that a power meter measures current consumed. IT assumes that the line power is the same all the time, and measures the current, and multiplies it out in the microprocessor. With SCR control, the power company can write itself a raise, simply by turning the voltage in the house down with the SCRs. The current goes up when the voltage goes down, and they provide less power, and charge more it. Most bills have gone up by a third because of this cheat!
Your politicians need to be pushed on this problem also, make them know they will be fired if they do not represent you!
>:(