Texans sometimes make me proud, and this is one of those times! With understand and wisdom, they have resisted the pressure to take rights away from honest Texans, and told gun control liberals to kiss off. In response to demands that they pass sweeping restrictions in new laws, they instead removed and reduced existing restrictions in a wide area of laws. In so doing, they held the line and represented their voters well!
So; Don't mess with Texas!
Image from Pixabay:
https://pixabay.com/photos/shooting-ar-woman-ar-15-gun-rifle-777802/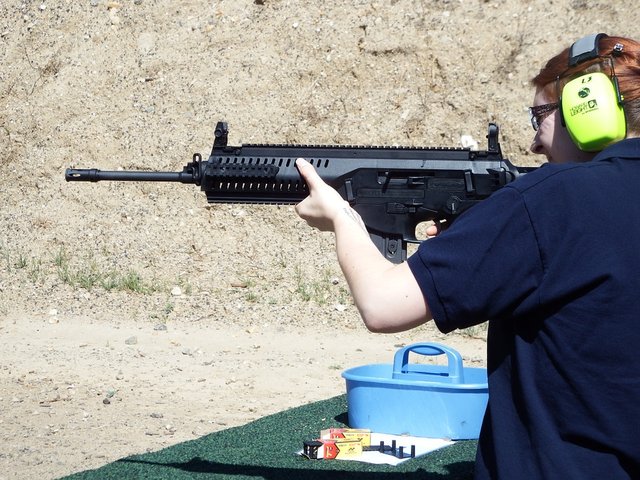 Fun at the Range.
Article on Texas's response to attempts at gun control over recent mass shootings:
https://thinkamericana.com/texas-to-relax-gun-laws-following-el-paso-shooting/
Texas lawmakers respond to the full court press to force gun control on the innocent Citizens in Texas, by relaxing gun laws across the board. They understand, that you limit the crazy people that want to kill, by ensuring that more good Citizens are armed, more often!
Well this is great news! Following the recent mass shooting at the Walmart in El Paso, Texas is planning to loosen up their gun control laws!
It should say something when the state with some of the most relaxed gun laws in the United States is relaxing their laws even more when it comes to buildings of worship, apartments, foster homes, and schools. Better late than never!
Texas lawmakers realize that if someone evil wants to do harm, they will do it no matter what laws are in place. The only solution is to make sure good people have means to defend themselves.
This is the wise way to respond to emergencies, by allowing people their Constitutional right to defend themselves! As they say when seconds count, the Police are only minutes away...and this proves that Texas Representatives understand this fact! They serve their constituents well
In a rare moment of honesty from CNN, quoted in this article we see:
"There is no indication that the shooting in Dayton, Ohio, would have been prevented by proposed universal background checks or legislation to bolster the federal background check system. The alleged El Paso, Texas, shooter purchased his firearm legally and there is no evidence that he had a criminal history that a background check would've caught."
Which begs the question; if it would Not help limit the crazy shooters, why do the liberals run home to momma (gun control) every time there is a shooting? It is the same as saying my neighbor has too many kids, so we should make a law that everyone else be steralized....
Article on the full court press for gun control in Texas:
https://txgunrights.org/latest-news/will-governor-abbott-cave-on-gun-control/
In this post the author is concerned that the knee jerk reactions will be to punish honest sane gun owners for the actions of a few crazy ones. It is a legitimate concern that liberal politicians push for more gun control the day after every shooting occurs.
Yet the gun control crowd and their allies in the media are pouncing on the opportunity to further rip our country apart.
Even though the crime scenes are still being processed, anti-gun vultures are swooping in for political gain.
Failed U.S. Senate candidate and now Presidential hopeful Beto O'Rourke is calling for universal gun registration, outright gun bans, and due process-shredding "Red Flag" laws.
Not surprisingly, Senators Elizabeth Warren and Kamala Harris are echoing his demands.
Instead of placing the blame on violent criminals and terrorists who slaughtered their fellow citizens, they want to blame you and me.
Here is the actual lawmaker's response:
https://therivardreport.com/9-new-gun-laws-to-loosen-the-rules-in-texas/
The lawmakers loosen gun laws across the board in Texas, to make Citizens in Texas safer. This is the proper response to the flagrant misuse of firearms! Arming the good people of Texas will provide defensive firearms to more locations, allowing immediate response to the crazy shooter situations. This is great news for Texas, and needs to be adopted everywhere else, until this shooting blight is brought under control!
During the 86th session of the Texas Legislature, lawmakers passed nine new rules governing firearms in a state that already has some of the most lenient gun laws in the United States. Each of the new laws goes into effect on Sept. 1.
These include:
Under SB 535, firearms can be carried legally at any church, synagogue, or other established place of worship.
HB 302 prohibits landlords from restricting possession of firearms by residents or their guests. Likewise, SB 741 prohibits a property owners association from restricting the possession, transportation, or storage of a firearm or ammunition. The law also prohibits restrictions on the lawful discharge of a firearm.
HB 1143 allows licensed gun owners to store their handguns, firearms, and ammunition in private vehicles on school campuses as long as it is out of plain view.
HB 1177 gives people the right to carry a handgun without a license during declared state and local disasters. It also allows disaster shelters to admit evacuees with firearms.
By arming more sheepdogs, we actually can keep the wolves under control! History has proven this to be true. The problem is not, and never has been, the guns; it is contained in the heart of those willing to do violence to others. When there is no longer a moral absolute (thou shalt not murder) then with enough work; you can justify anything, including Murder!
Remain Vigilant and don't be a victim!