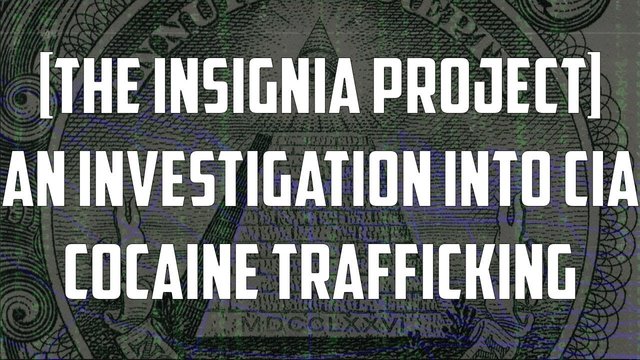 Google Images
I stumbled across a Reddit post in the Great Awakening that is gigantic, not only in size but in importance as well. It begins with an Australian man named Eliahi Priest who uncovered corruption on a global scale, in the US, UK, Australia, the Vatican and elsewhere. It involves drugs, banking, gun running and corruption involving unbelievable amounts of money and involves some of the most powerful people on earth. This is so big, I'm at a loss as to how to approach this. So I suppose an introduction of Mr. Priest, or Contact Zero as he calls himself, would be in order.

Mr. Priest calls his effort the Insignia Project and exposes people, government agencies such as the CIA, the Vatican, high level officials (up to presidents), bankers, etc., of crimes including murder. This will probably take at least ten posts to get anywhere near the bottom of this rabbit hole- if there is a bottom. This is just the beginning...
"A researcher named Elihai Priest has collected a series of documents, originally released by FOIA, journalists, and other government and world entities.
He is referring to this as Project Insignia. A majority of this information is dated and has been released many times.
The new piece of information contained here is the Panetta recording of a kill order.
This is a sample of what I've uncovered so far. Much more research is needed as I only was able to view a few of the folders in full, and had to take a hard pause.
I have bolded sections that I believe are of note. If you have anything to add, please let me know and I will edit the post with the findings.
This collection is the ultimate example of "follow the money."
All non-Mega links have been archived."
When it says "the ultimate example of follow the money" it's a huge understatement. I've spent the past several days going through the links included in the Reddit article and I've just only scratched the surface. The documents contain " classified documents pertaining to an FBI investigation requested by Ted Kennedy, evidence of Vatican bank accounts and money transfers, evidence of financial crimes committed in part by CIA, FBI, etc. If we can keep digging upon the Kennedy info, Five Star Trust, Project Hammer (see below) and others in this folder, this is prime information about the corruption of the DOJ and CIA."
"This document talks about FIVE STAR TRUST. FIVE STAR TRUST is "an asset protection" company originally registered in the Isle of Man. Originally, I could not make the connection between the documents contained here, so I did some more digging. FIVE STAR TRUST is an asset company started by a man named Marion Horn Jr, originally partnered with BARON GUY ROTHSCHILD. This legal document I found corroborates the document linked in the Mega drop, stating that the General Robert Ferrera, head of clandestine operations for CIA, was also an original partner."
As you can see this involves a decades long pattern of corruption involving, among many other things, a series of clandestine bank accounts belonging to a "White Spiritual Boy," that contains unbelievable amounts of money- the interest alone amounts to hundreds of trillions of dollars. They could pay off the national debt with less than a weeks interest! This account(s) is spread out among numerous banks such as JP Morgan-Chase, Wells Fargo, Citibank and banks in other parts of the world.
"In plain language, in 2008, the US Federal Reserve Board had an invisible account on its off-ledger books holding 2,588 trillion trillion trillion quadrillion US Dollars. That is 2588 followed by fifty one noughts. An indescribable sum of money. These assets are known as "grey screen" transactions, definition below."
I'm going to begin this as close to the beginning as I can find- with Barry Seals and the Mena Arkansas cocaine smuggling operation. I'm not altogether satisfied with the veracity of all this, but I am with the Mena operation so I can use that as a template of sorts when I begin looking into the other allegations. Whatever happens this should prove most interesting.
https://www.reddit.com/r/greatawakening/comments/9aaacs/insignia_project_dig_a_tale_of_cia_financial/