Greta Thurnberg is an actress and nothing more ! Baseless and emotive and dramatic outbursts does not sway the opinion of the World ! She is just selling that George Soros backed Lie of Global Warming !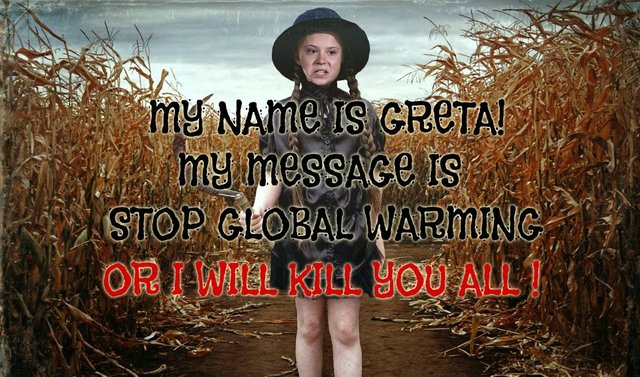 Greta Thunberg blasts world leaders in emotional speech at U.N. climate summit: 'How dare you ! '
In an Age where Truth is a Lie and Lies are Truth, should we be surprised to see this little girl given a day of junior school to go and talk to the United Nations ! So strange to see all of these people in this huge theatre who claim to be our leaders and agenda deciders sit there and be lectured by this petulant and id say rather obnoxious child on how she feels and thinks about their inability to enact effectively this Agenda of Climate Change and fight the notion created by years of lobbying by Al Gore and the too vocal militant environmentalists for the last twenty years !
ONE MUST WONDER REALLY WHAT THIS LITTLE CHILD THAT BARELY KNOWS LIFE YET SHOULD BE ASKED HER OPINION AS WHAT SERIOUSLY COULD SHE KNOW OR HAVE TO OFFER TO US ?? NOT TOO MUCH AFTER HAVING PAINFULLY LISTENED TO HER EMOTIONAL BUT FACT LESS SPEECH !
"This is all wrong. I shouldn't be up here. I should be back in school on the other side of the ocean yet you all come to us young people for hope. How dare you," she said. "You have stolen my dreams and my childhood with your empty words," Thunberg said.
Days after millions of young people took to the streets worldwide to demand emergency action on climate change, leaders gathered for the annual United Nations General Assembly were to try to inject fresh momentum into stalling efforts to curb carbon emissions.
The UN is 'taking advantage of hysterical teen' Greta Thunberg
Sky News Australia
Sky News host Chris Kenny has described it as "disturbing" that the UN allowed "hysterical teenager" Greta Thunberg to speak at its Climate Change Summit in New York
Climate protestors are being 'terrified by adults who should know better'
Sky News Australia
Commentator Daisy Cousens says climate protestor children are being "terrified by adults who should know better".
Greta - The Perfect Progressive Shill
Dangerfield
17.9K subscribers
We've got to listen to the kids, because they don't know much about life, so you know you have to listen and not learn !