No Need to Replace UN Globalist
WAR Mongering Globalist Nikki "Heil" Haley Resigned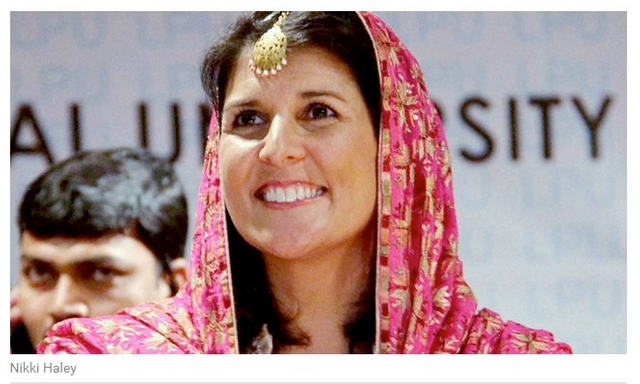 image credit: mikeghouseforindia.blogspot.com
According to FOX NEWS and the NYT, lying criminal, anti-Christian Nikki Haley has resigned.
Trump is smart. Haley is not. I am sure Trump maneuvered this loathsome liar out if his administration - for reasons quite clear.
Mr. PRESIDENT,
No need to permanently replace this function with anyone, for that matter.
Get the criminal cabal of globalist totalitarians out of the U.S. In fact, get the U.S. out of the U.N.
The UN, such as its little Merkel sister, the EU, is an unlawful organization, deeply rooted in Eugenic philosophy and pagan occult practices. So - no more financial support for the UN and their affiliates. Why support evil?
Haley's Lies
Hayley is not an iota better than her spiritual step sister HiIlary 'Rotten' Clinton. Lies, war, totalitarian advancement.
'Heil' Haley's lies about Syrian government gas and chemical weapon use against its own people are a war crime in and of itself. Lying to the president is a crime. Lying to the Amercian People is a crime. Lying to the people of the world amounts to a crime against humanity.
Arrest the Traitor
In my humble view, this criminal traitor should be held accountable in an American Court of Law - but just as her spiritual guide Clinton, she may use her criminality to profit personally. Go back to India - they love globalism over there! I praise God that this sorry excuse of a human being is no longer part of the Trump administration.

Thank you for reading.


Proud Supporter of PAL and the - The Minnow SupportProject
Christopher "The Hat" Hatfield @globocop

[Upvote] [Comment] [Resteem] [Follow]