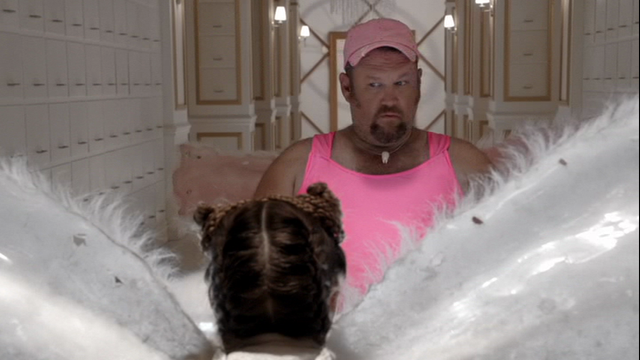 source
From the USA Today:
Euless Trinity (Texas) transgender wrestler Mack Beggs won his second straight state title Saturday evening to a chorus of boos.
Beggs (36-0), who won last year's Class 6A girls championship in the 110-pound division, won by decision 15-3 against Chelsea Sanchez of Katy Morton Ranch.
Last year, the 18-year-old beat Sanchez for the championship.
Wait a minute, I had to read this a few times to figure out what the hell was going on, that's the first clue that something is wrong here, a "him" was wrestling in the girls division? How are you supposed to know if it is a boy who just says he is a girl beating all the girls or a girl hepped up on testosterone beating all the other girls?
Calling a girl "him" makes it confusing and hard to follow what is going on.
Beggs was the center of both praise and criticism in 2017 when a parent filed a lawsuit to try to keep him from wrestling in the female division.
A few years ago, Beggs began transitioning from female to male. The lawsuit's argument centered around Beggs' use of testosterone to help with that transition.
Interesting, one of the people who was calling me transphobic for pointing out how they are giving minors hormones that cause them to be sterilized was swearing up and down that they never began giving the children the transitioning hormones that cause sterility when they were minors, only the reversible ones that suppress puberty. So here is the argument they are going with: a doctor gave her the steroids for something else and the performance enhancement is just a side effect and not really a big deal.
But, according to the UIL, it's not a banned substance since it comes from a physician.
So there it is everyone, if you want your kid to be a champion now they can openly juice. All that's required is a haircut and a name change.
A UIL policy also says that student-athletes in high school must compete as the gender that's on their birth certificate.
The gender or the sex? see how they conflate the two when it suits them? Texas birth certificates of course don't list the gender of babies, how could anyone know the gender of a baby since according to them gender is a feeling? Texas birth certificates list the sex of a baby: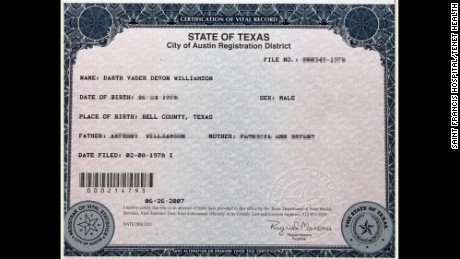 See Darth Vader is clearly a "sex: male" baby, am I a bigot if I don't address him as "Lord" Vader? "Gender" is not on there. source
Beggs wants to wrestle boys and said he would if that law didn't exist. Though the UIL has said publicly that it has never received an official request from Beggs or his school asking to wrestle boys.
Frankly I think all kids should compete together, with none allowed to take hormones. The problem becomes that in most cases that girls would be shut out from many sports in high school and/or be injured a lot more.
Marco Karem, Beggs' father, said that his son's story should bring encouragement to others.
"He inspires a lot of people, and if he can help just one person-then it's worth it to Mack," Karem said.
WFAA spoke with a number of parents, and all seem to support Beggs' choice to be transgender. However, many voiced that he should be wrestling boys or not wrestling at all.
I have to disagree with all of those opinions, wrestle who you like but do so without any performance enhancing drugs. These are high school athletes we are talking about. I am not sure who she is helping by cheating to win so it seems unlikely that she will help anyone.
Beggs shrugged off the jeers and told WFAA, "I don't care, I gave my all in that match."
"You put me in front of anybody and I'll wrestle them," he said. "Each time I read comments, they all say the same thing about steroids. It all comes down to technique and who has the most heart."
If that's the case try to win without the drugs. What an insult to be hopped up on testosterone and say you have better technique and more heart than an athlete who is not using PEDS.
Beggs wants to wrestle in the NCAA and is entertaining a scholarship offer from an out-of-state school.
He also wants to train for the Olympics.
Will she be competing against men or women? I guess the Russians won't have to dose their athletes with steroids in secret anymore, they can all just be transgendered and take all the steroids they like, this will get interesting.
Both the NCAA and the Olympics have rules in place that allow athletes to compete as the gender they identify with.
So someday the entire NCAA women's division can be ruled by men! I really missed the boat, perhaps I should identify as a teenager so I can go back and rule at girls field hockey and basketball. I could have been a champion.
Beggs is also working towards a gender reassignment surgery.
Will having her vagina turned into a penis like object make her a man? Is the idea that then she would be able to have sex with heterosexual women without them being gay?
At the end of the day, the teen said he's glad to close this chapter of his life-and hopes the state reconsiders many of the rules that brought him to the center of controversy.
Like which ones specifically? Note how they don't say which rules she thinks they should change.
"I wanted to come out on top, and in my heart-I feel like a champion," Beggs said
Yeah, that's how I feel when I take testosterone boosters too.
Where is all this going? Will they stand for it when males start winning the female divisions as well?
Check out some of my other recent posts:
Facebook and Google Struggle to Squelch 'Crisis Actor' Posts
Ministry of Truth Struggles to Suppress Speech Contrary to Gun Control Narrative
Operation Mockingbird 2018 trying to wag the dog about gun control
Some of my favorite things progressives would want to ban if they knew they existed and are legal.
read part one and two
The Transgender Agenda Exposed- "How Camps Welcome Transgender Youth"
The Transgender Agenda Exposed #2 "Raising a Transgender Child: The First Steps" and final solution
edit: I've never gotten any down votes when posting on steemit except from posting on this topic, someone has already hit this article, they don't even leave a comment, if you liked this article please vote and resteem