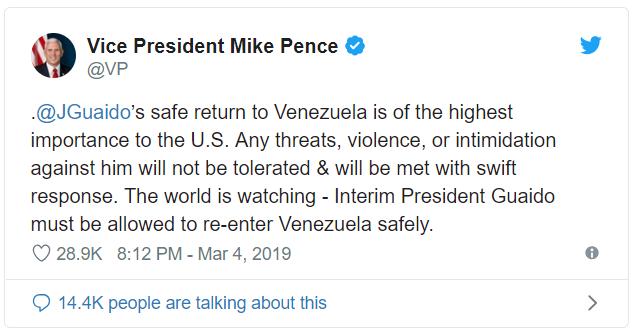 How ugly is it and absolutely rude that the junta of another country, just because they have access to military power without being questioned by their own people, can dictate on another country limits to their sovereign judicial system?
The US, the exporter of its version of democracy by force to the world, is warning the Venezuelan state that one of Venezuelan citizens is immune from any wrongdoings in his own country by his own country's laws and that the US is his protector.
Mike Pence's tweet should be added to the definition of the word Ugly in all English dictionaries.
If he's not president yet and he enjoys this amount of protection from the legal system in his country, how do you think his policies will be limited if he ever becomes the president?
The US is gone super mad over allegation their president won elections in their country with the help of some electronic bots that some of them come from Russian IP addresses, how would the US people like it if Putin gives such a warning to protect Trump?!
We can only blame Mr. Maduro when he had the chance to get rid of the traitors in his country, he didn't do so: What President Nicolas Maduro Should Do Now.
---
Follow @ArabiSouri on Twitter: Arabi Souri SyriaNews: www.syrianews.cc
Patreon: Arabi Souri
Donations are highly appreciated, just click on the Donate button via PayPal or Credit Card: Donate
#Syria #Iran #Russia #InformationWar #Wahhabism #Zionism #alQaeda #FSA #Nusra #ISIS #Terrorism #Saudi #Qatar #Israel #Net #Neutrality #Mainstream #MSM #Control #WarOfTerror

Posted using Partiko App