what about you, what did your "good friends" do for you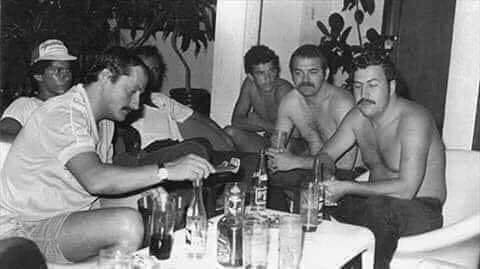 It is said that Pablo Escobar, in his youth and the beginning of his entry into the world of criminality, was one night sitting with bad friends in a wine and drugs session. The police suddenly intervened and ordered a police officer to arrest him because he was wanted for justice. The policemen took him and took him out of the house and boarded him.
The police officer drove him to the center, and when they arrived, the officer himself entered him with the rest of the criminals. He went to sit on his desk. After sitting directly on the chair, his personal phone rang. He was his wife.
They kidnapped our daughter, there are people who kidnapped our daughter now, he said to her, OK, shut up now and My concern, and after he closed the line with his wife, went directly and opened the door of arrest and drove out the accused who came this night and without speaking to him any word, I ride with him in his own car and return to the house that took him and left him free, Watch him with his friends.
On the way back to the officer, his wife called him again and told him that their daughter had returned home and was not hurt. The officer replied: "I know.
These (bad friends) did not let their friend sleep one night in confinement.
And what about you, what did your "good friends" do for you