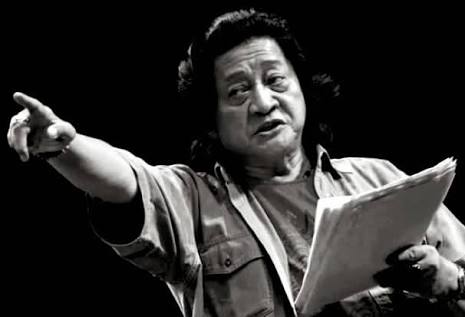 Bakatnya sudah mulai terlihat ketika ia duduk di bangku SMP. Saat itu ia sudah mulai menunjukkan kemampuannya dengan menulis puisi, cerita pendek, dan drama untuk berbagai kegiatan sekolahnya. Bukan hanya menulis, ternyata ia juga piawai di atas panggung. Ia mementaskan beberapa dramanya, dan terutama tampil sebagai pembaca puisi yang sangat berbakat.
Dia adalah W.S. Rendra, di juluki Si Burung Merak, lahir di Solo, Hindia Belanda, 7 November 1935 dan meninggal di Depok, Jawa Barat, 6 Agustus 2009 pada umur 73 tahun, kuliah di Universitas Gajah Mada, hingga menerima gelar Doktor Honoris Causa. Pada tahun 1967 dia pun mendirikan Bengkel Teater di Yogyakarta yang melahirkan banyak seniman antara lain Sitok Srengenge, Radhar Panca Dahana, Adi Kurdi, dan lain-lain.
Karya-karya Rendra tidak hanya terkenal di dalam negeri, tetapi juga di luar negeri. Banyak karyanya yang sudah diterjemahkan ke dalam bahasa asing, di antaranya bahasa Inggris, Belanda, Jerman, Jepang, dan India.
Ia juga aktif mengikuti festival-festival di luar negeri, di antaranya The Rotterdam International Poetry Festival (1971 dan 1979), The Valmiki International Poetry Festival, New Delhi (1985), Berliner Horizonte Festival, Berlin (1985), The First New York Festival Of the Arts (1988), Spoleto Festival, Melbourne, Vagarth World Poetry Festival, Bhopal (1989), World Poetry Festival, Kuala Lumpur (1992), dan Tokyo Festival (1995).
WS Rendra sangat ahli dalam memilih kosa kata, dan juga sangat ahli dalam membuat metafora dari sebuah benda, hingga mampu ngaitkannya dengan kehidupan manusia, Sajak Matahari adalah salah satu sajak "Merafora" terbaik WS Rendra. Berikut Sajak nya.
SAJAK MATAHARI
Oleh :
W.S. Rendra
Matahari bangkit dari sanubariku.
Menyentuh permukaan samodra raya.
Matahari keluar dari mulutku,
menjadi pelangi di cakrawala.
Wajahmu keluar dari jidatku,
wahai kamu, wanita miskin !
kakimu terbenam di dalam lumpur.
Kamu harapkan beras seperempat gantang,
dan di tengah sawah tuan tanah menanammu !
Satu juta lelaki gundul
keluar dari hutan belantara,
tubuh mereka terbalut lumpur
dan kepala mereka berkilatan
memantulkan cahaya matahari.
Mata mereka menyala
tubuh mereka menjadi bara
dan mereka membakar dunia.
Matahari adalah cakra jingga
yang dilepas tangan Sang Krishna.
Ia menjadi rahmat dan kutukanmu,
ya, umat manusia !
Yogya, 5 Maret 1976