Happy Eid Mubarrak 1439 H by @my451r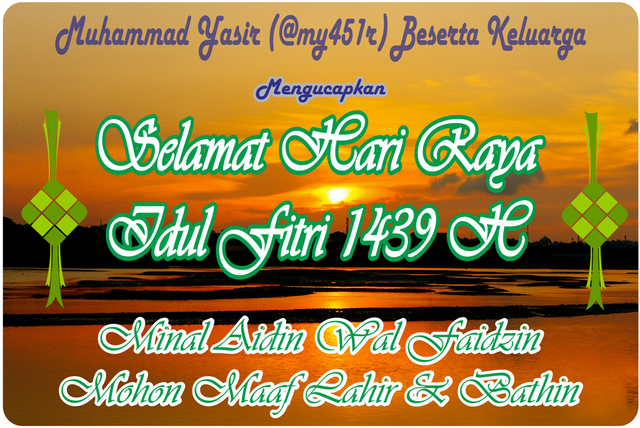 Saleum Peuhaba..
Eid is a day of victory for Muslims around the world, where for a whole month has done the obligatory fasting in the month of Ramadan and Sunnah worship, such as sauna prayer terawih, weather and other Sunnah worship.
Hari raya Idul fitri merupakan hari kemenangan bagi umat muslim di seluruh penjuru dunia, dimana selama sebulan penuh telah melaksanakan ibadah puasa wajib di bulan ramadhan dan ibadah sunnah, seperti shalat sunnah terawih, witir dan ibadah-ibadah sunnah lainnya.
With this victory also, Muslims make it a day of triumph to bond the silahturrahmi ropes and forgive each other, forgiving each other without exception.
Dihari kemenangan ini juga, umat muslim menjadikannya hari kemenangan untuk menjalin tali silahturrahmi dan saling maaf memaafkan satu sama lain tanpa kecuali.
Through this steemit and writing platform, my family and I congratulate Idul Fitri 1439 H to all the steemans, especially Muslims all over the world.
Melalui platform steemit dan tulisan ini, saya bersama keluarga mengucapkan selamat Hari Raya Idul Fitri 1439 H kepada seluruh steemian khususnya yang beragama islam juga kepada steemian lainnya di seluruh penjuru dunia.
Minal Aidin Wal Faidzin
Mohon Maaf Lahir & Batin
---
Ok, enough my writing this time, sorry if there is a mistake in writing on this post.
---
SIMPANG BULOH, 14 Juni 2018
THANKS FOR VISIT MY BLOG
BEST REGARDS