Hi friend steemit all how are you today?
May always be in good health and happiness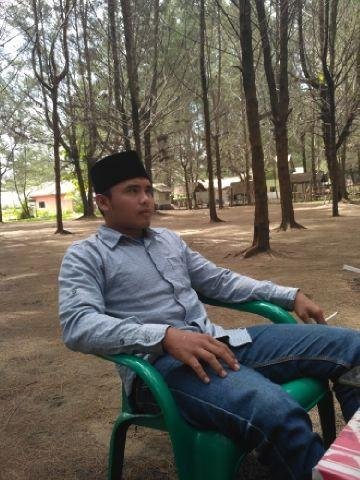 hay friends all on this day met me again @imamalkimas actually I missed you all but in because time that always menghhal us and the place that always keeps us
at this time I want to tell you how to live in a cottage with the status of santri basically we all who settled in the cottage came from various places even so far between one santri and others like me come kepondok have to go through some districts because I my hometown in Aceh Barat and going to North Aceh is far away because having to pass several districts such as Aceh Jaya and Aceh Besar and Aceh Pidie and Aceh seaports must pass through some very wide districts and some even farther from Jambi and Jakarta to studying to be happy later on
I have told the santri in my hut and now I want to introduce my cottage which is located in North Aceh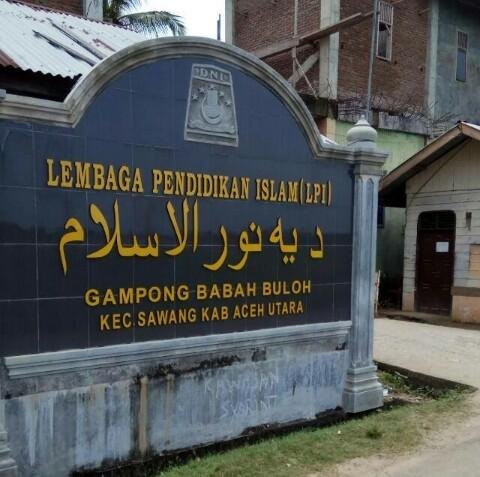 That's my boarding school,
Friends can all see for themselves and there may be some who already know and know the cottage that is especially steemit friends in Aceh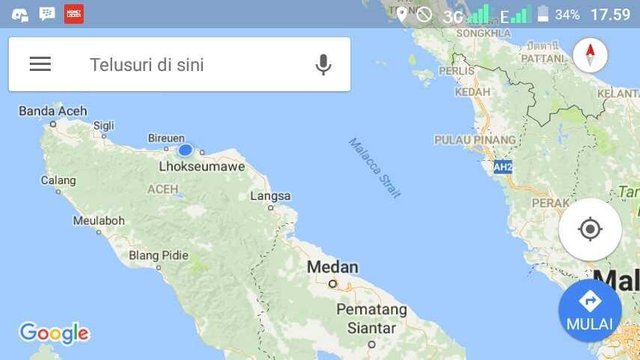 ---
Google maps
and it's a map that I take from google maps to facilitate all friends know where the position of our cottage and if we talk Aceh, Aceh is known as Aulia land in because in Aceh has hundreds of boarding schools that are still active and issued santri-santri quality wise there because already in kuaasai some science aceh people first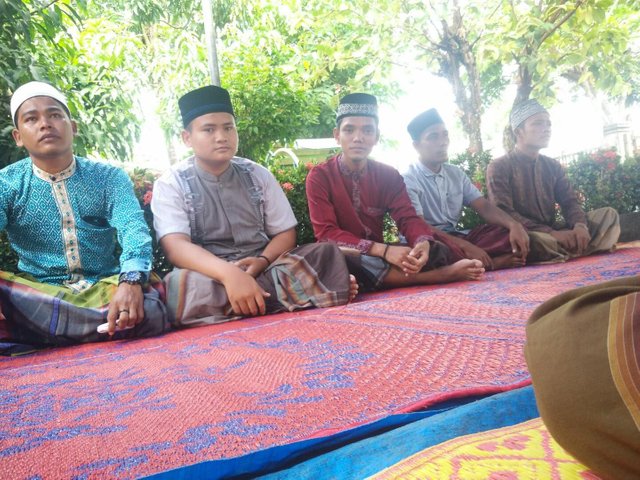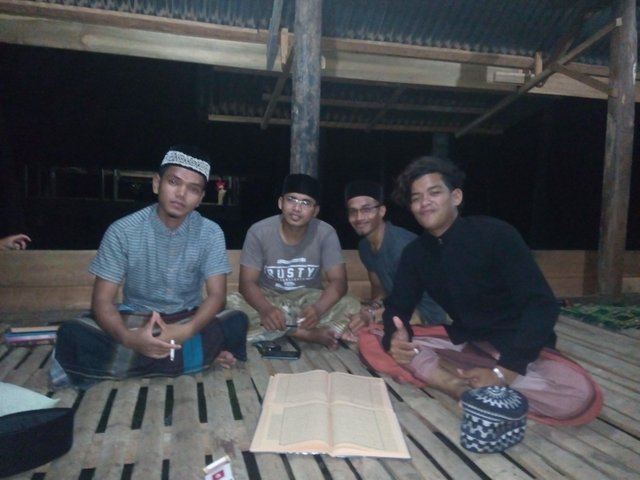 and here we are the santri men who are always in togetherness to undergo a task that has been put on our students and we actually have a very big tugab that can not solve itself and takes a very long time sometimes even 15 years have not finished our tugah in the cottage
This is our job we have to finish
⏬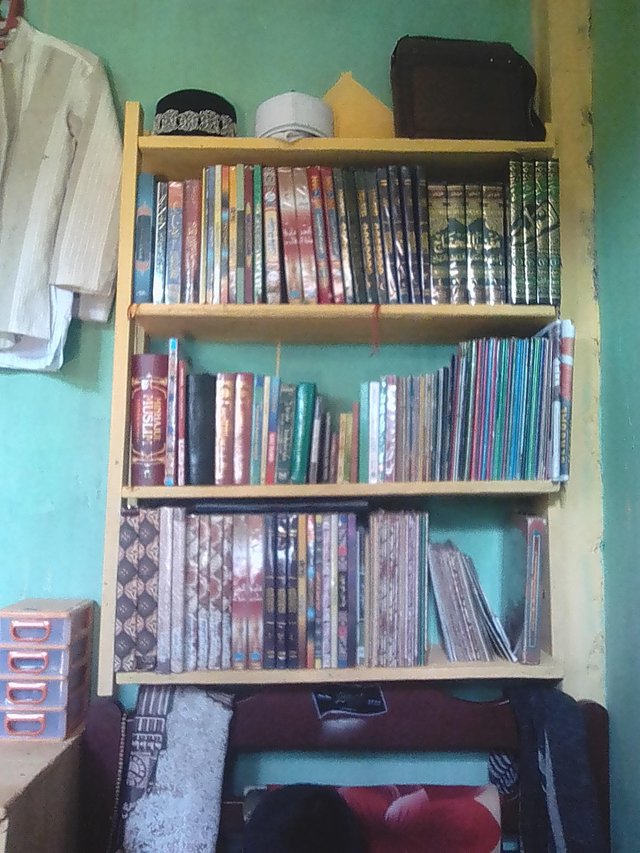 it is a lesson we have to finish santri because there is a law that we need in the life of the world and it is not easy as smart as we can we finish it takes time in 15 years or more and we are here just how many years and there is still a long time and stay in the cottage is not a matter of easy because we must be able to fight various circumstances such as eating irregularly so we sometimes can starve due to the lack of funds and must be independent from washing dirty clothes until wake up must be right at the time already specified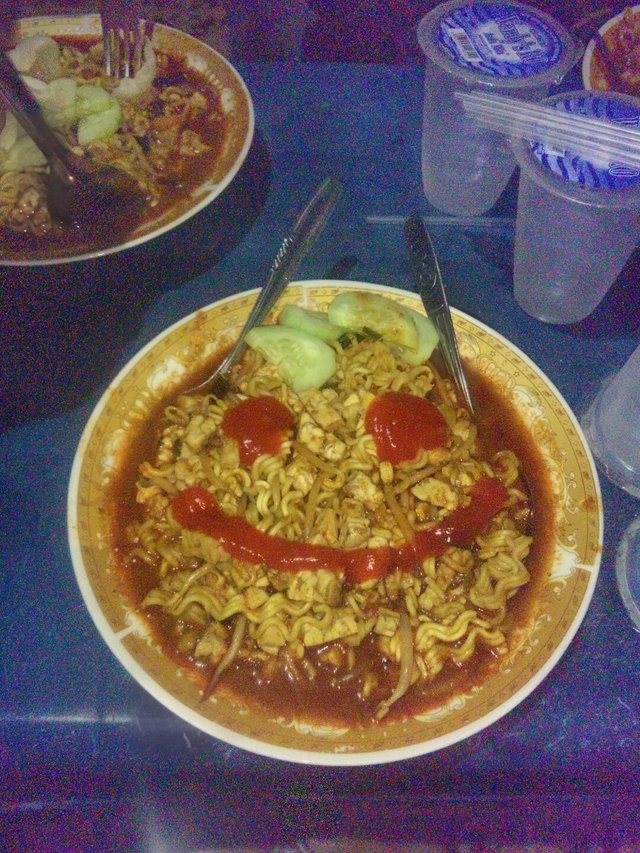 That is the food that we often santapi in the cottage and even one day one night we do not eat and finally just noodles istant there and what can make even though it penyakin but we should eat also in because the stomach is very hungry.
Here's a little story of our life in a cottage that must go through various circumstances but we are still patient to get the happiness that has been waiting for us up front there and maybe this is all I can tell to all steemit friends because it is impossible to tell all in time the same and I will tell the others later on the next
And I am @imamalkimas very thankful to all friends who have been willing to read my post that I may not mention his name one by one and I am very proud and miss you all my best friend steemiant
Sincerely yours to the Indonesian Curator @aiqabrago and @levycore may always be successful
---
       **INDONESIA**

---
Hai sahabat steemit semua apa kabar hari ini?
Semoga selalu dalam sehat dan bahagia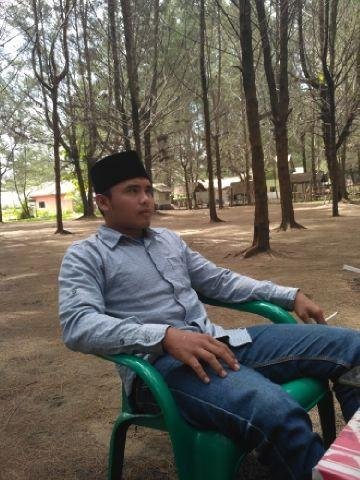 *hay sahabat semua pada hari ini berjumpa lagi sama saya @imamalkimas sebetulnya saya sangat merindukan kalian semua tapi di karenakan waktu yang selalu mehalangi kita dan tempat yang selalu menjauhkan kita *
pada kali ini saya ingin menceritakan pada kalian bagaimana hidup dalam sebuah pondok yang berstatus santri pada dasarnya kami semua yang menetap di pondok itu datang dari berbagai tempat bahkan yang begitu jauh antara satu santri dan yang lain seperti saya datang kepondok harus melawati beberapa kabupaten karena saya kampung halaman saya di Aceh Barat dan pergi mondok ke Aceh utara itu sanngat jauh karena harus melewati beberapa kabupaten seperti Aceh Jaya dan Aceh Besar dan Aceh Pidie dan Aceh jempa harus melewati beberapa kabupaten yang sangat luas dan bahkan ada yang jauh lagi dari Jambi dan Jakarta untuk menuntut ilmu untuk bahagia di kemudian hari
saya sudah menceritakan santri di pondok saya dan sekarang saya ingin memperkenalkan pondok saya yang bertempat di Aceh Utara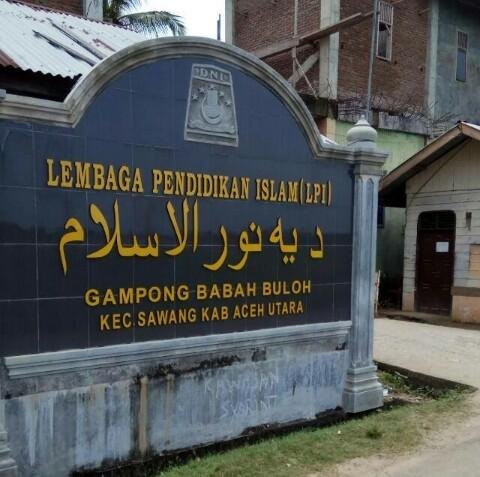 itulah pondok pesantren saya,
Sahabat semua bisa melihat sendiri dan mungkin ada sebahagian yang sudah mengetahui dan mengenal pondok tersebut yang terutama sahabat steemit yang ada di Aceh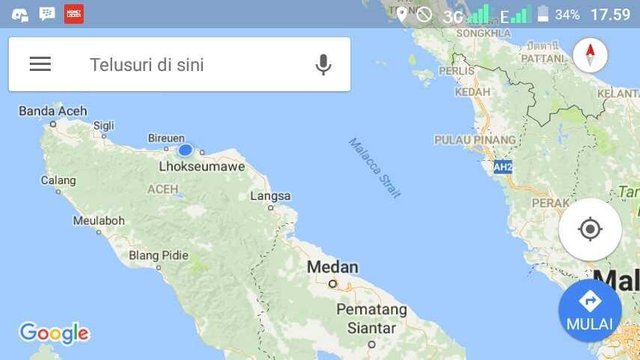 ---
Google maps
dan itu peta yang saya ambil dari google maps untuk memudahkan sahabat semua mengetahui dimana posisi pondok kami dan kalau kita bicara Aceh, memang Aceh dikenal dengan tanah Aulia di karenakan di Aceh memiliki ratusan pondok pesantren yang masih aktif dan mengeluarkan santri-santri yang bermutu dan bijak sana karena sudah di kuaasai sebagian ilmu orang aceh dulu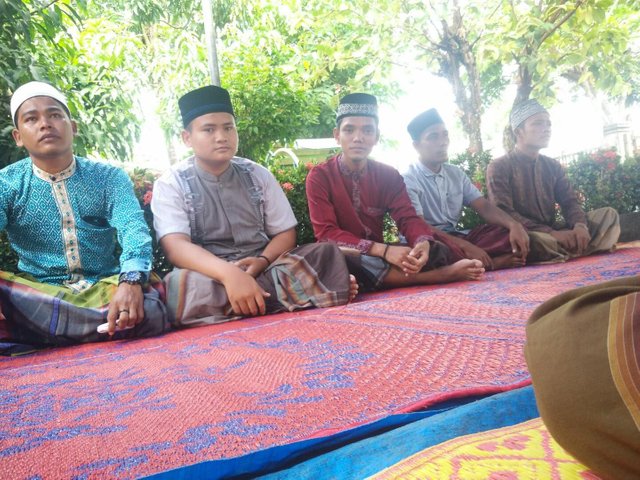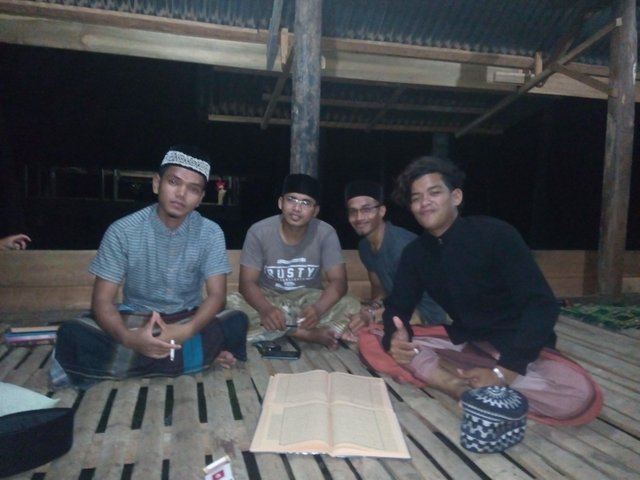 dan inilah kami para santri laki laki yang selalu dalam kebersamaan untuk menjalani tugas yang sudah di beratkan kepada kami santri dan kami sebenarnya memiliki tugab yang sangat besar yang tidak mungkin menyelesaikan sendiri dan butuh waktu yang sangat lama bahkan kadang kadang 15 tahun belum selesai tugah kami di pondok
Inilah tugas kami yang harus kami selesaikan
⏬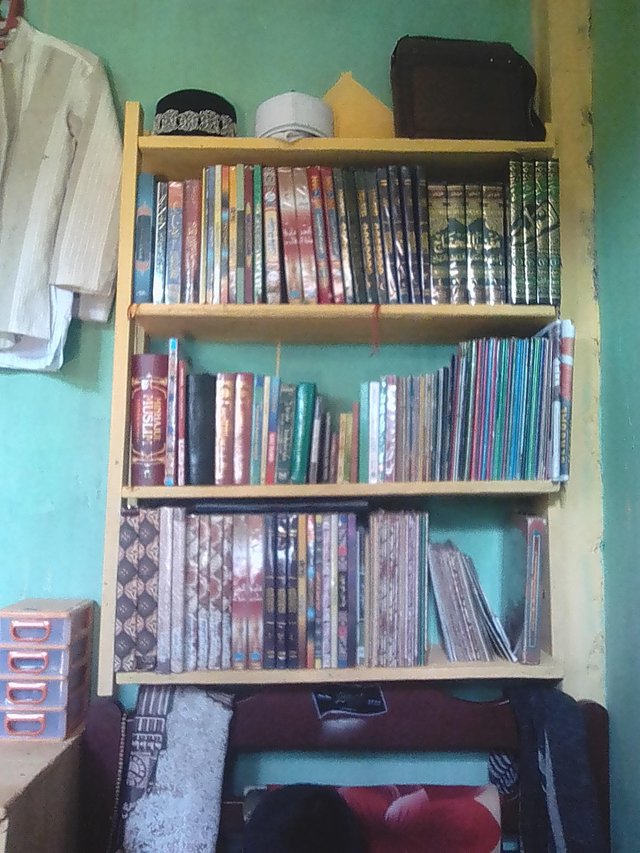 itu adalah pelajaran yang harus kami santri selesaikan karena disitu terdapat hukum hukum yang sangat kita butuhkan di dalam menjalani kehidupan dunia dan itu bukan soal mudah sepandai pandai kita baru bisa kita selesaikan membutuhkan waktu dalam jangka 15 tahun atau lebih dan kami di sini baru berapa tahun dan masih ada waktu yang panjang dan menetap di pondok bukan soal mudah karena kita harus bisa melawan berbagai keadaan seperti makan tidak teratur sehinga kita kadang kadang bisa kelaparan dikarenakan dana yang serba kekurangan dan harus mandiri mulai dari menyuci pakaian kotor sampai bangun harus tepat pada waktu yang sudah di tentukan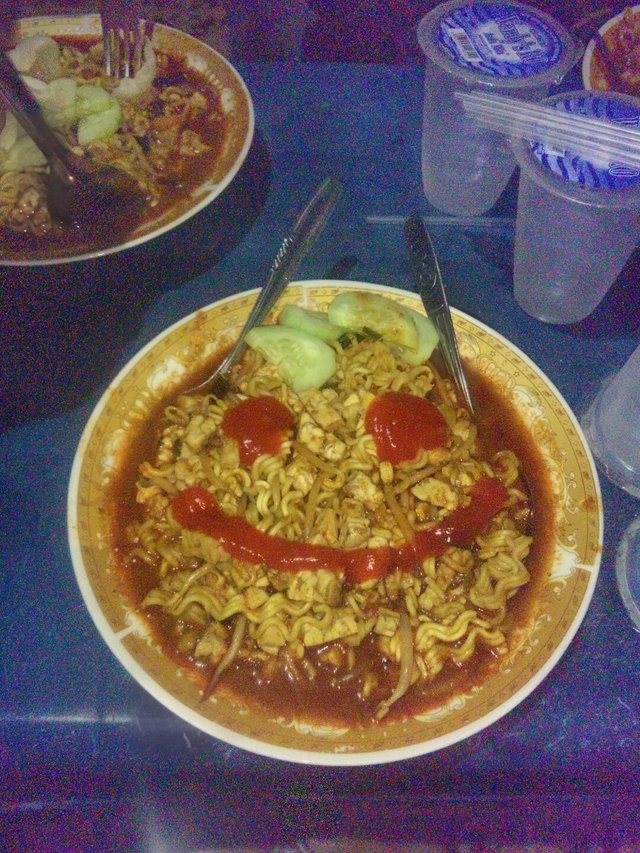 Itulah makanan yang sering kami santapi di pondok dan bahkan satu hari satu malam kami tidak makan dan akhirnya cuma mie istant yang ada dan apa boleh buat walaupun itu penyakin namun harus kami makan juga di karenakan perut yang sudah sangat kelaparan.
**Inilah sedikit cerita kehidupan kami di pondok yang harus melewati berbagai macam keadaan namun kami tetap sabar untuk mendapatkan kebahagian yang sudah menunggu kami di depan sana dan mungkin cuma ini yang bisa saya cerita kepada sahabat steemit semua karena tidak mungkin untuk menceritakan semua di dalam waktu yang sama dan saya akan menceritakan yang lain nanti pada saat yang berikutnya **
Dan saya @imamalkimas sangat berterimakasih kepada sahabat semua yang sudah mau membaca posting saya yang tidak mungkin saya sebutkan namanya satu persatu dan saya sangat bangga dan merindukan kalian semua sahabat ku steemiant
Salam hormat saya kepada Kurator Indonesia @aiqabrago dan @levycore semoga selalu dalam keberhasilan dan kebahagian