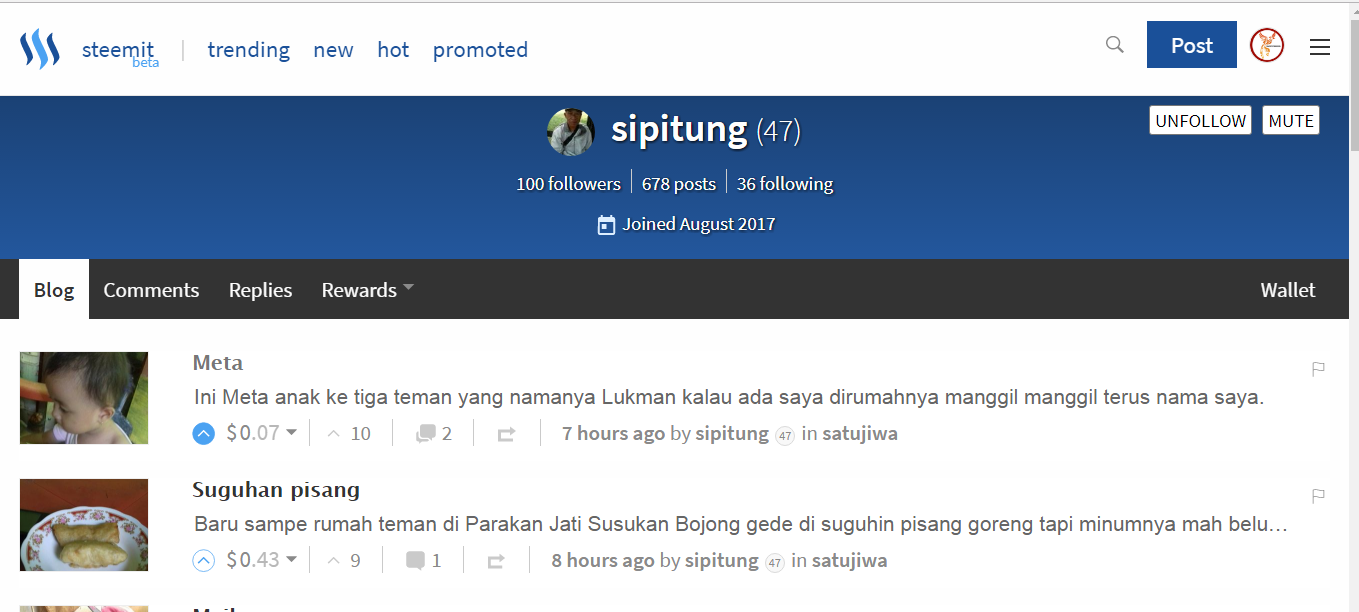 Tua-tua Tetapi Menjadi-jadi Hasrat Ingin Belajarnya.
Bahasa Indonesia
Kira-kira dua atau tiga bulan yang lalu saya diajak untuk bergabung untuk memberikan dukungan pada komunitas anak-anak Bogor (sekedar catatan : saya juga mendukung siapa saja yang mau aktif dengan cara yang baik di steemit ). Sebetulnya saya agak terkejut ketika mendapatkan ajakan tersebut dari @syarrf dan @amuchtar (padahal saya bukan berasal dari Bogor), akan tetapi setelah saya melihat keantusiasan mereka saya bersedia mendukung ide-ide mereka untuk menghidupkan steemit dikalangan komunitas Bogor.
Dua anak "sableng" ini (maaf bukan mau menyablengkan he..he..!) berhasil mengajak teman-temannya bergabung dengan komunitas steemit. Bagi saya adalah hal biasa bila mereka berhasil mengajak teman-temannya tersebut. Akan tetapi ada hal yang bagi saya agak menarik, mereka berhasil mengajak dua orang "tiyang sepuh" (orang berusia tua) untuk bergabung di steemit. Dua "tiyang sepuh" ini berusia 70 tahunan, kebetulan yang saya ingat adalah @sipitung, sedangkan yang satu saya lupa karena beliau kurang aktif dalam melakukan posting di steemit.
Memang dalam melakukan atau membuat postingan @sipitung terlihat asal-asalan dan saya sudah menegurnya dan memberikan masukan berkali-kali, akan tetapi hanya ada perubahan sedikit (untuk saat ini). Akan tetapi ketika saya mendapatkan penjelasan dari si @syarrf bahwa @sipitung sudah berusia lebih dari 70 tahun, saya terkejut .... Wah! Usia segitu masih mau belajar, apalagi belajar membuat postingan di steemit. Waduh bisa-bisa ini tipe orang semakin tua semakin menjadi-jadi dalam hal postitif...ha..ha.. !
Belajarlah Terus, Kapanpun Selama Kita Masih Bisa Melakukannya
Berkaca pada dua orang sepuh tersebut, hendaknya kita "tertampar" dan sadar bahwa belajar tidak mengenal usia, selama kita diberi anugerah untuk belajar, mengapa kita tidak melakukannya? Selain itu kita juga berbagi kepada yang lain, mengenai apa yang kita pelajari. Itulah gunanya media sosial steemit, gunakan untuk belajar dan saling berbagi. (hpx)
---
English Language.
Being Older But Have Desire to Learn.
About two or three months ago I was invited to join and to provide support to the Bogor community (just a note: I also support anyone who wants to be active in a good way in steemit). Actually I was a bit surprised when I got the invitation from @syarrf and @amuchtar (but I was not from Bogor) to support other steemians who live in Bogor, but after I saw their enthusiasm I was willing to support their ideas to revive steemit among the Bogor community.
These two "naughty" kids (sorry not to ridicule he .. he ..!) successfully invited his friends to join steemit community. For me it is common for them to successfully invite their friends. But there one thing that make me more interesting about this community, they managed to invite two old people to join in steemit. These two "tiyang sepuh" (old people) are 70 years old, the coincidence that I remember is @sipitung, while the one I forget because he is less active in posting in steemit.
Indeed, in doing or making a post @sipitung isnot looked quite good, and I have given input about that many times, but there is only a slight change (for now). But when I get an explanation from @syarrf that @sipitung is over 70 years old, I was surprised .... Wow! even he is 70 years old but still want to learn about steemit. In our country, it is rare to find this kind of old person who want to learn about technology. It is amazing for me.
Continue to Learn, Whenever We Can Still Do It.
Looking at @sipitung, we should be "stranded" and realize that learning knows no age limitation, as long as we are granted the gift of learning, why do not we do it? In addition we also share with others, about what we learn. That's what social media steemit, use to learn and sharing. (hpx)
---