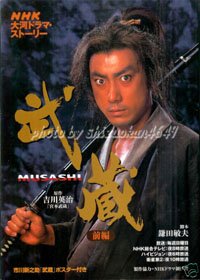 DVD Image Cover
Short Story About Miyamoto Musashi
Miyamoto Musashi also known as Shinmen Takezo (name has been given by his parents) lived around 1504-1645. He was a Japanese swordsman, philosopher, writer, and ronin also knew had a unique two blades-swordsmanship style and undefeated 61 duels, The famous book that he wrote The Book of Five Rings. He self-learner and wandered almost through Japan to learn many styles of swordsmanship from another Samurai.
A Simple Review About NHK Taiga Drama "Musashi" (2003) Serial TV
The serial TV based on the famous biography was written by Yoshikawa Eiji. This serial tv consisted 49 series and the story begin at Miyamoto Musashi from Sekigahara battleground scene where Matahachi a best friend of Shinmen Takezo (Miyamoto Musashi) fought on his battle together. They run away after their faction side lost this battle.
In the runaway journey, they met with two women, Okoh and Akemi who hired them as bodyguard of their village. After Succeded defended Okoh and Akemi village's, they decide to return at Mimasaka (the Matahachi and Takezo village) but Matahachi changed his mind to continue his journey to Kyoto and Takezo went home to his village.
After separation of this two best friends, the plot of the story become interested. This serial TV gives a quite detail of each character journey and also in this serial TV we will find many interested quotes. Honestly, I have watched until 32 series, not finished yet but overall this is good serial TV to watch.(hpx)
Bahasa Indonesia
Sekilas Tentang Miyamoto Musashi
Miyamoto Musashi juga dikenal sebagai Shinmen Takezo (nama yang diberikan oleh orang tuanya) hidup sekitar tahun 1504-1645. Dia adalah seorang pendekar pedang Jepang, seorang filsuf, penulis, dan ronin juga dikenal dua gaya pedang yang unik dan duel tak terkalahkan 61, Buku terkenal yang ia tulis The Book of Five Rings. Dia belajar sendiri dan berkelana hampir seluruh Jepang untuk belajar banyak gaya pedang dari Samurai yang lain.
Review Sederhana Tentang NHK Taiga Drama "Musashi" (2003) Serial TV
TV serial berdasarkan biografi terkenal ditulis oleh Yoshikawa Eiji. TV serial ini terdiri dari 49 seri dancerita dimulai pada Miyamoto Musashi cerita dari adegan pertempuran Sekigahara di mana Matahachi teman terbaik Shinmen Takezo (Miyamoto Musashi) bertempur bersama. Mereka melarikan diri setelah pihak faksinya kalah di pertempuran ini.
Dalam perjalanan pelarian, mereka bertemu dengan dua wanita, Okoh dan Akemi yang mempekerjakan mereka sebagai pengawal untuk desa mereka. Setelah berhasil menjaga desa Okoh dan Akemi, mereka memutuskan untuk kembali di Mimasaka (desa Matahachi dan Takezo) tetapi Matahachi berubah pikiran untuk melanjutkan perjalanannya ke Kyoto dan Takezo pulang ke desanya.
Setelah berpisah dengan dua sahabat ini, alur ceritanya menjadi tertarik. TV serial ini memberikan detail yang cukup detail untuk setiap petualangan yang dialami setiap karakter yang ada dan juga di TV serial ini kita akan menemukan banyak kutipan yang menarik. Jujur, saya telah menonton hingga 32 seri, belum selesai tetapi secara keseluruhan ini adalah serial TV yang bagus untuk ditonton. (hpx)