Hallo steemians, hope we all always be healthy
---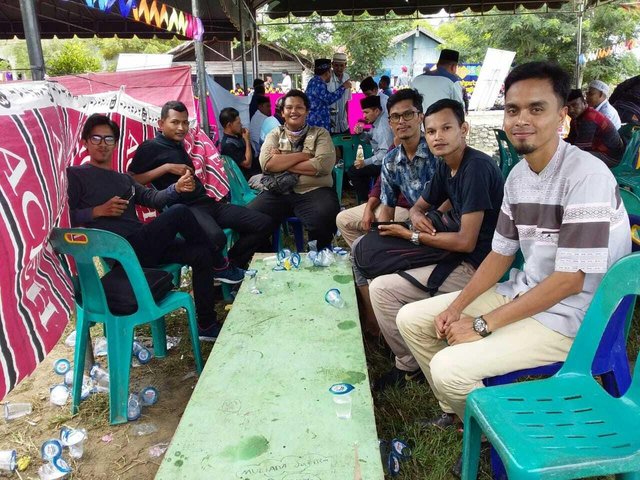 ---
Pada kesempatan yang sangat baik ini saya ingin menulis sedikit tentang semangat menulis di steemit, dimana sekarang banyak steemian yang saya ajak dulu untuk bergabung disteemit sudah kurang semangatnya untuk menulis di steemit bahkan ada yang tidak lagi menulis di steemit.
Banyak yang mengatakan bahwa mereka tidak semangat lagi menulis karena harga SBD dan STEEM terus menurun, mungkin ini adalah mental mereka yang bergabung di steemit pada saat harga SBD dan STEEM mahal tapi bagi kami ini bukan suatu masalah karena saat pertama kami bergabung di steemit harga nya lebih murah dari sekarang.
Kata-kata yang selalu saya sampaikan untuk menyemangatkan mereka yaitu steemit adalah tempat kita membangun suatu aset yang bisa kita gunakan secara gratis tanpa modal, dan menulislah di steemit tentang hal yang kamu suka dan tentang hal-hal yang kamu lewati setiap hari supaya hal penting dalam hidup kamu tersimpan disteemit dan bisa tersimpan dengan baik.
Inilah sedikit tulisan saya tentang semangat untuk terus berkarya di steemit terima kasih banyak telah berkunjung ke blog saya @darniyuscivil.
---
**Thanks to the
#promo-steem
founders who always support every activity of our
#promo-steem
@starkerz
@anarcotech
@stephenkendal
and
@steem-ambassador
and also to the world's
@steem-ambassador
team,
@bait002
@raymondbruce
@milagros
@nairadaddy
@richforever
, especially in Indonesia
@suheri
@khusairi
@herryazmi11
@my451r
@dokter-purnama
@rismanrachman
@ayijufridar
@dilimunanzar
@bahagia-arbi
@razack-pulo
@anggreklestari
@alaikaabdullah
and
@mariska.lubis
**
And also to all promoter teams around the world. and my own team from #promo-steemrural.
---
vote witness
good-karma