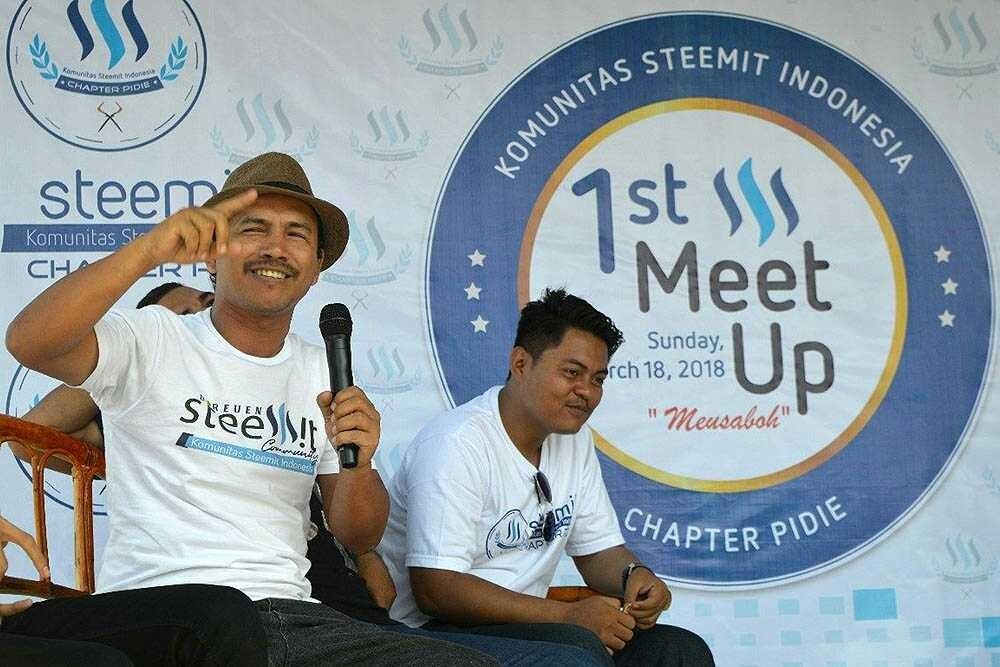 Image Source: @bahagia-arbi with @levycore
A happy friend of steemian.
Without feeling today is the sixth week I wrote the profiles of the steemians which I think are great in steemit Indonesia. In this sixth profile I want to write a little about smiling men and almost always use cowboy hats.
Previously, it could be that writing about a man who claimed to be a coffee farmer from Bireuen, was not the first. I am sure, many steemians have written about his profile, at least a wonderful experience when meeting him.
Yes, he is @bahagia-arbi, a Steem Ambassador @steem-ambassador. Directly, I have never met this man. I only knew him through his "friendly" writing, full of content and meaning in every post in steemit.
The Chairman of Bireuen Steemit Community (BSC), which is under the Steemit Indonesia Community (KSI), always produces written content that is able to enlighten the steemians, especially the young steemian (beginners).
The writings of the father of two children born in Bireuen, February 1, 1978 can always give us an understanding of what is steemit with all the trinkets and twists and turns that must be followed.
So, it is not wrong if many people say @bahagia-arbi who is also a Bachelor of Psychology at Ahmad Dahlan University, Yogyakarta, like a spreader of the 'virus' fierce so that people are interested in playing steemit.
Like a longing, a Bachelor of Electrical Engineering at the Islamic University of Indonesia, Yogyakarta feels like it can appeal to anyone, even sometimes, if one day hasn't read the writing of the enlightenment, it feels like it's still not sleeping at night. That is, the missile reed that it spreads.
In the shrewdness of writing, there is no doubt about this, because the man who has three regional languages, namely Aceh, Gayo and Java, is also a professional writer. After all, @bahagia-arbi penah has been a contributor to tabloids published by Walhi.
Foreign languages ​​also need not be doubted. In addition to mastering Indonesian, as a mother tongue, this man is also English and Italian. So it is also reasonable if you can get a Master in Electrical Engineering, at the California Institute of Technology (CALTEC), California, United States.
A deep message from the Enlightenment that we need to remember together:
I will continue to create content in Steemit because I have to be a good content creator. I believe Steem will be one of the most competitive blockchain in the cryptocurrency world. I will stand near Steem and I will face everything with all Steemian.
We can achieve our dreams if we dare to create them. Let's stay with Steem!
That's the short profile of the steemit brightener. Hopefully it can be an inspiration and motivation for all of us who are new to steemit. And I also hope, someday I can meet this steemian enlightenment.
Although, I have been to Bireuen many times lately but there is no time to find traces of a man who is also a worker at the PLN Central Aceh Branch. In fact, yesterday when I visited Takengon visiting Peusangan Hydroelectric Power Plant it was also very eager to meet this smiling man.
One day I can meet @bahagia-arbi who has the real name Arbi Sabi Syah and can selfie with her. Hahahahha ... Warm greetings for all the world, especially Indonesia. See you at the steemian profile the following week.
Koetaradja, 9 September 2018
@catataniranda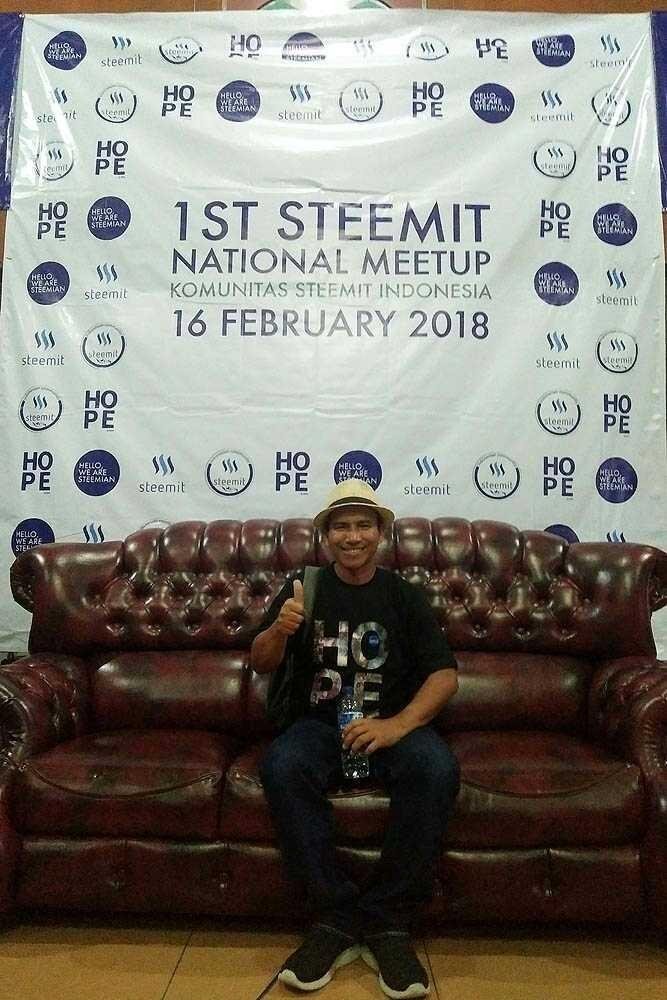 Image Source: @bahagia-arbi

Profil Minggu#6: @bahagia-arbi Sang Pencerah
Sahabat steemian yang berbahagia.
Tanpa terasa hari ini merupakan minggu ke enam saya menulis profil para steemian yang menurut saya hebat dalam steemit Indonensia. Dalam profil ke enam ini saya ingin sedikit menuliskan tentang lelaki murah senyum dan nyaris selalu menggunakan topi ala koboi.
Sebelumnya, bisa jadi tulisan tentang pria yang mengaku petani kopi asal Bireuen, bukanlah yang pertama. Saya yakin, banyak steemian yang sudah menulis tentang profilnya, setidaknya pengalaman indah saat berjumpa dengannya.
Iya, dia adalah @bahagia-arbi, seorang Steem Ambassador @steem-ambassador. Secara langsung, saya belum pernah bertemu dengan lelaki satu ini. Saya hanya mengenalnya lewat tulisannya yang 'bernas', penuh isi dan makna di setiap postingannya di steemit.
Ketua Bireuen Steemit Community (BSC) yang bernaung dibawah Komunitas Steemit Indonesia (KSI), selalu saja menghasilkan konten tulisan yang mampu memberikan pencerahan bagi para steemian, terutama kalangan steemian muda (pemula).
Tulisan-tulisan bapak dari dua anak yang kelahiran Bireuen, 1 February 1978 selalu bisa memberikan kita pemahaman tentang apa itu steemit dengan segala pernak-pernik serta lika-liku yang harus dijalani.
Maka, tak salah jika banyak orang mengatakan @bahagia-arbi yang juga seorang Sarjana Psikologi di Universitas Ahmad Dahlan, Yogyakarta, bagaikan penyebar 'virus' ganas sehingga orang tertarik untuk bermain steemit.
Bak buluh perindu, tulisan Sarjana Teknik Elektro di Universitas Islam Indonesia, Yogyakarta ini terasa bisa memikat siapapun, bahkan terkadang, bila satu hari belum membaca tulisan sang pencerah ini, rasanya belum nyenyak tidur di malam hari. Begitulah, buluh perindu yang disebarnya.
Dalam kelihaiannya menulis memang tak perlu diragukan lagi, karena pria yang menguasai tiga bahasa daerah yakni Aceh, Gayo dan Jawa ini juga seorang penulis professional. Lagi pula, @bahagia-arbi penah menjadi kontributor bagi tabloid yang diterbitkan Walhi.
Kelihaianya berbahasa asing juga tak perlu diragukan. Selain menguasai bahasa Indonesia, sebagai bahasa ibu, lelaki satu ini juga lihai berbahasa Inggeris dan Italia. Maka sangat wajar juga bila bisa meraih Master Teknik Elektro, di Institut Teknologi California (CALTEC), California, Amerika Serikat.
Satu pesan mendalam dari Sang Pencerah yang perlu kita ingat bersama:
Saya akan terus membuat konten di Steemit karena saya harus menjadi pencipta konten yang baik. Saya percaya Steem akan menjadi salah satu blockchain paling kompetitif di dunia cryptocurrency. Aku akan berdiri di dekat Steem dan aku akan menghadapi segalanya dengan semua Steemian.
Kita dapat mencapai impian kita jika kita berani menciptakannya. Mari kita tetap bersama Steem!
Itulah profil singkat sang pencerah steemit. Semoga bisa menjadi inspirasi dan motivasi bagi kita semua yang baru mengenal steemit. Dan sayapun berharap, suatu saat bisa berjumpa dengan steemian pencerah ini.
Meskipun, berulang kali saya ke Bireuen akhir-akhir ini namun belum ada waktu untuk mencari jejak lelaki yang juga seorang pekerja di PLN Cabang Aceh Tengah ini. bahkan, kemarin saat saya ke Takengon mengunjungi PLTA Peusangan juga sangat berhasrat ingin ketemu dengan lelaki murah senyum ini.
Suatu saat saya bisa bertemua dengan @bahagia-arbi yang memiliki nama asli Arbi Sabi Syah ini dan bisa selfie bersamanya. Hahahahha.. Salam hangat untuk semua steemian di dunia, khususnya Indonesia. Sampai jumpa para profil steemian pada minggu berikutnya.
Koetaradja, 9 September 2018
@catataniranda