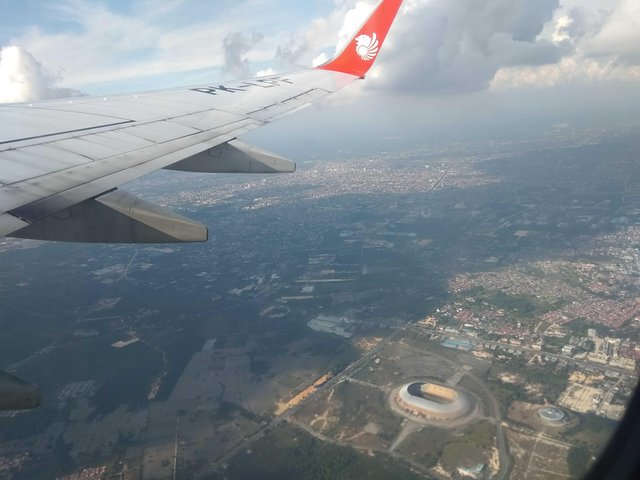 Hello Steemian
Tepat pada jam 18:00 saya mencoba membuka lensa kamera yang sedang berada ditangan saya, kemudian saya mencari objek atau panorama yang akan menjadi fokus bidikan. Terlihat langit begitu menyatu, pemandangan ini berada tepat dari ruang kabin sebuah pesawat terbang yang sedang saya tumpangi (dengan rute Pekanbaru-Kualanamu). Melihat pemandangan yang begitu syahdu begitu menarik perhatian saya dan membuat keinginan saya untuk berkarya, begitulah sepintas kata yang bisa terucap. Memang saya bukanlah seorang photografer dan saya tidak mendalami tentang dunia photografy akan tetapi panorama indah mendorong bakat saya untuk mencoba berkarya. Saya melihat dua sudut dan sisi dari ketinggian di dalam pesawat, terlihat dua sisi yang berlawanan. Sebelah timur dan barat menyajikan panorama alam yang begitu menggoda, satu sisi terlihat pemandangan lautan yang biru dan hamparan daratan yang terlihat hambar. Sedangkan di sisi lainnya terlihat sudut-sudut pulau kecil yang natural dengan tumbuhan yang begitu hijau. Berikut beberapa potret yang saya ambil secara acak dan begitu natural tanpa menggunakan efek apapun.
Right at 6:00 p.m. I tried to open the camera lens that was in my hand, then I looked for objects or panoramas that would be the focus of the shot. Seen the sky is so united, this view is right from the cabin space of an airplane I was riding (with the Pekanbaru-Kualanamu route). Seeing such a beautiful scene so caught my attention and made my desire to work, that was a glimpse of a word that could be spoken. Indeed, I am not a photographer and I do not explore the world of photography, but the beautiful panorama encourages my talent to try to work. I see two angles and sides from the height inside the plane, looking two opposite sides. East and west presents a natural panorama that is so tempting, one side seen the view of the blue ocean and the expanse of land that looks bland. While on the other side, there are natural small island corners with plants that are so green. Here are some portraits that I took randomly and so naturally without using any effects.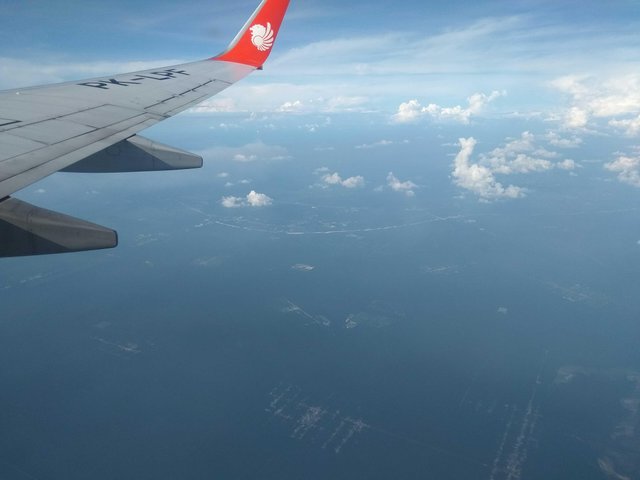 Foto tersebut saya ambil dengan menggunakan kamera smartphone biasa, hanya menggunakan smartphone Xiaomi Note 5A. Saya mencoba mengambil gambarnya dari beberapa segi dan fokus yang berbeda-beda, sehingga saya mendapatkan beberapa gambar menarik. Memang sebenarnya saya tidak pandai dalam mengambil fokus dan angle, namun saya mencoba memanfaatkan alat seadanya saja. Memang potret ini tidak ada nilai seninya jika dibandingkan dengan lensa seorang fotografer, tetapi foto ini begitu natural dan apa adanya.
I took the photo using an ordinary smartphone camera, using only the Xiaomi Note 5A smartphone. I tried to take pictures from different aspects and focus, so I got some interesting pictures. Indeed, I am not very good at taking focus and angle, but I try to use just a few tools. Indeed, this portrait has no artistic value when compared to the lens of a photographer, but this photo is so natural.
---