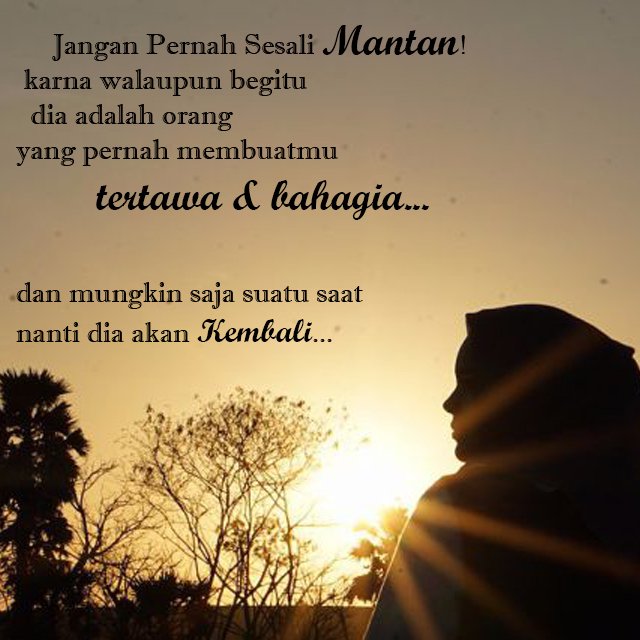 Namanya juga Mantan, pastinya kita udah benci dengar kata itu. Tapi walaupun Begitu hati tetap tidak bisa dibohongi.
Dear Mantan
Teruntuk kamu yang tidak akan baca story ini, biarkan sejenak aku meluapkan isi hatiku. Sesungguhnya aku sangat teramat benci padamu karna suatu alasan yang tak dapat kau mengerti, terlepas dari itu aku masih sangat mencintaimu walau kau tak tahu. Walaupun aku unfollow semua sosial mediamu, tanpa kau tahu aku masih sering Stalking setiap update foto bahkan statusmu dan pastinya aku memiliki cara sendiri untuk mengetahui itu. Aku tidak tampan, tidak kaya, tidak romantis hanya sedikit humoris, tapi ketahuilah caraku mencintaimu itu berbeda.
Tapi sekarang apa, kita sudah jalan beda arah tanpa saling melihat kebelakang. Bukankah kita pernah menghabiskan waktu bersama, tertawa, bercanda, suka dan duka kita rasa bersama. Namun sekarang kita bagai orang lain, tanpa pernah mengenal satu sama lain. Apa arti selama ini? bukankah kita pernah berjanji untuk saling menemani hari hari yang akan dinanti? Bukankah kita pernah mengatakan untuk saling bersama dan tidak melupakan?
Terimakasih telah berhenti sejenak mewarnai hidupku. Untuk mantan yang kubenci dan kusayang...
Translate :
Dear Ex
For you who will not read this story, let me momentarily expose my heart. I really hate you very much for a reason you can not understand, apart from that I still love you very much even though you do not know. Although I unfollow all your social medias, without you knowing I still often stalking every photo update even your status and of course I have my own way to know that. I'm not handsome, not rich, not romantic just a little humorous, but know my way of loving you is different.
But now what, we have a different way without seeing each other backward. Did not we ever spend time together, laughing, joking, joy and sorrow we feel together. But now we are like other people, without ever knowing each other. What does this mean? do not we ever promise to accompany each day that will be awaited? Did not we ever say to each other and not forget?
Thank you for pausing my life. For the ex that I hate and love ...