Kesunyian ini Terlalu Indah [ bilingual ]
Tortured loneliness, the nights filled with mischief. Rushing wind on a cold night wanted me to feel his embrace.
Kesepian yang menyiksa, malam-malam penuh dengan nelangsa. Riuh angin di malam yang dingin ingin aku merasakan pelukan nya.
In silence, quiet calm silence comes with a recollection. Remember the time you made happy. Before I remember everything about you; Rindu always win.
Dalam hening, teduh tenang kesunyian datang membawa kenang. Teringat akan dulu masa itu kau buat senang. Sebelum aku mengenang segala tentangmu; Rindu selalu menang.
When he never rebuked his presence, he always waited steadfastly.
Lie in the silence of the night of prayer hovering in the wide sky.
Waktu tak pernah menghardik akan hadir nya dirimu, ia selalu menunggu dengan tabah.
Merebah di keheningan malam doa pun melayang-layang di langit luas.
One name that has not been replaced, a name that is still imprinted in the heart, namely; You.
Still you I discuss with my god in the third night, hoping the miracle to come as "Hope" will be "Real".
Satu nama yang belum terganti, satu nama yang masih terpatri dalam hati, yaitu; Kamu.
Masih saja kamu yang ku perbincangkan dengan tuhan ku di sepertiga malam, berharap keajaiban datang sebagaimana "Harap" akan menjadi "Nyata".
Silent torture
But God gives beautiful in this silence.
Bitter greeting
But I swallow and I received with a graceful chest.
Missed hit
Penetrating the rocks of sorrow, forcing to meet.
Sunyi menyiksa
Tetapi tuhan memberikan indah dalam kesunyian ini.
Pahit menyapa
Tetapi ku telan dan ku terima dengan lapang dada.
Rindu menerpa
Menembus karang nestapa, memaksa ingin jumpa.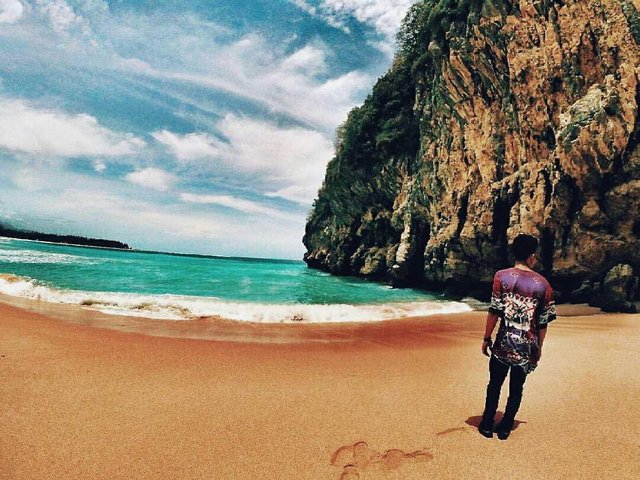 I'm jealous of your cellphone, because he never gets off his grip.
If first for me the message you delivered, then with whom you now share the news.
Aku cemburu dengan hanphone mu, sebab ia tak pernah lepas dalam gengam.
Jika dulu untuk ku pesan kau hantar, lalu dengan siapa sekarang kau berbagi kabar.
Yours are now falling in the eye, falling apart. Practice a long way from the horizon. Whereas we used to look at the same month, telling of his beautiful old days. The Universe is a witness between two human children who love each other-love tied up the promise. The moon last night smiled that the longing never missed.
Setiamu kini gugur di mata, jatuh berkepingan. Mengulik asa yang jauh dari cakrawala. Padahal dulu kita memandang bulan yang sama, bercerita tentang indah nya hari tua. Semesta jadi saksi antara dua anak manusia yang saling cinta-mencintai mengikat janji. Bulan malam itupun tersenyum haru bahwa rindu tak pernah bertemu pilu.
Now, in the silence I sometimes smile to myself about what we have planned.
Sick indeed, but the silence is too good to remember.
Kini, dalam kesunyian kadang aku tersenyum sendiri mengingat tentang apa yang pernah kita rencanakan.
Sakit memang, tapi kesunyian ini terlalu indah untuk mengingat.
Most people hate loneliness, but not with me.
Because the crowd can not bring you, so I like the quiet to just remember you.
At least you are present in my memory, at least silent you there, at least my dreams tonight, you again.
Kebanyakan orang membenci sepi, tapi tidak dengan ku.
Karena keramaian tidak bisa menghadirkanmu, sebab itu aku menyukai sepi untuk sekedar mengingatmu.
Paling tidak kau yang hadir di ingatan ku, paling tidak sunyi ku ada kamu, paling tidak mimpiku malam nanti, kamu lagi.
Happy gazing back, cuddly hugged hope again. Hopefully regret continues to embrace you until later ..
Selamat menatap kembali, selamat peluk memeluk harap lagi. Semoga penyesalan terus memeluk mu sampai nanti..