Buka Puasa Bersama KSI-Chapter Bireuen Sambil Menyantuni Anak Yatim [ bilingual ]
Breaking the fast
Starting with Bismillah ..
In this glorious month that is; Ramadhan month. It's like having to break the fast together held every coming ramadhan. But this is the form of solidarity between man and man. With the agenda like this then the relationship rope will always awake. For the favors of gods who have given health to the body (because out there are many who are sick) the body can still move, the fresh air is inhaled, the unstoppable steps to enjoy togetherness with the peers of Steemit Indonesia Chapter Bireuen Community. An essential happiness, will always be a memories of the heart.
Di mulai dengan Bismillah..
Pada bulan yang mulia ini yaitu; Bulan Ramadhan. Sudah seperti keharusan saja berbuka bersama diadakan setiap datang nya ramadhan. Tetapi, inilah bentuk solidaritas antara manusia dengan manusia. Dengan adanya agenda seperti ini maka tali silaturahmi akan selalu terjaga. Untuk nikmat tuhan yang telah memberikan sehat tubuh (karena di luar sana banyak yang sedang sakit) tubuh masih bisa bergerak, udara yang masih segar terhirup, langkah yang tak terhenti hingga dapat menikmati kebersamaan bersama rekan-rekan Komunitas Steemit Indonesia Chapter Bireuen. Suatu kebahagian yang hakiki, akan selalu jadi kenangan hati.
In this ramadhan month, I have often break with sweet but nothing is clear, I never break with the faithful but not sweet. But today I break with my BSC colleagues (Bireuen Komunitas Steemit) all appear clear and definitely sweet and loyal.
Di bulan ramadhan ini, saya sudah sering berbuka dengan yang manis tapi tak ada yang jelas, saya pernah berbuka dengan yang setia tapi tidak manis. Namun hari ini saya berbuka dengan rekan-rekan BSC (Bireuen Komunitas Steemit) semua nampak jelas dan sudah pasti manis-manis dan setia.
How come? Begin by taking the orphans first by Chairman and Steemit Chapter Bireuen before the Steemians continue with other activities. An incredible happiness, a community that is very clear and worth the thumbs up. Because Always prioritize the most important and very wise in arranging random-random in every activity held by BSC.
Bagaimana tidak? Di awali dengan menyantuni anak yatim terlebih dahalu oleh Ketua dan Petinggi-Petinggi Steemit Chapter Bireuen sebelum para Steemian melanjutkan aktivitas lain. Suatu kebahagian yang sangat luar biasa, satu komunitas yang sangat jelas dan patut di acungkan jempol. Karena Selalu memprioritaskan yang terpenting dan sangat bijak dalam menyusun random-random pada setiap kegiatan yang diadakan oleh BSC.
Here are some photos that were captured by bang @helmibireuen moment when Mr. chairman @bahagiaarbi sponsors an orphan with the Steemit Community in Bireuen namely; Mr. @dokter-purnama @purnama-care, Mr @razak-pulo, [email protected] and so forth.
Ini dia beberapa foto yang sempat di tangkap oleh bang @helmibireuen moment di saat Pak ketua @bahagia-arbi menyantuni anak yatim bersama petinggi Komunitas Steemit di Bireuen yaitu; Bapak @dokter-purnama @purnama-care, Bapak @razak-pulo, Bapak @albertjester dan lain sebagainya.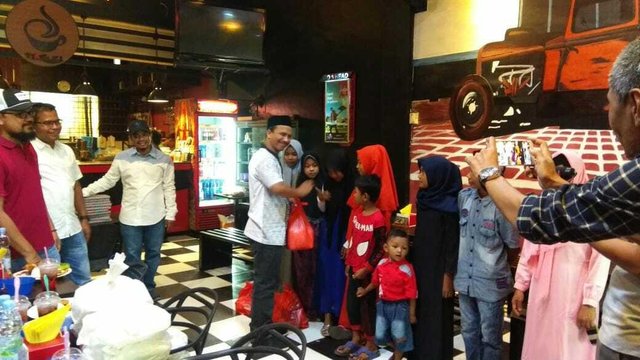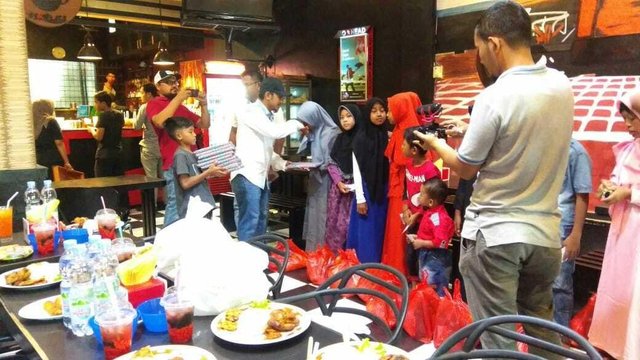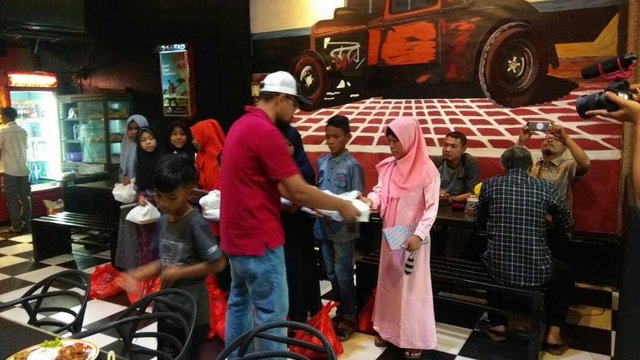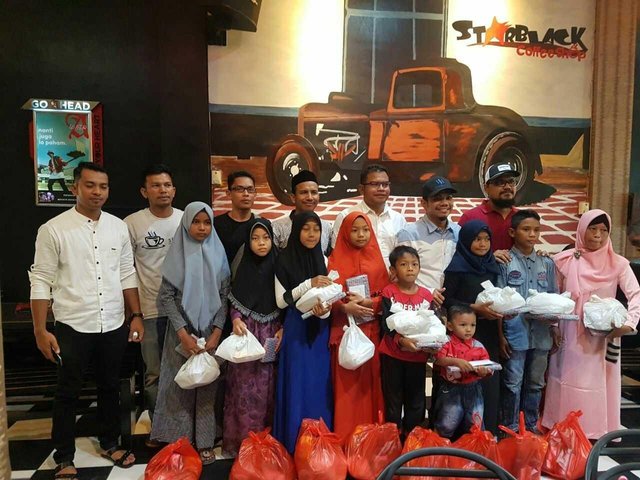 After finished one agenda while waiting for the breaking time arrived, we suddenly caught some photos of Stemian Bireuen who was throwing a happy smile to each other, there is also a sharing about important things for the future so that BSC more successful, some are impatient enjoy the ice pepaya mixed syrup @ arifpratama72 hehehe.
Setelah selesai satu agenda sambil menunggu waktu berbuka tiba, tiba-tiba kami pun menangkap beberapa foto Stemian Bireuen yang sedang melempar senyum bahagia satu sama lain, ada juga yang sharing tentang hal-hal penting untuk kedepannya agar BSC semakin berjaya, ada pula yang tak sabar menikmati es pepaya campur sirup @arifpratama72 hehehe.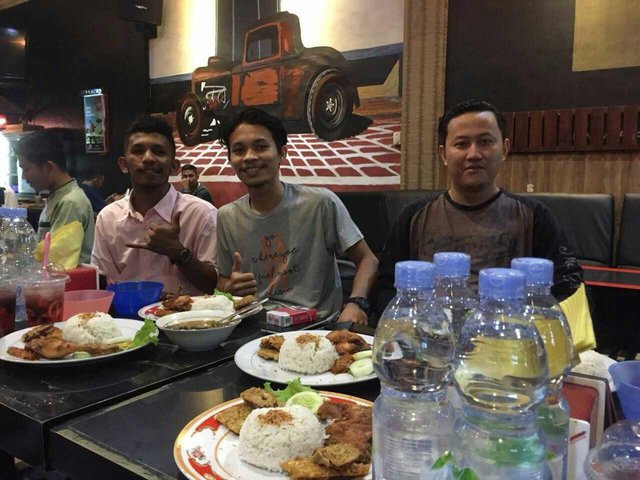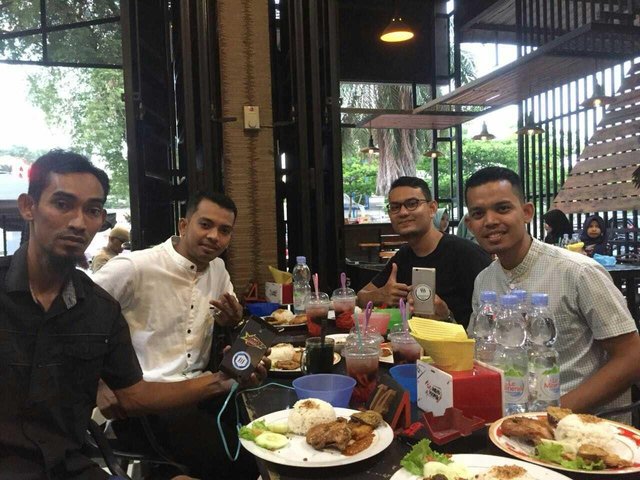 Yes, this is my little handwriting today, a simple moment for all of us, hopefully there is always blessing on every activity that we do, amen. This is what will last forever, until old to the end of life.
Send regards for success…
Ya, inilah sedikit tulisan tangan saya hari ini, moment sederhana untuk kita semua, semoga selalu ada keberkahan pada setiap kegiatan yang kita lakukan, amin. Inilah nanti yang akan abadi, sampai tua ke akhir hayat jua.
Salam sukses...