InDesign Version Woes - How to use Higher Version INDD Documents in Lower Versions of the Application
Desktop Publishing (DTP) has a rich history. From Aldus PageMaker to QuarkXPress and from Quark to Adobe InDesign. The years are adding up. And so are the versions!


InDesign has been the main DTP application of choice for the last 15 years or so. 15 years is a lot of versions ago! That also means, for a proprietary format such as InDesign (.indd), versioning issues.
Couple this with the fact that InDesign files are not natively capable of being opened in a lower version of the application then that which created it and you have problems. Sure, if you have a higher version of the application or if you can approach someone who does, you can export (or "Save as" now-a-days too) as an IDML file. (Which stands for, InDesign Markup Language) That will help any InDesign CS4 or higher user be able to open and use your higher versioned layout documents.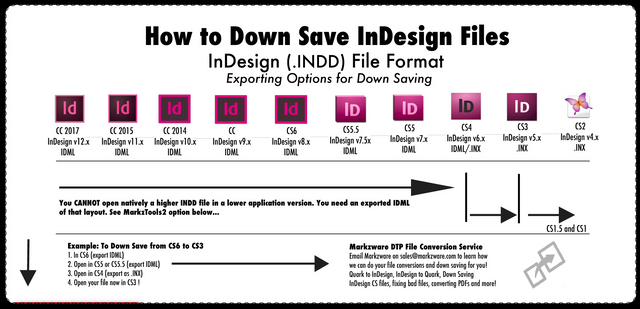 But for those that do not have InDesign CC2017. For those that do not want to ask suppliers or other graphic designers to also export an IDML of the DTP layout. For those InDesign users on an older version, many by choice, there is an option on the Apple Mac -
MarkzTools2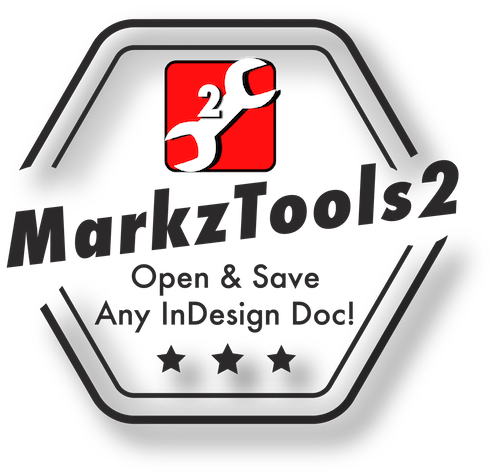 website:
http://markzware.com/products/markztools2/
MarkzTools is a software bundle that comes with two utilities for you. A plugin extension and a stand-alone application. The InDesign plugin for CS5, CS5.5 or CS6, works right within the Adobe application. The stand-alone application does not even need InDesign on your machine and works on any modern Mac. Both the stand-alone Mac application and the plugin can be used by any License holder of the very affordable MarkzTools2.
Then, when you drop an InDesign CC 2015 or CC2017 INDD file onto, say, an InDesign CS6 running MarkzTools... No problem. The file will open right up for you! No missing plugin errors or other error dialogues from InDesign.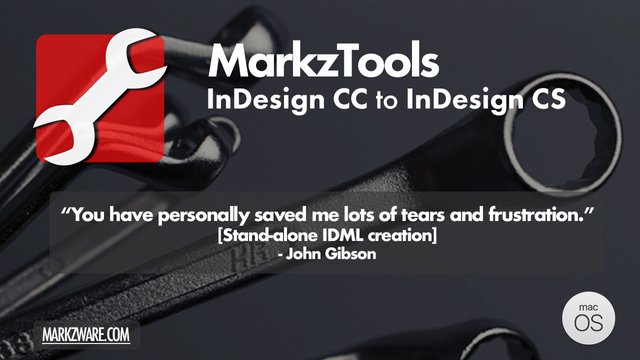 With the stand-alone application of MarkzTools it is also very easy. Just drag-and-drop any higher version InDesign file onto the app and viola, you get an instant IDML of it! Meaning you can effectively use any incoming InDesign file you receive; even if you are on CS4!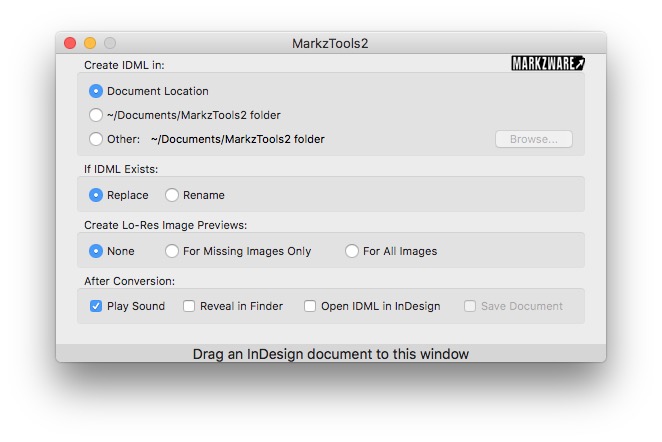 There are even those that have the latest CC 2017 of InDesign, but also use MarkzTools2. As a stand-alone IDML creator, it can be very handy. Especially if an InDesign file becomes slightly corrupted or damaged and will not open in InDesign anymore. No problem, just drop that .INDD file onto the MarkzTools stand-alone application on your Mac. In many cases it will fix your bad file and export a clean IDML file. Then you can open and use that InDesign file again! See a MarkzTools review from a customer about that.
Please note, Markzware also offers a InDesign File Recovery Service for those on a PC or with more advanced problems.
Below, another happy MarkzTools user.

MarkzTools2 is a suite of tools that any power InDesign user should have.