Khemma Macrolyun Bake##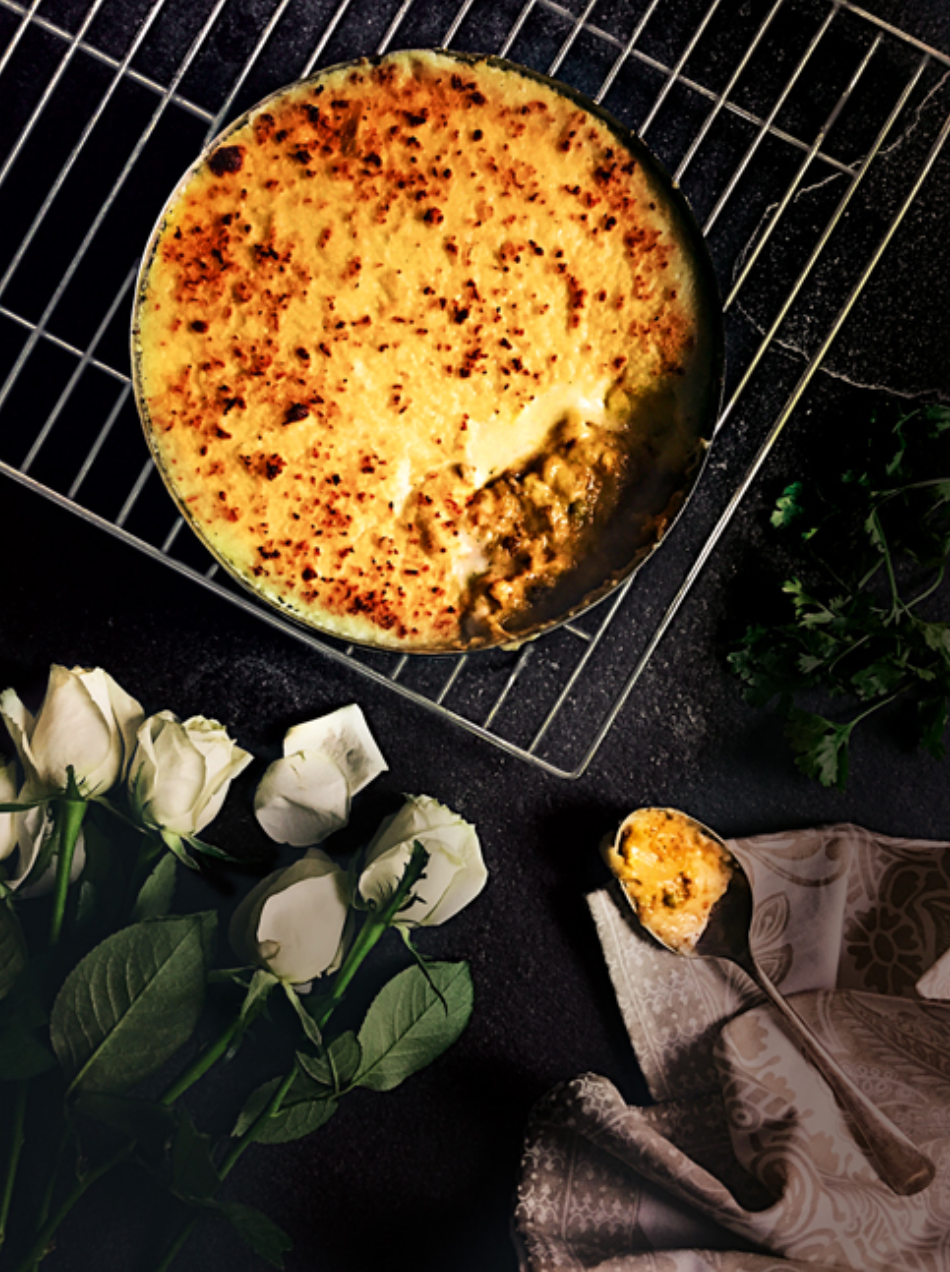 Ingredients
700 gram lamb mince, 2 tablespoon yellow moong dal, 2 tablespoon broken wheat, 100 ml yogurt, juice of 1 lemon, 2 tablespoon oil, three onions (chopped), 2 tablespoon ginger-garlic paste, 1/2 teaspoon garam masala, 1/2 teaspoon caraway seed powder, 1 teaspoon dry rose petals, 1 teaspoon cumin powder, 1/2 teaspoon turmeric powder, 1 teaspoon chilly powder, 2 green chillies, 1 litre mutton stock, 3 teaspoon ghee, 100gm dry macaroni, 3/4 cup green peas(boiled), 4 tablespoons fried onions, 3 tablespoon coriander, salt to taste.
For the mask:-
1/2 kg boiled potatoes, 1/2 cup cream, 3/4 cup milk, 50gm butter, 100gm cheese, salt and pepper to taste.
Method
Marinate the lamb with yogurt and lime juice and keep aside. Meanwhile on a hot pan toast the dal and wheat together and proceed to powder it to a fine mixture. Set aside.

Mash the potatoes and add butter, cheese, milk, salt and pepper while it is still hot.

Heat oil in a pan. Add finely chopped onions with the ginger-garlic paste and fry this for two to three minutes.

Add minced lamb and saute over high heat for 15 minutes.

The lamb will let out a lot of water. When it starts to dry out again, add garam masala powder, cumin powder, coriander powder, chilly powder, ajwain powder, rose petals, green chillies and salt. Give it a stir.

Add lamb stock and ghee, and cover the pan. Lower the heat to a simmer and cook till the mince is soft. Then add the roasted dal and wheat mixture followed by dry macaroni and peas. Stir well and let it cook uncovered till the macaroni is almost done and the mutton mince mixture is reduced.

Adjust seasoning and transfer this mixture to and oven-proof casserole.

Cover it with mashed potatoes and bake for 30-45 minutes at 200 degree Celsius.