Chana Bhaji- checkpeas Cooked With Spices, Garlic Onion And Fresh Coriander:-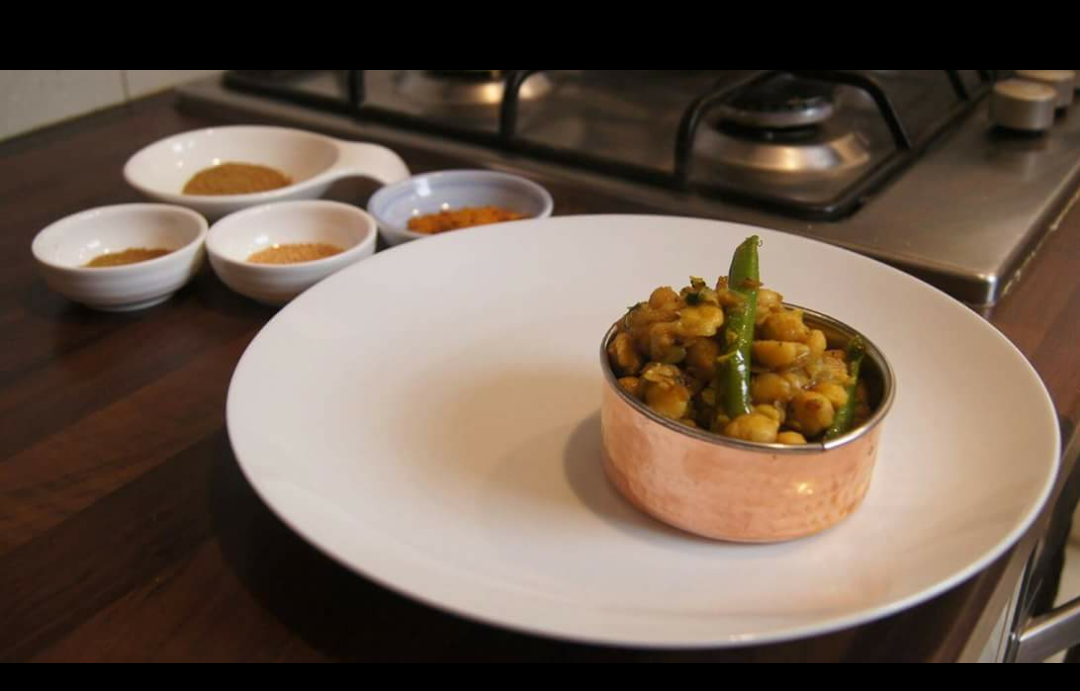 Ingredients:-
2 tbsp vegetable oil or olive oil
2 X echallion shallots
2 garlic cloves, crushed.
1/2 tbsp coriander powder.
1/2 tbsp cumin powder
1/4 tsp turmeric powder
1 tin of checkpeas.
1 green chilly, cut with a single slit.
Approx. half a cup of water
1 tsp salt
A small handful of fresh coriander, washed and chopped.
Method:-
Heat the oil in a pan.

Add the garlic and onions.

Stir continuously until the onions are soft. It is really important to take the time at this stage and make sure the onions are cooked, so the spices will then be able to infuse their flavour add approx. 1/2 tsp salt.

Add the turmeric, coriander and cumin and stir in. Add a splash of water and cover for a few minutes.

Add in the green chilli. Making a single slit allows the flavours to infuse without making the dish too hot.

Drain and rinse the checkpeas and add to the pan. Stir

Cook for 10-15 minutes, stir continuously. When you feel the checkpeas start to stick at the bottom of the pan, add approx. 1/4 cup of water.

The dish is cooked when the checkpeas have absorbed most of the water. Garnish with fresh coriander and serve.