The Beauty of Nosarara Nosabatutu - Pesona Keindahan Nosarara Nosabatutu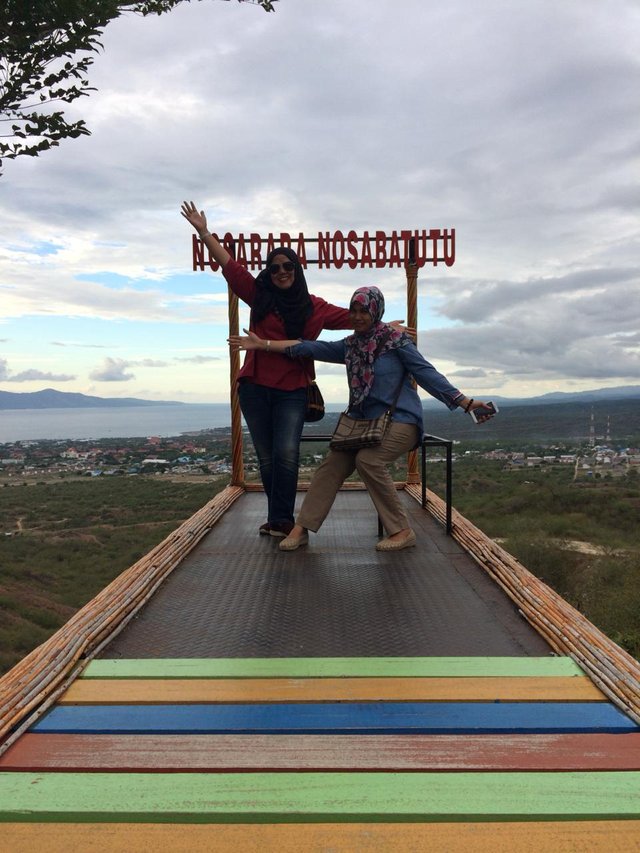 Hello, Steemians! How are you doing today? Wanna know my story today?
This time, I wanna share my lovely day with you. My friends and I spent this weekend by going to the most enchanted place, named Nosarara Nosabatutu. It was located in Tondo, Palu, Sulawesi Tengah. It was sunny Sunday so that the place looked very crowded.
Many people come here to relax with their family, friends, and soulmates. Of course, the place is very perfect for them to take some pictures because it has wonderful views of the hill and the sea.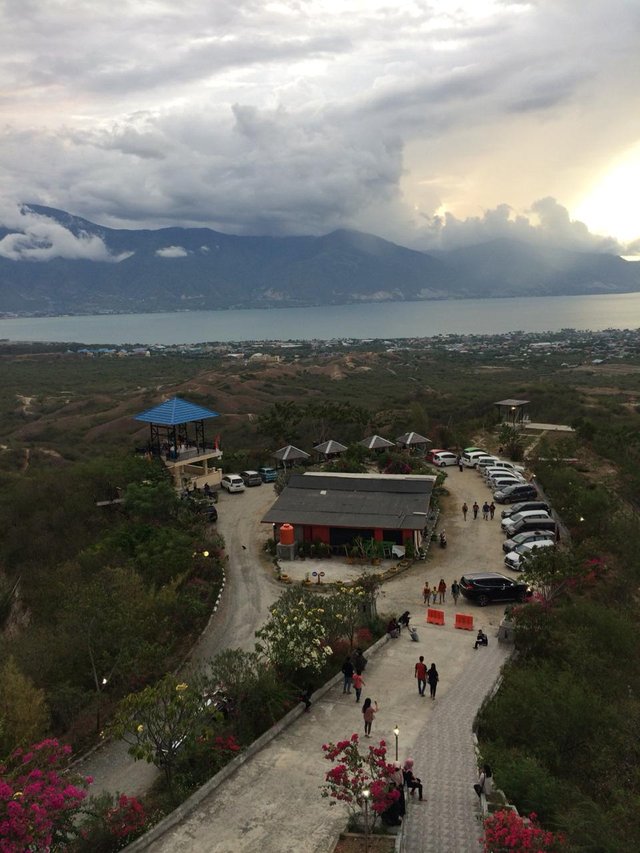 What can we see in Nosarara Nosabatutu?
Here it is, 'Tugu Perdamaian' which is a very well-known monument in Nosarara Nosabatutu. According to my friend, Gons, the native, the history why the monument built was as a symbol of peace in the region because of frequent conflicts occurred, especially in Poso and Sigi. Dewa Parsana, the initiator of the building, initiated the idea to promote peace, togetherness, harmony and inviting all components of the nation to take an active role in realizing the security, peace and welfare of the Indonesian people, especially in Central Sulawesi.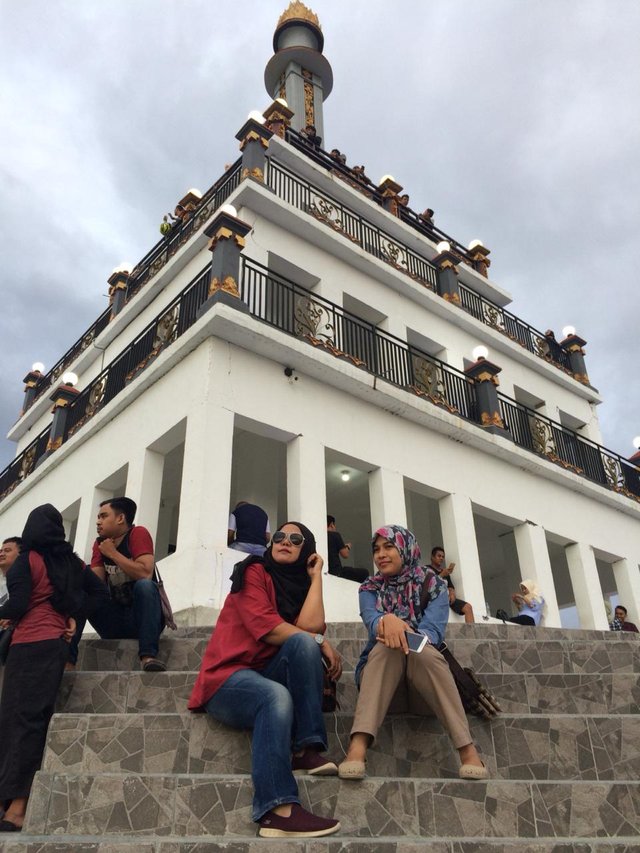 This place is also crowded with people because of the beauty of the sunset behind the hill whose shadow is also clearly visible on the surface of the bay. If the day gets dark, all eyes (red-visitors) patiently wait for the moment to capture a wonderful snapshots of the photos.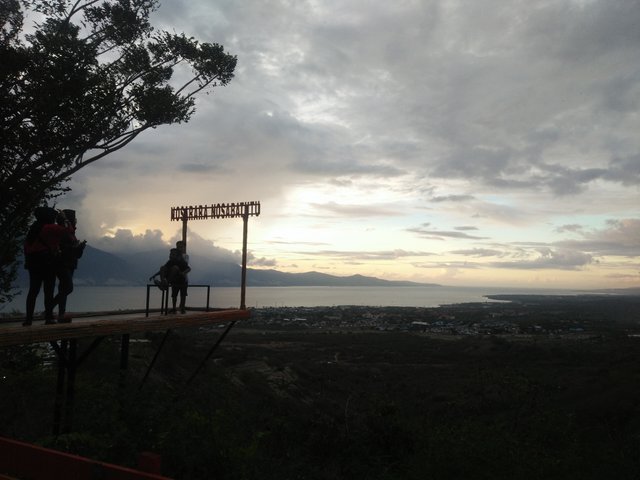 We also did not want to waste the time because it was about to reach sunset that was very short. Soon, we took a number of pictures from the third floor of the tower. The calm sea expanse between towering green hills, decorated with knick knacks in every corner of the city that began to look small, neat, and sparkly. So fabulous!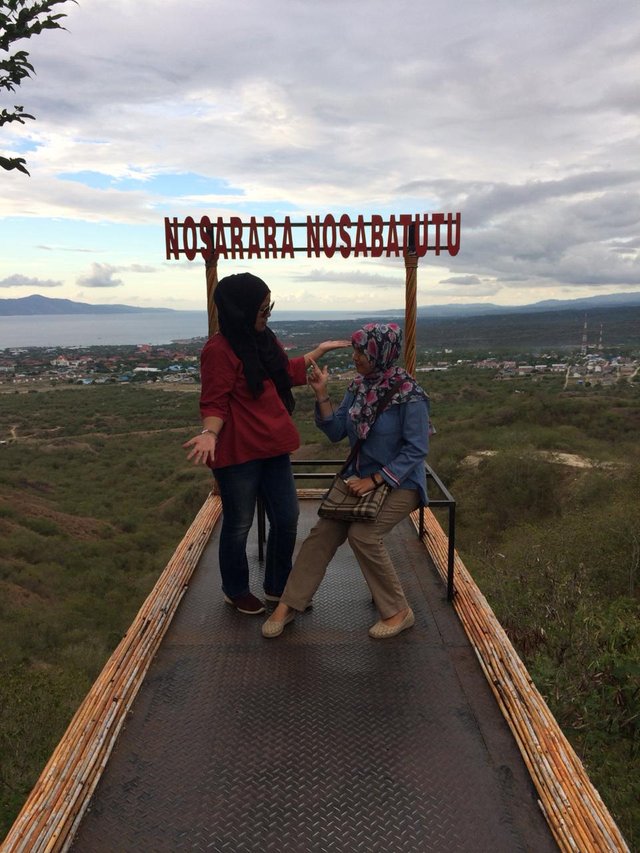 Bahasa Indonesia
#Pesona Keindahan Nosarara Nosabatutu#
Hai, sobat Steemian semuanya! Apa kabar?
Kali ini saya ingin 'share' pengalaman menyenangkan akhir 'weekend' bersama teman saya, buk Ican. Kami jalan ke tempat yang paling indah paling mempesona, yaitu Nosarara Nosabatutu yang terletak di desa Tondo, kota Palu, Sulawesi Tengah. Hari ini cuaca sangat cerah, makanya hari ini terlihat sangat ramai dan padat.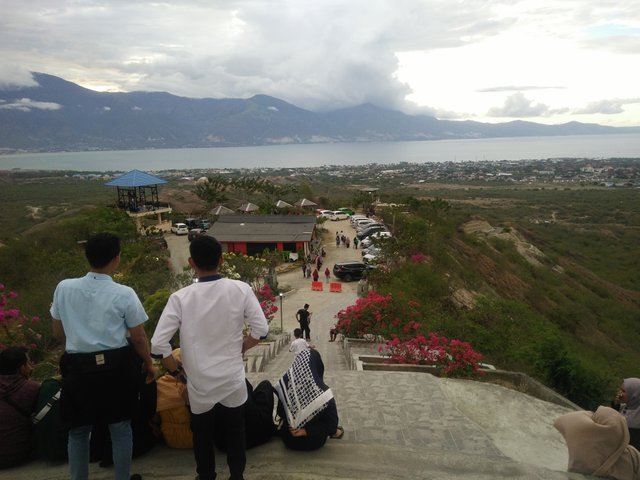 "Ada apa di Nosarara Nosabatutu?"
Ini dia, 'Tugu Perdamaian' yang merupakan monumen yang sangat terkenal di Nosarara Nosabatutu. Menurut teman saya, Gons, penduduk asli, sejarah mengapa monumen itu dibangun adalah sebagai simbol perdamaian di wilayah itu karena sering terjadi konflik, terutama di Poso dan Sigi. Dewa Parsana, penggagas bangunan, memprakarsai gagasan untuk mempromosikan perdamaian, kebersamaan, kerukunan, dan mengundang semua komponen bangsa untuk mengambil peran aktif dalam mewujudkan keamanan, perdamaian, dan kesejahteraan rakyat Indonesia, khususnya di Sulawesi Tengah.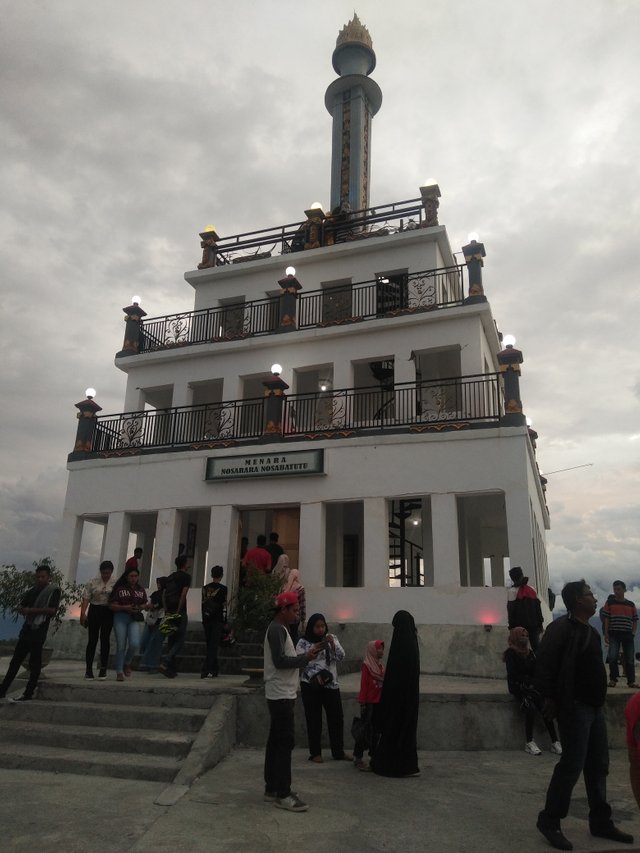 Banyak orang datang tua muda silih berganti ke tujuan destinasi wisata ini, tidak lain dan tidak bukan hanyalah untuk bersantai sejenak dengan sanak keluarga dan dengan teman-teman tercinta. Tentu saja, tempat indah ini sontak menjadi objek yang sempurna untuk mengambil foto-foto cantik karena keindahan pemandangan pegunungan dan laut tampak menyatu dengan serasinya.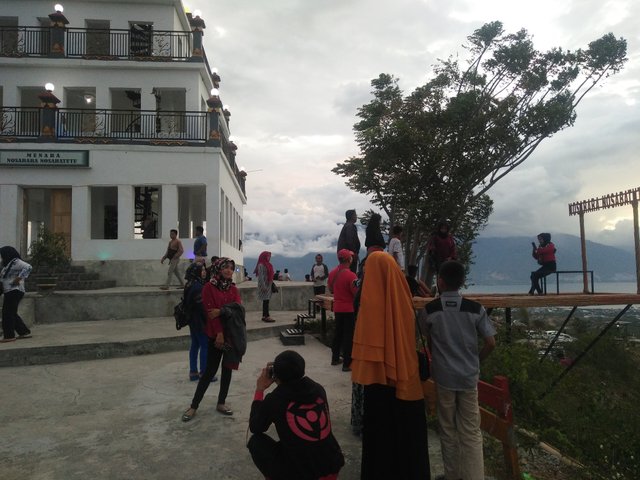 Tempat ini juga menjadi ramai diperbincangkan orang karena keindahan dari penampakan mataharinya yang terbenam dibalik bukit yang bayangannya juga terlihat jelas di permukaan teluk yang tenang. Jika hari mulai gelap, semua mata (red-pengunjung) dengan sabar menunggu momen itu untuk mengabadikannya dalam bentuk jepretan foto-foto.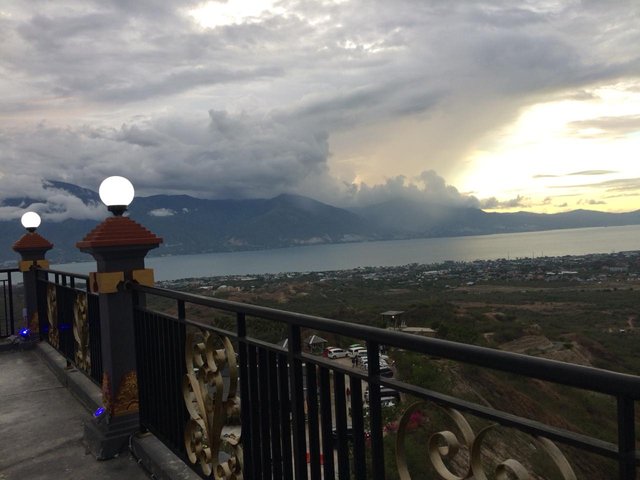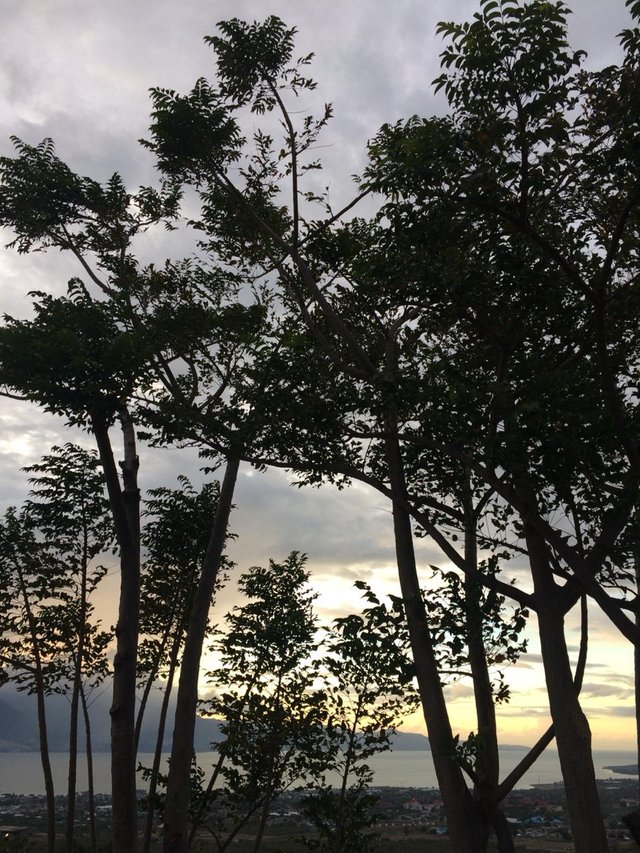 Kami pun tak mau ketinggalan, waktu hampir menuju magrib yang sangat singkat itu kami manfaatkan untuk mengambil sejumlah gambar dari lantai tiga atas menara. Hamparan laut yang tenang diantara bukit-bukit hijau yang menjulang tinggi, dihiasi dengan pernak pernik lampu disetiap sudut kota yang mulai terlihat kecil, rapi, dan gemerlapan. Sungguh menakjubkan!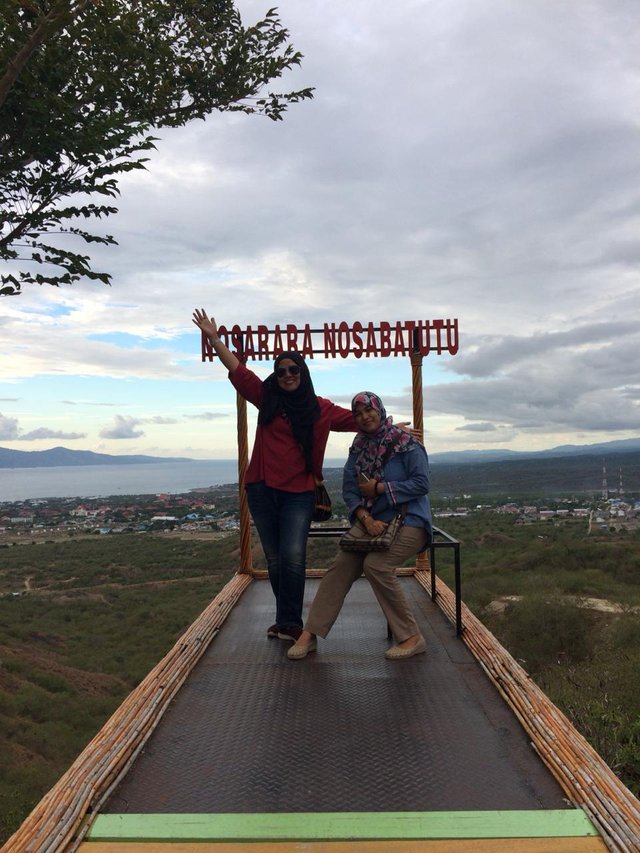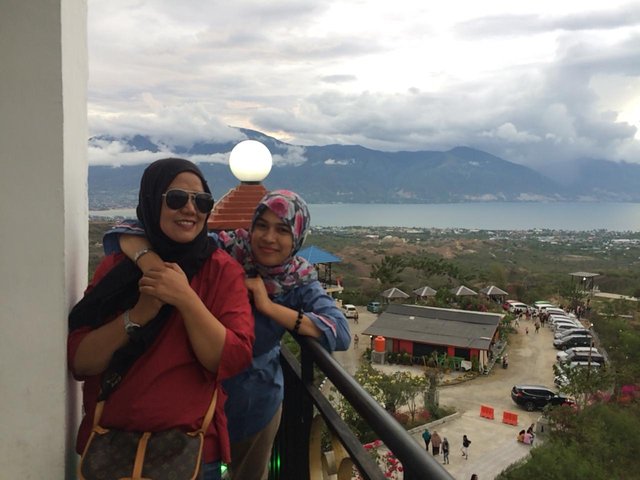 So, what do you think about this tourist destination? Are you interested to visit this place? If you come to Sulawesi Tengah, please contact the following number: +62 813-3331-7750 to have an amazing fun tour & travel. He will guide you to the place safely. He is also available for other amazing tourist destinations.
Alright then, I think that's all for today. See you in the next story.
Best Regards,
@city29