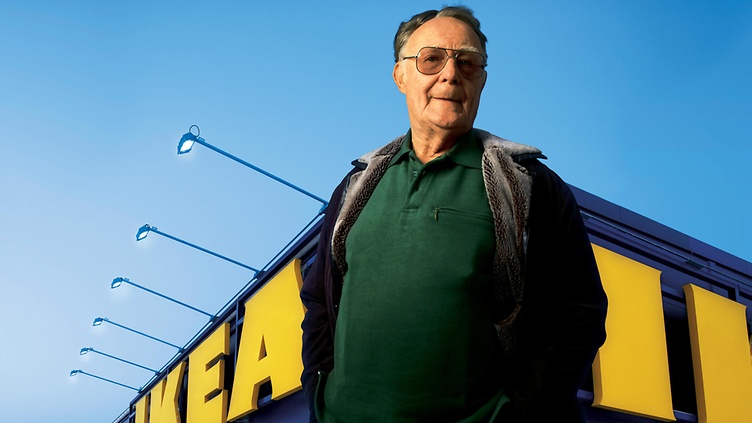 Ingvar Kamprad
I don't know if any of you are familiar with his character but first of all he is founder of IKEA.
He also was one of the richest men in the world.
IKEA is kinda well known brand but also a huge department store which sells not only furniture but also housing supplies.
If you yet don't know what I'm talking about then you might have never experienced the ultimate frustration when assembling one of their furniture.
Ingvar's story begins from Småland, forested area in the southern part of Sweden. He started his first business when he was only a 5-years-old, with help of his aunt he began to sell matchsticks to their neighbors. They ordered them in large quantities from Stockholm and so that it would be still profitable to themselves.
Kamprad grew up in household where saving was playing a big role, that has to be one of the main reasons he grew up to me modest and not to throw money ever at anything useless, even though he had plenty.
In age of 17 Ingvar starts to think like an entrepreneur and starts his first business in 1943.
The name of the company were his name first two letters, I and K .
He realized in such a early age that main role in his business have to be simplifying and inexpensive way to deliver the product from the factory to the customer, rest of his business model is history.
Ingvar has been described to be intelligent, greedy and sickening miserly. He himself has always wanted to be publicly just normal swedish person (medelsvensson).
The way he dressed was quite modest for he's persona, shirt, trousers and simple jacket. He didn't wear a suit.
In 1970 he moved away to Switzerland because of swedens taxing policies.
He has been allegedly to be very manipulative, world's furniture king would been quite boring without such dark super powers.
Ikea
267 Ikea-warehouses in 25 countries.
Ikea-corporation has 123000 employees.
Ikea's sales were 21,5 billion euros in 2009.
In Ikea-warehouses there are aprox. 600 million visitors per year.
The biggest warehouses by their sales are Germany (16%), USA (11%) and France (10%).
Ikea has over 1220 suppliers in 55 countries .
Their biggest suppliers are China (20%), Poland (18%) and Italy (8%)
RIP
May his soul rest in peace.
I am myself grateful for all the work he has done and being huge employer for thousands of people.
His way of creating multi billion giant company literally almost by himself shows that with just vision and hard work you can accomplish anything you wish to decide.
Great persona and surely a trailblazer for many of the people today and yet here to come.