Introduction and General Review
Most people with creativity often seek platforms and means to exhibit their unique ideas to the entire world. Recent technological advancements, such as the internet, have provided such medium and have given these creative persons means to showcase their art. This technological growth has liberally allowed creativity expressed in different dimensions which birthed a distinct form of art: the viral user-generated digital content. Platforms are increasingly incorporating these creative arts, creating an easily accessible medium for these arts to be seen all over the world and one of these platforms is Juiice.
Juiice is an online platform created as an art gallery of these viral contents, a user-friendly environment that serves as a medium to support the creativity of people, their skills and talent, their extraordinary way of reasoning, breath-taking pictures as well as to offer visitors fun and entertainment. The art usually available on Juiice platform include hilarious clips, fascinating nature pictures, video clips of talent performance, and authentic thoughts and quotes are among the arts that are usually displayed by the creative minds.
Juiice believes that most users on any platform are key players to its growth, however, they are often not duly compensated for the activities on the platform such as contributing to the propagation of the creative contents. Juiice platform, which is integrated with blockchain technology offers a reward to users for participation on the platform through the use of smart contracts. Both the creators of the contents and the influencers are properly rewarded for their contributions.
Main Features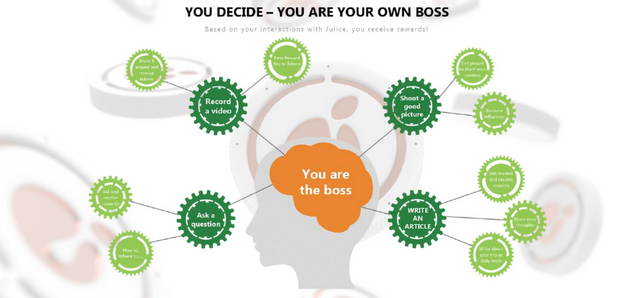 The network of Juiice consists of the content creators, the users, and advertisers. Most of the revenue obtained from advertisement goes to the active user community and the rest goes to the platform. The main features of Juiice platform include:
Free User Account:
Juiice platform allows free sign up to become a Juiice user. The functions available include are content addition and sharing, unlocking extra features by doing daily tasks, reward creators and support listed charity.
Juiice Power Account (Reward account):
This account permits users to receive their rewards and also unlocks power features. A power account is unlocked using 1000 JUI tokens.
Gamification in a fun way:
Besides the reward system, Juiice also offers games such as the Juiice Pulp. This creates fun and excitement for users and also increases their activity on the platform as they get badges and ranks.
Donation feature:
Users can also donate certain amounts of their rewards to valid charities and campaigns displayed on the platform. This is usually handled by smart contracts.
Influencers' tools:
Influencers can be hired and get paid by advertisers.
Other features on Juiice platform include the daily queue bonuses and the invitation bonus. Users can refer through social media platforms such as Twitter and Instagram and Facebook.
Juiice Token Features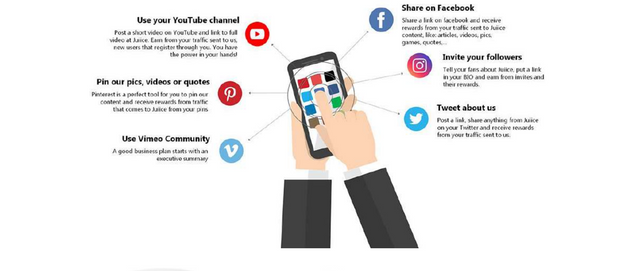 The token of Juiice, denoted as JUI, is an authentic utility token which supports the Juiice social media platform, allows access to power account features and is also used as a reward to active users:
• JUI serves as a medium for rewarding users.
• JUI token allows users to make in-app purchases and also reward other users.
• JUI token help collaborate donations by users to charities.
• Juiice Market Place and Direct Advertising uses JUI tokens to reward influencers for product promotion and traffic.
• JUI token performs as a link between influencers and advertisers, hence, eliminating advertising agencies and middlemen.
Latest Juiice Token Updates:

The JUI token was recently listed on the ICOBench rating platform and got an amazing 4,4 out of 5! In a short time there will be more news on Juiice token offering and it is going to be an IEO. To be up to date and follow all the latest updates, join Juiice social media and check their website.
Main website: https://www.juiice.io
Platform: https://www.juiice.com
Twitter: https://twitter.com/ComJuiice
Facebook: https://www.facebook.com/juiicecom/
Whitepaper: https://www.juiice.io/wp/whitepaper-juiice.pdf
Telegram: https://t.me/juiiceltd
Linkedin: https://www.linkedin.com/company/juiice-ltd/
Instagram: https://www.instagram.com/juiice_com/
Youtube: https://www.youtube.com/channel/UCoDxIcYWodviYEsBr5eYYyA
Medium: https://medium.com/juiice-io
Reddit: https://www.reddit.com/user/juiicecom
Autor Telegram: @nik95rnd
BTT: cribusen