Data is very important nowadays, because everything that we are doing online stays online. Even by creating a Facebook profile, you are giving companies a huge opportunity to know everything about you. You may just no care, but such companies as Facebook or Google are earning millions of dollars on selling your data. However, nothing in the world is perfect and even such huge companies have issues with data that can simply be stolen by hackers. It can harm regular people, when hackers are stealing your personal information, including bank details or passwords from your wallets. There is when Cybersecurity becomes very important. Cybersecurity should save you from losing your precious data. Here is the moment, when Hacken.ai comes in. Hacken.ai was created back in 2017 from cybersecurity experts with over 50 years of experience. The goal of team members is to offer more security and protection for their customers that they would never experience any troubles with security of their data.
Products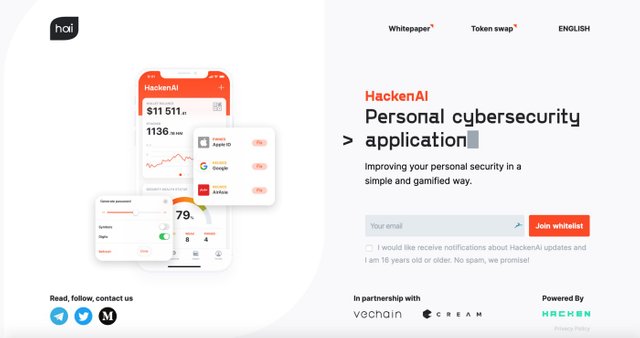 Hacken.ai plans to release tej products that would assist you in the digital world. Four of those products are already live, so we will talk about them first:
Cyberbootcamp. Hacken.ai is going to teach their users how to stay save in modern environment and how to care about your data. Cyberbootcamp is a digital learning platform that is consisting of six modules: Accounts Management, Anti-Phishing, Privacy, Data Protection, General security principles, Digital assets security essentials. After completing all those modules, users will learn how to prevent the loss of important data and how to increase your security in the digital era.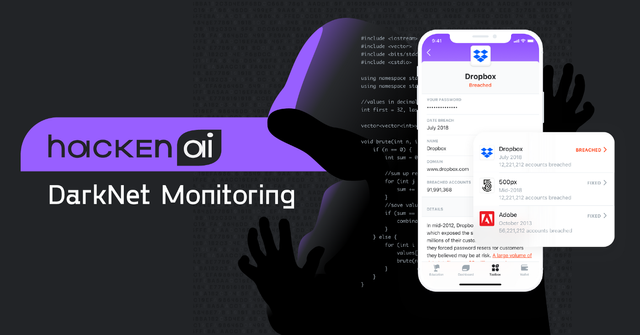 Darknet monitoring. This revolutionary feature will allow you to track if your identity information was found in dark web. In other words, if a hacker will steal your information and will try to sell it on the dark market, you will be notified as soon as possible to prevent even more difficult consequences. If this comes true and your account is hacked, hacken.ai is providing all the necessary information about how to resolve the situation fast and confident.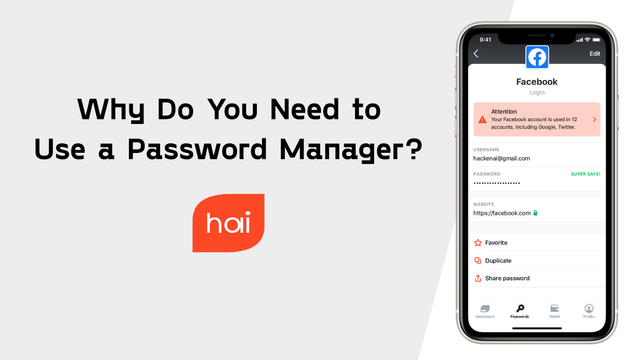 Password Manager. Password manager was created for people that are having accounts on a lot of websites with very important data. Including your working e-mail, online banking, payment systems like Paypal and much more. It would be horrible if somebody would get access to them or you would just forget them completely. With Password manager, you would not need to worry about that. This system stores all your passwords in a very secured storage provided by hacking.ai. This storage is resistant against DDOS-, cyber- or hacking attacks, so you can be sure that your passwords are stored in a safe place.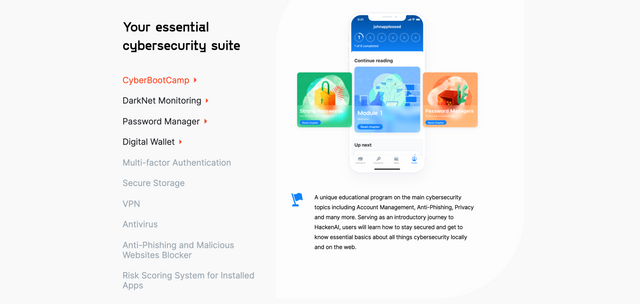 Hacken.ai Digital Wallet. For all crypto lovers, Hacken.ai will give an opportunity to store your digital assets in a safe place. They have already successfully performed closed beta testing and right now open beta is live, so everyone who would like to test their functionalities can take part.
Furthermore, Hacken.ai is actively developing 6 more exciting products that are doing to be available at a later date. Among those products are Multi-factor Authentication, Secure Storage, VPN, Antivirus, Anti-Phishing and Malicious Websites Blocker, Risk Scoring System for Installed Apps.
Partners and Token Ecosystem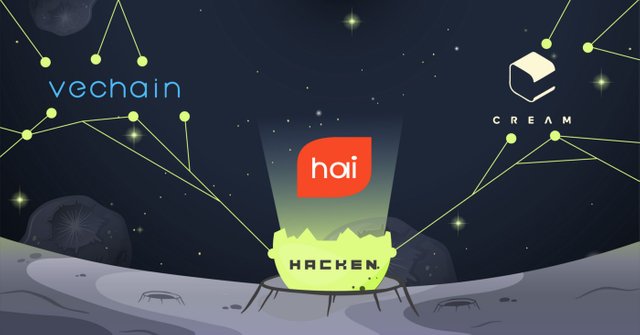 Hacken.ai is a cryptocurrency project that is backed by Hacken.io. A leading provider of digital security solution for various companies. As you may see this project is backed by experienced professionals and it is not going to be their first try to make digital world more secured. The next partner is CREAM. CREAM is a solid investment company that is responsible for funding blockchain and crypto currency related projects from all over the world. Among Hacken.ai partners is Vechain blockchain. Hacken.ai is also based on Vechain blockchain and as it is stated in their whitepaper, the main reasons are Security, well designed Technology and the common idea of making crypto world a safer place.
Speaking about blockchain. Hacken.ai ecosystem is based on VET blockchain and the native ecosystem token is called HAI. The total supply of HAI tokens is 1 Billion and it is going to be used in all products that are provided by Hacken.ai. For example, users are going to be rewarded with HAI tokens for completing Cyberbootcamp academy courses. Moreover, Hacken.ai is going to run several bug bounty programs, giving an opportunity to purchase service and subscription fees with HAI tokens and the last but not least to reward their users for stacking HAI tokens. One more important aspect is that Hacken.ai will offer their users 6 months of free usage of their wallet, if they would complete all the Cyberbootcamp modules.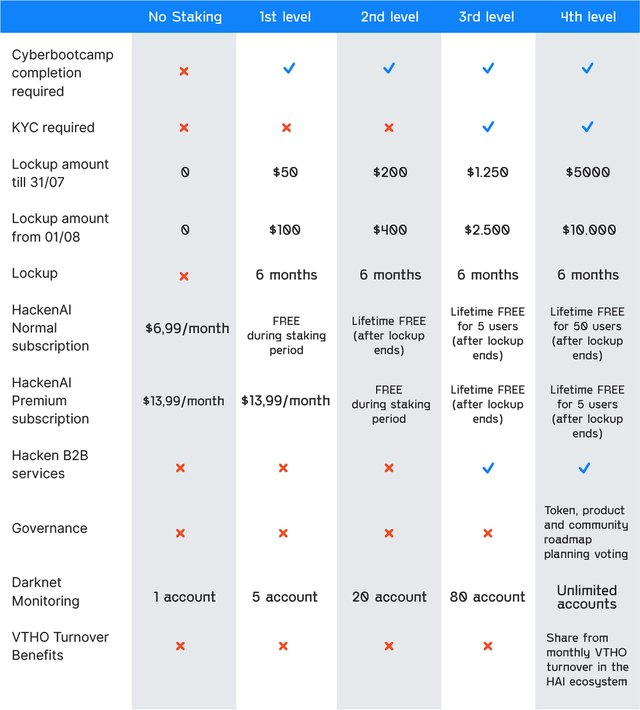 For using Hacken.ai products users will need to pay a subscription fee of 6,99 USD per month for a regular subscription and 13,99 USD for a premium version. But if users would stack HAI tokens, the subscription fee will be lower or completely for free depending on the stacked tokens amount. Furthermore, if you would take part in the stacking program before 31 of July 2020, the amount of tokens that needs to be stacked for all levels is going to be reduced by 50 percent! So if you want to get advantages of level 2, you would need to lock 200 USD instead of 400 USD if you do it before 31. of July. Starting from August, the amount needed for stacking will double.
WrapUP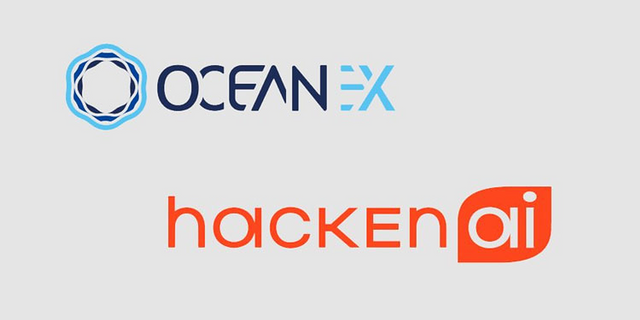 Crypto and blockchain industry are very perspective fields that are having a lack of trust by a lot of people due to a lot of cybersecurity issues. Hacken.ai is here to solve those problems by teaching people of how to protect themselves and offering "ready-to-use" solutions that would help you to avoid troubles with hackers right here and right now.
The last thing that is worth mentioning is the recent IEO of Hacken.ai that took place on OceanEx exchange. This part of Fundraising was held only for one day and concluded two days ago on the 14th of April. Team members have provided a detailed report on funds collected. As usually you can read the full article on their social media and here are some key details: 7 Million HAI tokens were sold during thee IEO, plus around 5 million tokens were sold during previous/private sale rounds. Over 19 million VET tokens were collected and the trading would start on the 27th of April.
Here are some useful links:
Website: https://hacken.ai
Whitepaper: https://hacken.ai/content/hackenai_whitepaper_v1.0.pdf
Litepaper: https://hacken.ai/content/hackenai_litepaper_v1.0.pdf
Facebook: https://www.facebook.com/HackenAI
Twitter: https://twitter.com/hackenai
Telegram: https://t.me/hackenai
Medium: https://medium.com/@hackenAI
Bounty: https://bitcointalk.org/index.php?topic=5238602
Autor
Bitcointalk: cribusen
Telegram: @nik95rnd