New listing: IDEX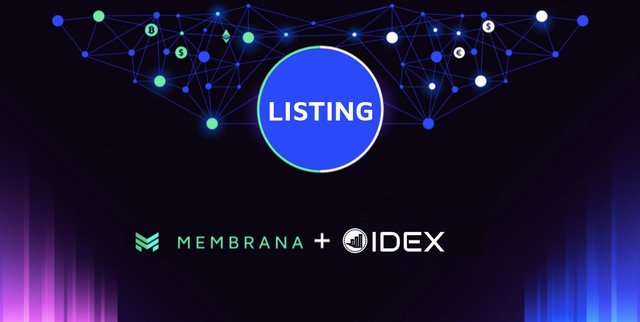 Assets Under Management Ecosystem Membrana reached an agreement with IDEX about listing MBN token on August 27th. IDEX is the first Ethereum based decentralized smart contract exchange to support real-time trading and high transaction throughput. IDEX is the most advanced Ethereum DEX, supporting limit and market orders, gas-free cancels, and the ability to fill many trades at once. IDEX integrated with Coinbase Wallet's WalletLink. This new integration will allow Coinbase users reach 450 trading pairs, especially MBN pair.
To log in to IDEX, visit https://idex.market/ and use your Ethereum wallet for sign up.
By investing in MBN tokens you can join the revolutionary project on its early steps. Early buyers will enjoy significant bonuses, big stacking rewards and will be able to capture more token price growth than late investors.
You can receive access to a whole new world of trading with MBN tokens.
Use MBN tokens to gain advantages and unlock various tools on Membrana platform, compete with other traders in trading tournaments or receive assets under management with automated smart-contract technology.
With MBN tokens you can receive staking rewards or join Community Operated Fund to take part in investment pools and other ecosystem activities.
Join Membrana's family:
Website Twitter Telegram Telegram Korean Telegram Indonesian Telegram Russian
Youtube BitcoinTalk Reddit LinkedIn Facebook